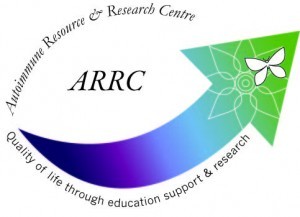 Contact
Name: Marline Squance
Position: Executive Officer
Phone: 02 4921 4095
Fax: 02 4985 5347
Mission / Objective
Vision - ARRC is to provide a world-best-practice centre to support people who experience chronic autoimmune disease. Mission - To improve health and quality of life of individuals with autoimmune conditions through education, support & advocacy.
Services
ARRC services and projects aim to reduce the impact of chronic autoimmune disease by maintaining a balance between medical treatments, understanding the illness, and self-management techniques that ease disease burden. Programs educate patients, carers, family and the general community including health professionals about autoimmune illnesses and management. Programs are directed at reducing and preventing symptom exacerbations by promoting healthy lifestyles and better self-management choices improving overall health, quality of life and life potential.
Current services include: • General and specific illness seminars, lifestyle change workshops, and resources • Counselling service, • Community awareness events and media awareness program, • Social support 'café conversation' program, • Health professional advice. • Email question and answer service, and • Autoimmune research including clinical trial research when appropriate.
The service and programs work to add onto traditional management by working with patients and their community in particular, allied health, community nursing services and other non-government organisations to improve understanding of illnesses and the needs of people living with autoimmune illness.
ARRC aims to bring equality into service access for people with chronic autoimmune diseases by improving service provision and reducing the current health disadvantage and service gaps.
Beneficiary Group
People living with autoimmune illnesses, in particular, lupus, scleroderma, Raynauds, Sjogrens, Pulmonary Arterial Hypertension and associated illness.
ARRC's past patient base was primarily drawn from the Hunter, Mid North Coast and Central Coast; however, support and service requests identified a need to extend services beyond NSW boundaries. ARRC now offers nationwide patient support services.
Projects in Progress
Current research projects include: Autoimmune Coummunity Education Project ( program of delivering autoimmune seducation to rural and regional communities) Environmental Determinants of Lupus Flares (evaluating symptoms, triggers and management of lupus flares) Art Visual Narrative and Wellbeing (evaluating the benefits of art practice and wellbeing in people with autoimmune illness) Systemic Lupus Impaired Cognition Evaluation Study (evaluating Impaired cognition in SLE) Stress Associated Pulmonary Hypertension in Rheumatoid Arthritis ( prevalence study)
People
CEO
Marline Squance,
Executive Officer/ Chair
Leadership Team
Assoc Prof Glenn Reeves - Medical Director
Registration Information
ABN
77 436 705 768
Donation on Tax Deductible
Yes
How to Help
Work with us
Volunteer
Annual Reports