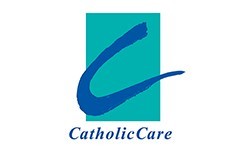 Contact
Name: Catherine Spencer
Position: Fundraising Manager
Phone: 02 9509 1111
Fax: 02 9509 1199
Mission / Objective
CatholicCare Sydney is the official welfare agency of the Catholic Church in the Archdiocese of Sydney. The Mission of the agency, as an instrument of Christ's liberating presence in the world, is to enable the social and emotional wellbeing of communities, families and individuals living in the Archdiocese.
CatholicCare's Vision is for a society in which there is full recognition of individual's rights and responsibilities, and one that enables the dignity, wellbeing and participation of all persons.
Services
CatholicCare Sydney operates more than 140 programs and services for families, children and youth, people with disability, older people, job seekers, students, refugees, those struggling with addictions and more.
Ageing, Dementia and Disability Care Services focus primarily on the delivery of a range of services to frail older people, those with a disability and their carers.
Family, Children and Youth services provides comprehensive, client focused services for individuals, couples, families, children and young people.
Employment, Training and Support Services (ETSS) division is committed to joining individuals on their journey to fulfil their potential and embrace life's opportunities.
St Patrick's Institute of Education (formerly St Patrick's Business College) currently offers vocational training in a range of nationally accredited qualifications.
Beneficiary Group
As a person-centred organisation, CatholicCare Sydney has people at its heart. People should determine the support they receive and be empowered to make decisions that will enable them to live positive and fulfilling lives.
The services provided by CatholicCare Sydney are inclusive of the whole community regardless of circumstance, ethnicity, religion, economic situation, age, gender or ability. CatholicCare is a member of Catholic Social Services Australia.
Projects in Progress
The Rose Gallagher Project.
Construction of two dwellings on land in Five Dock bequeathed to CatholicCare by the Late Rose Gallagher has begun. The houses will provide affordable transitional accommodation for vulnerable young people over the age of 18 who have left Out of Home Care (Foster Care) and are homeless or at risk of homelessness.
These young people are supported by CatholicCare's ALIVE Program which has provided a lifeline for many young people, enabling them to rebuild their lives and contribute to the life of the community.
People
CEO
Bernard Boerma,
Chief Executive Officer
Leadership Team
Chief Financial Officer – Janet Jensen
Chief Operating Officer – Luke Stevens
General Manager, Families and Community – Fiona Hastings
General Manager, Disability, Mental Health and Carers – Daniel Culhane
General Manager, Accommodation and Home Support – Kerryn Tutt
General Manager, People & Culture – Steve McNab
Names of Board Members
Richard Haddock AM (Chair)
Number of Employees
750
Registration Information
ABN
38 841 427 747
Donation on Tax Deductible
Yes
How to Help
Wills and Bequests
Bequests play a significant role in funding CatholicCare services and they are vital to the future of our programs. CatholicCare has prepared a useful guide to preparing your Will called "Caring to Create Change".
It includes: practical information on preparing a Will; answers to some frequently asked questions; how to provide in your Will for those people and organisations you care about.
To receive a copy of the booklet contact CatholicCare on 02 9509 1111 or via email
Work with us
Volunteer
Annual Reports