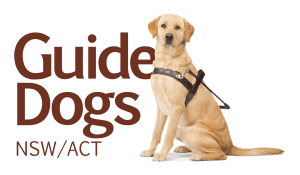 Contact
Name: Sally Biles
Position: General Manager Planned Giving
Phone: 02 9412 9300
Fax: 02 9412 9388
Mission / Objective
Guide Dogs NSW/ACT exists to enhance the quality of life of people who are blind or vision impaired, by assisting in their achievement through access and mobility. We do not charge for our services. Guide Dogs NSW/ACT  receives less than two per cent government funding. Everything we achieve is possible by the generosity of our donors, bequestors and volunteers.
Services
At Guide Dogs NSW/ACT we provide assistance to people with different levels of vision impairment, from all walks of life and age groups. Anyone who has a vision loss that is causing them to have difficulty moving around safely and confidently can receive an individually tailored Orientation and Mobility program. Our services include:
Guide Dogs – The states largest provider of Guide Dogs to the blind and vision impaired.
Orientation and Mobility programs – These specialised programs teach skills on a one-to-one basis to help people move around safely and confidently in their community.
Low vision training – teaches people how to use their remaining vision effectively in everyday situations.
Children's services – teaches children with vision impairment to be confident and how to explore their surroundings independently.
Neurological Vision Impairment (NVI) Programs – to assit people who have suffered vision loss due to a stroke, tumour or brain injury.
Projects in Progress
People
Registration Information
ABN
52 000 399 744
Donation on Tax Deductible
Yes
How to Help
Wills and Bequests
By leaving a bequest to Guide Dogs you can help us to continue to provide our services free of charge to those Australians who are blind or vision impaired.
Every year the money we receive from generous donors  not only helps us to raise our Guide Dog puppies, it also helps to ensure we are providing the best range of services to our clients.
Over 60% of donations made to Guide Dogs are through bequests and as we receive no government funding, we reply on these types of donations to ensure people who have vision impairment can travel independently and safely in the community.
How your bequest to Guide Dogs can help
Help to train our Guide Dog puppies which cost over $30,000
Help ensure those people with vision impairment receive the orientation and mobility training they need to stay independent
Help provide tailored programs for children who have lost or are losing their sight.
Help train our Pets As Therapy dogs, who provide companionship for people who may be disadvantaged because of age, illness, disability or isolation
Help us continue to fight for the rights of the vision impaired through our accessibility and advocacy programs
Help us provide free assessments & diagnosis through the Centre for Eye Health to help reduce preventable blindness in the community
To leave a bequest to Guide Dogs or to discuss your plans, please call Lucy Smink on 9412 9319.
General Donations
If you would like to make a donation to Guide Dogs, whether it be a one-off or a regular contribution, you can now donate online. Please visit www.guidedogs.com.au/donate.
As we receive no government funding, your donation is really important and will allow us to continue providing services free of charge.
Work with us
Volunteer
In 1952, the first Australian Guide Dogs Centre was opened in Perth with the invaluable support of volunteers. Many years later, Guide Dogs volunteers throughout Australia continue to provide vital assistance for our services.
As a Guide Dogs volunteer, you have the opportunity to discover new skills, experiences and a real sense of pride, by improving the lives of people with vision impairment in your community. You can:
Organise a fundraising event. From selling lemonade to climbing Mount Kosciusko, there's an event for everyone. It's an ideal incentive to achieve your lifelong goals while raising money for Guide Dogs.
Raise a puppy. Welcome a puppy into your home and you'll raise an invaluable companion to people with special needs, either as a Guide Dog or Pets As Therapy dog.
Register for other volunteering opportunities using our online contact form www.guidedogs.com.au/contact-us.
To find out more please visit www.guidedogs.com.au/help-us/fundraise-volunteer
Annual Reports