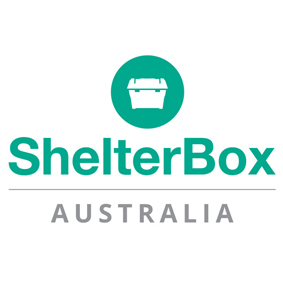 Address
PO Box 254
Parramatta NSW 2124
Our Mission / Objective
ShelterBox is made up of people who believe in shelter as a human right – that shelter from the chaos of disaster and conflict is vital. No ifs. No buts.
We are impatient to see a world where no family is left without shelter when disaster strikes. This drives us to transform the support of our donors, fundraisers and volunteers into the hope and power of families all over the world – the power to rebuild homes, lives and communities.
ShelterBox Australia aims to support the disaster relief operations of the ShelterBox Trust and work towards a world where no family goes without shelter following natural disaster or humanitarian crisis.
Our beneficiaries and donors are at the heart of everything we do.
Our Services
ShelterBox provides emergency shelter to those affected by disaster and humanitarian crisis.
Shelter options include a range of tents: our custom made Relief Tent (built to withstand extreme conditions and last at least 12 months); our Midi Tent (a smaller, single skin version of the Relief Tent for use in short-term deployments); Al Pinter Tents (a larger, UN spec tent for use in refugee camps, currently being used to help Syrian refugees)
Shelter Kits (2 large, high quality tarpaulins plus an extended too kit and fixings, enabling families to repair damaged existing dwellings).
We also supply a range of essential non-food items (NFI's) including: blankets; groundsheets; water carriers and purification equipment; kitchen sets; solar lights; tool kits; mosquito nets; children's activity packs and SchoolBoxes.
Items can be supplied in custom packed ShelterBoxes or supplied in bulk depending on the needs of the community.
Our Beneficiaries
Our beneficiaries are families that have lost everything to disaster. One of our core aims is to 'do the most, for the most', but initially; we aim to help the most vulnerable first. This group includes pregnant mothers or those with babes in arms; the sick; the disabled; the elderly and those families with no means of rebuilding on their own.
Our vision is a world where no family goes without shelter, following disaster or humanitarian crisis.
Projects in Progress
For details of our current responses visit the website or our social media pages. We have on-going responses to the conflict in Iraq and Syria, working with international partners to provide shelter and essential non-food items to refugees and IDPs.
We also have ongoing work in Cameroon Chad, Niger and Nigeria, helping families fleeing Boko Haram violence.
So far, we have completed over 260 deployments to 95+ countries, helping in excess of 1,000,000 people.
Our People
CEO
Leadership Team
Chair – Rowley Tompsett,
Vice Chair – Emma Black,
Secretary – Barry Antees,
Finance Director – Phil Mewett
Names of Board Members
Rowley Tompsett
Emma Black
Laurence Billiet
Greg Love
Barry Antees
Phil Mewett
Greg Moran
Paul Roger
Number of Employees
3
Number of Volunteers
126
Registration Information
ABN
21 143 129 220
Tax Deductible
Yes
How to help us
Wills and Bequests
By remembering ShelterBox Australia in your will you will leave a lasting legacy for families affected by disaster. ShelterBox gives people the chance to recover and rebuild their lives. We can provide dignity to families who have lost everything due to no fault of their own. Disasters can strike anywhere at any time and ShelterBox stands ready to respond wherever there is need.
Bequests can be in the form of sponsoring boxes, donations to the 'ShelterBox Solution' (our unrestricted disaster relief fund) or sponsoring essential training for volunteers. Please contact General Manager, Mike Greenslade for more details on how you can help us.
General Donations
There are several ways to donate to ShelterBox Australia.
Online at www.shelterboxaustralia.org.au/donate
Donation Hotline: 1300 996 038
EFT: Wespac Bank, ShelterBox Australia, BSB 32 189 Acount# 230 147
(please email office@shelterbox.org.au to notify us of your donation and receive your tax receipt).