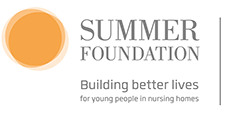 Contact
Name: Sophie Boustead
Position: PR Officer
Phone: 03 9894 7006
Fax: 03 8456 6325
Mission / Objective
OUR VISION That young people with disability and complex care needs will have inherent value as members of our society with access to a range of housing and support options that enhance health, wellbeing and participation. MISSION To create, lead and demonstrate long-term sustainable changes that stop young people from being forced to live in nursing homes because there is nowhere else for them.
OUR MISSION To create, lead and demonstrate long-term sustainable changes that stop young people from being forced to live in nursing homes because there is nowhere else for them.
WHAT DOES THE SUMMER FOUNDATION DO? Established in 2006, the key aim of the Summer Foundation is to change human service policy and practice related to young people in nursing homes. The Summer Foundation utilises a range of strategies to influence health, housing, aged care and disability services policy and practice related to this target group. These strategies are depicted in the figure below. In 2016, we will continue to focus on three strategic areas to achieve change in policy and practice: Building an evidence base: We conduct and foster research that provides an evidence base for policy and practice change Creating a movement: We support people with disability to tell their story to raise awareness and keep the issue on the political and public agenda Housing: We establish, evaluate and document demonstration projects in order to encourage others to replicate these projects to increase the range and number of housing and support options for people with disability.
Services
WHAT POLICY CHANGE DO WE WANT? There are four key areas that must be addressed to resolve the issue of young people in nursing homes in Australia. Our work is currently focused on policy and practice change in the National Disability Insurance Scheme (NDIS) sites. This change will have a national impact as the NDIS rolls out.
1. Ensure that young people in residential aged care get access to the National Disability Insurance Scheme The Summer Foundation is conducting action research to measure outcomes and identify any gaps, issues or barriers to young people in nursing homes getting access to services funded by NDIS in the trial sites. We are working with the National Disability Insurance Agency (NDIA) to streamline the NDIS registration process of young people currently in nursing homes and those at risk of entering nursing homes. Our target group requires information, resources and support to access the services they desperately need.
2. Prevent new admissions Once in a nursing home, young people lose skills and their social networks diminish. Most (59%) young people are admitted to an acute or rehabilitation hospital before their first admission to a nursing home. We will work to improve the interface between Health, Aged Care Assessment Services (ACAS) and the NDIS in order to minimise new admissions of young people to nursing homes. We will also advocate for slow stream rehabilitation services so that people with severe acquired brain injury have the time they need to demonstrate their potential before a decision is made about their housing and support options.
3. Increase the range and scale of housing We do not expect many people to move out of nursing homes in the NDIS trial sites because of the lack of appropriate housing and support options. Housing for people with disability needs to be integrated into mainstream housing strategies rather than continuing to build segregated and specialist housing – this will create the scale and range of housing options we need.
4. Support Getting the physical design and technology right in housing for people with disability is relatively simple compared to getting the model of support right. One of the biggest challenges for disability support organisations is developing and maintaining a culture that treats people with disability with dignity and respect, and fosters independence and community inclusion.
Beneficiary Group
There are currently just over 6200 people with disability under the age of 65 living in nursing homes because there is nowhere else for them to go. These people become marginalised and are one of the most disadvantaged groups of people in Australia. They are also largely forgotten. Many people have acquired their disability late in life.
Projects in Progress
The Summer Foundation is building housing and support demonstration projects to provide examples of alternatives for young people living in nursing homes. Our demonstration projects are changing thinking about housing and support for people with disability.
We are establishing our housing model's efficacy and sharing the knowledge generated by these projects with other organisations and all levels of government to move this work from pilots to policy change.
Our current demonstration project is in the Hunter region in the New South Wales NDIS trial site. We have purchased 10 apartments for people with disability, peppered throughout a 110-unit private development. There will also be an additional apartment to accommodate an office and sleepover space for disability support workers.
Tours of the apartments in the Hunter Housing and Support Demonstration Project
Until November 2016, two fully fitted out units will be available to view, showcasing the design, and smart home and communications technology incorporated into the apartments. Tours will be conducted in Newcastle for builders, designers, community housing providers, disability service providers, funders and government.
If you would like to tour the Hunter demonstration project showcase apartments, please email your interest [email protected] Find out more about how you can support this project here.
People
CEO
Leadership Team
Tom Worsnop, Executive Manager
Carolyn Finis, Community Relations Manager
Francesca Trimboli, PR and Marketing Manager
Jacinta Douglas, Research Chair
Susi Hammond, Chief Finance and Operations Officer
Names of Board Members
Dr Di Winkler
Professor Malcolm Hopwood, Chair
Paul Conroy
Benjamin Marks
Jason Chequer
Professor Jacinta Douglas
Graeme Innes
Number of Employees
24
Number of Volunteers
Varies
Registration Information
ABN
90 117 719 516
Donation on Tax Deductible
Yes
How to Help
Wills and Bequests
How you can support our work

There are many ways in which individuals, groups and workplaces can contribute to the success of our work.
Donate
The Summer Foundation recognises and thanks our donors and supporters for their generosity. We are currently seeking items and "money-can't-buy" experiences for Summer in Winter, our annual fundraising event featuring live and silent auctions. If you would like to make a donation, please use the donation form or contact us on 1300 626 560.
Fund A Project
There are a number of projects that we would like to initiate to further build upon the existing evidence base for policy change. Each of these projects will move us closer in our mission to solve the issue of young people living in nursing homes. Please contact us if you would like to know more.
Work Place Giving
Thank you to our corporate supporters. If you would like to support the Summer Foundation with in-kind product for events such as the Summer In Winter annual luncheon, or would like to add us to your work place giving program, please contact our Philanthropy and Corporate Relations Manager, Olga Elia at [email protected]
Work with us
Volunteer
The Summer Foundation has been fortunate to attract many people who generously offer their time and skills to help out in various ways.
We have had regular volunteers who come to our workplace and assist with administrative tasks. There are teams of volunteers who have helped out at digital story exhibitions, and people who have sat in our Tell Your Story Workshops and recorded the stories of participant, or cheered on participants in physical challenges such as the Upstream Challenge.
Volunteers make a wonderful contribution to our organisation.
"I found my participation in the Tell Your Story workshop an incredibly valuable experience. I had some awareness of the issue facing young people living in aged care homes but I had no sense of the degree to which this situation was so totally inappropriate for young people. The fact that even the most basic things we enjoy as humans, such as food, activity and the company of others is all geared towards the needs of a 70–plus dementia patient struck me as a startling inequity and yet something I had not comprehended before.
"I was so moved by the sense of hope and optimism amongst the participants and the carers. It really brought it home to me that no matter what a person's needs and abilities, we all share the human desire to live our lives to the fullest with a sense of purpose and fun. I felt completely privileged to be part of the Tell Your Story workshop."
Emma, Volunteer.
For more information about volunteering, please contact our administration team at [email protected] or call 1300 626 560.
Annual Reports