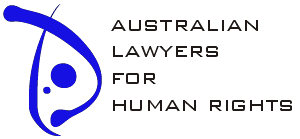 Posted : Wednesday, 12th July 2017 - 10:16 am
Organisation : Australian Lawyers for Human Rights (ALHR)
Location : Australia
Time required : 2 - 4 hours per week
Duration of project : Ongoing
Contact Name : Kerry Weste
Contact Email : vicepresident@alhr.org.au
About the Role
Australian Lawyers for Human Rights (ALHR) is seeking expressions of interest from lawyers to take up roles as Co-Convenors in New South Wales, Victoria and South Australia.
There are three volunteer positions available and the successful applicants will join the existing experienced lawyers currently in post as Convenors.
ALHR State/ Territory Convenors are responsible for proactively and energetically engaging the membership of Australian Lawyers for Human Rights (ALHR) locally and contributing to the national management of ALHR's operations and advocacy. ALHR State/Territory Convenors play a vital role in the health of ALHR by being responsible for managing ALHR advocacy on local State and Territory human rights issues and by engaging with ALHR's eight national specialist thematic subcommittees, national committee and executive management committee.
Convenors coordinate regional strategic advocacy and human rights education through activities such as submission-writing, letter-writing, political lobbying, organising and hosting educational and fundraising events.
The successful applicant for each role will be a lawyer or final year law student with a knowledge of and passion for international human rights law. ALHR convenors are supported and guided by ALHR's National Committee and Executive Management Committee.
Please refer to the information below for further details about ALHR and the specific expectations and responsibilities of the roles.
If you would like to formally nominate for this role, please send an expression of interest and copy of your CV to vicepresident@alhr.org.au Please also feel free to contact us if you have any questions about the role.
ABOUT ALHR
ALHR was established in 1993 and is a national association of Australian solicitors, barristers, academics, judicial officers and law students who practise and promote international human rights law in Australia. ALHR has active and engaged National, State and Territory committees and national thematic subcommittees. Through advocacy, media engagement, education, networking, research and training, ALHR promotes, practices and protects universally accepted standards of human rights throughout Australia and overseas.
ALHR utilises thematic subcommittees to increase the impact of our advocacy. ALHR currently has a total of 8 national subcommittees, including:
• Refugee Rights Subcommittee
• Disability Rights Subcommittee
• Freedoms Subcommittee
• Human Rights Act(s) Subcommittee
• Indigenous Rights Subcommittee
• Business and Human Rights Subcommittee
• LGBTI Rights Subcommittee
• Women and Girls' Rights Subcommittee
POSITION DESCRIPTION
Expectations of the role:
Comply at all times with ALHR's policies and procedures including the Conflict of Interest Policy and Procedures; the Financial Control and Authorisation Policy and Procedures, Social Media Policy, Volunteers Policy and the policies and procedures set out within the National Committee Induction Pack.
Convening a minimum of four (4) meetings per annum for the state or territory membership .
Focus on proactively addressing and confronting local human rights issues through:
(i) membership-engagement;
(ii) submission-writing;
(iii) letter writing,
(iv) engaging political representatives,
(v) media engagement,
(vi) organising educational/fundraising events on the issue.
Organise, arrange and facilitate the organisation of at least two (2) major fundraising events per year or fundraising a minimum of between $1,000 and $2,500 per year, depending on the size of the jurisdiction in which they are based.
Draft and send four (4) to twelve (12) (with a strict minimum of four (4)) newsletters per year to the State/Territory membership.
Closely Monitor and respond promptly to emails sent to the ALHR Convenor email address. Emails should at least be checked every second day.
Engage with and reach out to enthusiastic members and ensure they are given opportunities to contribute to ALHR's multi-faceted advocacy.
Network with other local NGOs, groups, organisations and stakeholders in order to collaborate on various and different human rights campaigns including co-hosting educational/fundraising events (with the prior approval of the national Committee)
Consistently attend the monthly meetings of the ALHR National Committee to report back on the State / Territory activities.
Attend the Annual General Meeting and a minimum of 1 convenor should attend the Annual ALHR Planning Weekend.
Proactively engage and work with ALHR's thematic national Subcommittees as a means of engaging local members and to organise educational/fundraising events and to conduct advocacy on local human rights issues.
Respond to and consistently participate in the collaborative decision-making and approvals processes required of all members of the ALHR National Committee.
Consultation with previous convenors/National Committee members is encouraged to assist in ascertaining achievable goals for your region and ALHR membership base.
About the Organisation
Organisation Name : Australian Lawyers for Human Rights (ALHR)
Not for Profit : Yes
Apply for this Position
---
Please quote in application: ALHR State Co-Convenors: NSW, VIC & SA via Pro Bono Australia.
---