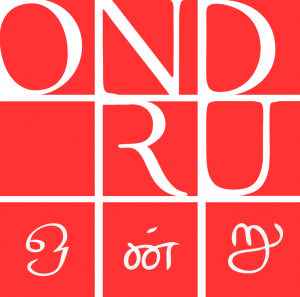 Organisation : Ondru
Location : Melbourne
Time required : 6-8 hours per week
Duration of project : 12 months
Sector : Arts & Culture
Posted on : 7 Sep, 2017
About the Role
About Ondru
Ondru n. one, equality; v. become one with. Ondru means the place where people and ideas come together and where diversity unites.
Ondru (www.ondru.org) is an independent non-profit organisation that tells human stories that are silenced or unheard through pioneering art projects. Ondru is working towards a connected, compassionate and equitable society by provoking thought, evoking feeling and inspiring change on issues of social justice.
Ondru is currently made up of about 15 volunteers at any one time. The Ondru Board has a maximum of seven members, (five currently) including a Chair, Company Secretary and a Treasurer.
Our Values
Integrity, Respect, Compassion, Collaboration and Being a Pioneer
Our Goals
Our goal for the next 3 years is to EXIST; creating impact while being sustainable and being recognised for what we do.
Two Board Vacancies
The Board is currently looking for two applicants – one Treasurer and one General Director. Ondru is a young organisation with large vision and high values. We are looking for Board Directors who are willing to work hard to help us build the organisation. In particular we need people with networks (cultural/corporate/philanthropic/Government funders/) who are willing to broker relationships for possibile funding, sponsorship and partnership opportunities. We are particularly keen to make connections with the corporate world and would regard highly an applicant who both shared Ondru's values and who could broker such relationships.
Directors need to share Ondru's ethos, values and awareness of what it means to be a cultural organsation who produces art for the purposes of social change as its core business. Ideally they would be well connected into networks in one of the areas we are targeting and willing to broker relationships for possibile funding, sponsorship and partnership opportunities. They would also be willing to assist with fundraising and other duties as appropriate.
The criteria for both roles and the specific criteria for the Company Treasurer role are set out below. Please note that these are voluntary positions.
About the roles:
General Director
The Director will be responsible for ensuring that Ondru meets all legal requirements and remains accountable to its donors and other stakeholders. In particular, the Board needs to make sure that Ondru acts according to its stated mission and for the purpose for which it receives tax exemption. Additionally, the Director will be responsible to review and approve the Ondru's Strategic Plan, and other consequential arrangements (Business Plan, Marketing Plan, etc), organisation's systems for financial control and risk management and for co-operative fundraising activities.
Treasurer
The Treasurer has all General Director responsibilities as well as those of Treasurer. Ondru Treasurer will be responsible to ensure that Ondru's record-keeping and accounts meet the conditions of funders or statutory bodies, that the organisation complies with relevant legislation and that appropriate financial systems and controls are in place. Other responsibilities include:
a) Planning and preparing the annual budget for approval by the Ondru Board (in co-operation with senior staff if relevant) and then (with the Ondru Board) ensuring that the organisation operates within the budget as approved
b) Banking, book keeping and record keeping (ensuring that a proper record is kept of all money received and payments made and that accounts are reconciled at least once per month)
c) Regular financial reporting to the board, as well as to the AGM
d) Control of fixed assets and stock (ensuring proper records are kept and that required insurances are in place)
e) Ensuring that Ondru is in compliance with its obligations to maintain a public fund as set out under the Ondru Constitution (cl.18 and Appendix A)
Selection Criteria
• Previous experience as a Board Director with a non-for-profit organisation preferable
• Demonstrated understanding of the legal duties and ethical responsibilities undertaken by company directors
• Commercial experience in areas such as business strategy, fundraising, marketing and/or media
• Previous experience in corporate governance would be highly regarded
• Experience working in a treasury role in a non-for-profit organisation (specific to Treasurer only)
• Have a background in art and access to the arts sector and other relevant networks (Corporate/Philanthropic/Government funders) (Desirable)
Time Commitment
Ondru is a young organisation and as such we are looking for a Directors who will be actively engaged and involved in shaping the strategic direction of Ondru in accordance with our vision, values and objectives. Directors are expected to be able to provide a weekly commitment of between 6-8 hours a week, depending on the role.
At a minimum, attendance at all board meetings will be required. There are a minimum 6 board meetings per year / held bi-monthly, but may have up to 9 meetings if necessary, held in Melbourne CBD.
Outside the meetings, time will need to be dedicated to review and consideration of meeting materials and attendance to out of session matters, as they arise. For particular positions on the Board, administrative tasks will also be required.
About the Organisation
Organisation Name : Ondru
Not for Profit : Yes
Apply for this Position
For details concerning this role , please contact
Anne Carson
Phone : 0425708274
Email : anne.carson@ondru.org
---
Please quote in application: Board Director- Volunteer Position via Pro Bono Australia.
---