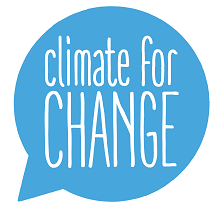 Organisation : Climate for Change
Location : Melbourne
Time required : 5 hours per week
Duration of project : 6 - 9 months
Sector : Community Engagement, Conservation & Environment
Posted on : 6 Sep, 2018
About the Role
This is an opportunity for someone with passion, commitment and drive to make a big difference to the way Australia responds to climate change.
Facilitators are our agents of change. As a facilitator you will be part of a team that together will inspire hundreds of people in local communities to stand up on climate change and move society and our leaders to action.
About Climate for Change
Climate for Change is a fast-growing start-up not-for-profit. Three years old, we are gaining the attention and respect of others in our sector for our innovative approach to engaging new audiences with climate change. Climate for Change has a small team of core staff, driven by a large and growing team of volunteers. We are a dynamic, collaborative organisation that works with purpose and compassion.
Our mission is to create the social climate in Australia for effective action on climate change. To do this we use a 'Tupperware party' style model of small gatherings in people's homes, each of which generates at least one more. This is a unique model within the climate movement that allows both deep engagement and exponential growth.
We know our leaders, political and otherwise, will not do what is needed to tackle climate change without a critical mass of Australians demanding such action. We know the majority of Australians do support action on climate change, but this support is passive and easily displaced by issues that people feel closer to, less confused about and more able to act on.
As an organisation we aim to bring climate change to the forefront of public concern by: reaching out to people who are sympathetic to action, but not yet engaged with or active on the issue; then inspiring and supporting them to take effective action and to have meaningful conversations with their friends and family about climate change.
Further information is available at our website: www.climateforchange.org.au.
Position Summary
This is an exciting role for you to use your love of working with people to empower the community, and to drive a groundswell of community action on climate change.
You will work with volunteer hosts who will invite 8 – 12 friends and family to attend a Climate Conversation in their home. At these events, you will present to them about climate change, the urgency for action and guide a discussion that leads to a commitment to take more effective action.
We know that many of the best facilitators are not climate experts but people who are good at listening and passionate about making a difference.
"We were very carefully trained, so if you feel like you don't know enough about climate change, don't let that hold you back. Climate for Change will provide you with everything you need to know. The Conversation model is well thought out and I know that my time as a volunteer facilitator is being spent wisely." – Nicole R, facilitator from Melbourne
Key Responsibilities
Imparting the urgency and scale of climate change to the friends and family of each host
Inspiring attendees to commit to taking effective action on climate change
Recruiting attendees to join as hosts and facilitators
Inviting attendees to support our work through a donation
Administration and record keeping of your Conversations
Maintaining a host database and your own activity spreadsheet
Evaluating Conversations and providing feedback for improvement
Attending monthly Ongoing Facilitator Training
Key Selection Criteria
Passion for mitigating climate change
Positive attitude, responsible and reliable
Able to foster a welcoming and positive atmosphere
Enjoy working with, supporting and empowering people
Confident with leading a group discussion independently
Engaging communication skills
Administration and organisation skills
General Conditions
All Climate for Change volunteers are required to sign the Climate for Change Volunteer Agreement, setting out our volunteers' rights and responsibilities. This can be viewed here.
This role requires eight hours of mandatory face-to-face training (held across three evenings in Melbourne's CBD). We'll provide you a selection of training dates once you apply.
Climate for Change facilitators must be at least 18 years of age.
How to apply for this job
To apply, please visit our website www.climateforchange.org.au/apply_melbourne to complete the application form.
Applications will be accepted on a rolling basis so please submit an application as soon as possible.
Enquiries are to be sent to Zey Basarin, Program Manager at zey@climateforchange.org.au, using the subject line: Climate Conversation Facilitator (voluntary) enquiry via Probono.
About the Organisation
Organisation Name : Climate for Change
Not for Profit : Yes
Apply for this Position
---
Please quote in application: Climate Conversation Facilitator (voluntary) via Pro Bono Australia.
---