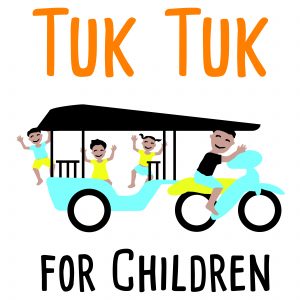 Organisation : Tuk Tuk for Children
Location : International
Time required : Minimum 6 months
Duration of project : 6 to 12 months
Sector : Children, Community Development, Education & Training
Posted on : 31 Mar, 2019
About the role
Digital marketing specialist in Cambodia
Looking for a longer term volunteering position but not sure how you can afford it. We have a unique opportunity for a marketing specialist to work both on the charity and the business that supports it affording a small income. (easily enough to cover your flights and living expenses)
WHO WE ARE
We are a Cambodian based small charity that works in early childhood education. We are focused on supporting state-run kindergartens, working directly with the department of education. Specifically we;
Run a mobile book and toy library, ensuring 650 kids and teachers have access to age-appropriate books and toys. The library is rotated between the 8 schools we support to ensure there is always fresh new experiences for the kids.
Provide teacher workshops on how to use the supplied books and toys to better teach the government curriculum.
Provide activities for the teachers to use aligned with the government curriculum.
Write and illustrate children's books using a local Cambodian illustrator. Books will be open source and available for all Cambodians to access for free in a digital format.
Creating a new digital library that contains all of the resources that we have created. We are working on innovative approaches to get this data to all schools in Cambodia at an affordable price to maximise the reach and effectiveness of our program.
We also run a separate village program, bringing informal education to villages. We currently have 6 paid staff and rely on volunteers for technical skills. We are located in a small town in Cambodia, away from city life and the traps of tourism. We work in our own community and have become a part of that community as a result. All volunteers that work with us become part of the family.
Why you want to work with us!
We are a small family that work well together. Our office is always full of fun and laughter even during the busiest times. You will meet and work with local people and assimilate with the community. You will get to see the inside workings of Cambodian culture in a safe environment, seeing parts of Cambodia that would otherwise not be available to foreigners.
You will be working directly onsite with the directors of the charity who are Australian and Japanese. They are also personally invested in the organisation not only financially but working full time to realise the goals of the organisation. They can offer you the bridge between Cambodian and foreign culture making your time here fun and enjoyable. You will be fully supported in your role and encouraged to get involved not only in marketing but working with the children as well. After all, to effectively market our organisation, you will need to know the inner workings.
About you
Firstly, you know your calling is digital marketing and you are fanatical (highly passionate!) about it. You want to forge a strong, successful career in this space and are someone who is ready to roll up your sleeves and give it everything you've got. You have professional experience but looking to further enhance your CV with non-profit work. You're all in for getting your hands dirty. You're all in for your own self-development. You're all in for making a better world.
Secondly, you thrive on the idea of working amongst a small incredible team. Your can-do and nothing-is-too-much-trouble attitude always sees you putting your hand up to take on something extra, especially if you feel there is a learning opportunity.
Finally, you believe that every child deserves the right to an education. You pride yourself on your ability to combine creative thinking and writing with your problem-solving skills. You realise that charity work is very budget conscious but you love the challenge of finding new innovative ways to get the message across. 
About the VOLUNTEER role
You will be exposed to and be accountable for the ongoing creative strategy and execution of digital marketing campaigns ranging from strategy, implementation, and continuous optimisation. You will achieve this through;
Creating and maintaining our overall marketing strategy.
Creating and updating content for the website.
Crafting high quality, targeted, engaging ad copy and managing our Google AdWords account (We have a grant from Google allowing us $10,000USD per month spend)
Helping to monetise our books by offering them on Amazon.
Creating and implementing social media marketing plan and training local staff.
You may also be involved in;
Working with the children in our village kids program (Tuk Tuk Theatre)
Creating educational videos with our staff in Cambodian for both teachers and students. Content to be included in the digital library.
Paint walls, cook BBQ's, sort books or any other task that grabs your attention.
About the PAID role
The directors of the organisation also run a small Amazon business based in the US. This is how they fund themselves to be in Cambodia full time and also make up a fair portion of the donations to the charity. You will be required to work approximately 15 to 20 hrs per week on;
Managing PPC advertising in Amazon. (training and support provided)
Conducting keyword research and listing optimisation.
Promoting the charity work through the business.
Creating guidelines and checklists to maintain marketing. (to be passed onto a VA in the future)
Creating digital expansion plan and implementation.
20% of all profits from the business go directly to the charity so you are supporting the charity even in your paid role. 
The PAY
Is negotiable based on experience and expertise. This is a small business so please don't expect a similar salary to a full-time position in Australia however it will be more than enough to live in Cambodia, travel on your holiday time and pay for your flights with possibly a little to spare.
We created this position in the hope of attracting a long term volunteer with experience. Our charity is in real need of a professional in this field to allow us to realise our goals. We have reached the limit in growth and potential without some professional support and you will be the person that helps make it happen.
Selection Criteria
A genuine interest & passion for digital marketing in the charity sector.
Strong ability to work independently.
Fantastic communication skills both written and verbal
Creative writing skills
Google Ads certification is highly advantageous
Passion in creating change and sustainable development
What's Next
If this is the opportunity you have been waiting for, we would love to hear from you. Please submit your application now by providing your resume and cover letter detailing why you think you are the right person for the role and your experience aligned with the selection criteria.
About the organisation
Organisation name : Tuk Tuk for Children
Not for Profit : Yes
How to apply for this role
---
Please quote in application: Digital marketing specialist (includes paid work) via Pro Bono Australia.
---