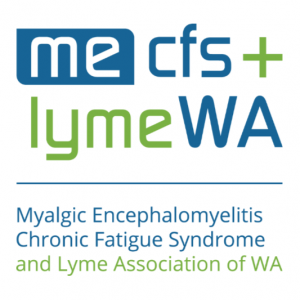 Posted : Monday, 18th September 2017 - 7:00 am
Organisation : ME/CFS and Lyme Association of WA, Inc.
Location : Perth
Time required : Hours are estimated to be between 5 to 10 hours per fortnight and there are no set working hours, aside from when attending an interview, training session, or assisting at an event.
Duration of project : Ongoing
Contact Email : info@mecfswa.org.au
About the Role
Our organisation is seeking a Volunteer Coordinator to manage volunteer resources and assist us in the delivery of the organisation's programs and services. This includes directly managing volunteers, and providing guidance, support, resources and tools to volunteers.
Since 1997, our charity has supported those in Western Australia with Myalgic Encephalomyelitis, Chronic Fatigue Syndrome, and now also Lyme disease. We are an unfunded and all-volunteer-run organisation.
This position is an unpaid pro bono or volunteer position. You will be contributing to helping us make a difference in the lives of others, while gaining career experience, and may also receive a Letter of Recommendation to assist you in your future career aspirations.
Hours are estimated to be between 5 to 10 hours per fortnight and there are no set working hours, aside from when attending an interview, training session, or assisting at an event.
Tasks

Planning
Assess the need for volunteers to enhance program/service delivery.
Develop and implement goals and objectives for the volunteer program which reflect the mission of the organisation.
Develop and implement an intake and interview protocol for potential volunteers to ensure the best match between the skills, qualification, and interests of the volunteers and the needs of the organisation.
Develop and implement effective strategies to recruit the right volunteers with the right skills.
Conduct ongoing evaluation of the programs and services delivered by volunteers and implement improvements as necessary.
Assist with succession planning and training for future volunteer coordinators.
Communications
Orient volunteers to increase their understanding of the organisation, its clients, its services and the role and responsibilities of volunteers.
Develop clear and concise organisation policies for the recruitment and management of volunteers.
Develop clear and concise volunteer induction packs.
Develop and administer forms and records to document the volunteer activities.
Contribute to an annual report on the contribution of the volunteer program to the organisation.
Identify volunteer assignments that provide meaningful work for volunteers and write the volunteer position descriptions in consultation with team members as appropriate.
Promote the volunteer program to gain community support of the volunteer program and the organisation.
Identify, coordinate, and monitor external training opportunities for volunteers.
Assist other team members with the coordination of volunteer tasks and rostering.
Report on the contribution of individual volunteers.
Risk Management
Ensure compliance with relative legislations pertaining to volunteers and public events.
Review volunteer insurance and make recommendations.
Implement a screening process for potential volunteers according to accepted screening standards and practices.
Leadership
Contribute to the creation of a motivated environment where goals can be achieved, skills and knowledge are enhanced, and learning & development are valued.
Attend organisation events that may require volunteer supervision and coordination.
Ensure that volunteer check-in procedures are followed and records of volunteer hours are maintained according to established procedures.
Assist with conflict resolution among clients, team members and volunteers according to established procedures.
Plan and implement formal and informal volunteer recognition activities to recognise the contribution of volunteers to the organisation.
Ensure that volunteers work in a safe, healthy, and supportive environment in accordance with all appropriate legislation and regulations.
Ensure that volunteers are given appropriate training to be successful in their positions.
Follow and develop best practice to align with National Volunteer Standards framework.
Assisting with a corporate volunteering program is helpful but not essential.

Assisting with grants related to the volunteer program is helpful but not essential.

Desirable Skills
Prior experience managing volunteers in a corporate or Not For Profit organisation.
Knowledge of legislative requirements and best practices pertaining to volunteer programs.
Communicate effectively: Speak, listen and write in a clear, thorough and timely manner using appropriate and effective communication tools and techniques.
Lead: Positively influence others to achieve results that are in the best interest of the organisation
Solve problems: Assess problem situations to identify causes, gather and process relevant information, generate possible solutions, and make recommendations and/or resolve any problems.
Build relationships: Establish and maintain positive working relationships with others, both internally and externally.
Focus on client needs: Anticipate, understand, and respond to the needs of internal and external clients to meet or exceed their expectations within the organisational parameters.
Foster teamwork: Work cooperatively and effectively with others to set goals, resolve problems, and make decisions that enhance organisational effectiveness.
Make decisions: Assess situations to determine the importance, urgency and risks, and make clear decisions which are timely and in the best interests of the organisation.

Requirements
Excellent communication skills.
Reliable home internet connection and private and secure computer access.
Maintain confidentiality and privacy at all times.

Apply
To apply please email your application (both a cover letter and CV) to info@mecfswa.org.au using the subject line: Volunteer Coordinator Application.
We look forward to hearing from you.
About the Organisation
Organisation Name : ME/CFS and Lyme Association of WA, Inc.
Not for Profit : Yes
Apply for this Position
---
Please quote in application: Volunteer Coordinator via Pro Bono Australia.
---