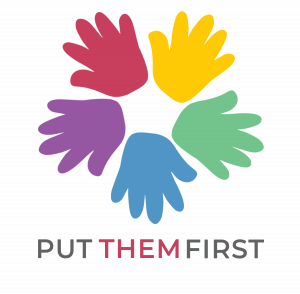 Organisation : Put Them First
Location : Brisbane
Time required : 3 or more hours a week
Duration of project : Ongoing
Sector : Children
Posted on : 9 Aug, 2019
About the role
Do you…
Have a desire to give back to your community
Have time to commit to working in a close-knit team
Love the idea of getting involved in an organisation that is going to make a difference to your community.
If you answered yes to all of these questions then we would love to hear from you. We are looking to engage volunteers across a number of roles. We are a small but growing team who are passionate about changing and improving life for infants in foster care and their carers across our community. For more information please contact Heather on 0431 374 760.
ABOUT US
Put Them First' started as a conversation between two passionate carers back in 2018. We have since grown into a small group of dedicated volunteers and advocates. What began as an exchange of ideas and similar experiences, has now become a determination to raise awareness of the issues around children in alternative care and also, to make a real difference in their lives. 
Current Practices for children between 0 and 2 years old going into foster care, can result in significant trauma. The care system faces many resource and support challenges which need to be urgently addressed, so that carers can go back to what is essentially their most important role – to put the safety and wellbeing of the child first.
At Put Them First, we are committed to making positive changes in the current care system because all children and young people have the right to be safe, receive loving care and have access to the support they need to reach their full potential in life.
WHAT WE BELIEVE
Every child has the right to love, care and protection and this extends to those children in the alternative care environment. Children in foster care should grow up happy, with the same opportunities available to them, as those children not subject to Child Safety intervention.
We advocate for the needs of children between 0 and 2 years old, because this is the most vulnerable time in a child's life. Here is why we do, what we do:
To support children in alternative care to become the best version of themselves
To support children in alternative care to reach their full potential in every aspect of their life
To give children in alternative care the best start to life, regardless of their primary care circumstances
OUR MISSION
To build and operate a network of facilities, known as as 'Lullaby Houses' across Australia.  These facilities will provide the much needed support to children and their carers.  To become thought leaders in this space. To empower people to engage in safe behaviours and practices for the best outcomes for children aged 0 – 2years. 
OUR PURPOSE
The first 1,000 days of life – the time spanning roughly between conception and one's second birthday – is a unique period of opportunity when the foundations of optimum health, growth, and neurodevelopment across the lifespan are established.
A research review by experts at the Murdoch Children's Research Institute, funded by the Bupa Health Foundation, shows how a child's development is significantly affected by the biological and physical environments they occupy during this vital period.
It is for this reason that our purpose is to provide the best care to a child's life in the first 1000 days through love and support. We are committed to providing the resources a child needs, to set them up for success in life. This can only be done by Putting them first!
OUR GOALS
There are several goals that we are committed to achieving, in order to make the positive changes we wish to see in the existing care system.
Here is how we plan to achieve our goals:
(1) Establish a mentoring program for carers and biological parents
(2) Establish our first 'Lullaby House'
(3) Establish a department for 'Advisory and Research' within PTF.
The establishment of a mentoring program is aimed at improving the child's environment and their experiences, particularly for families on the path to reunification. Educating both alternative and primary carers, will ensure the children have better outcomes, opportunities and future prospects. The program will also address the rehabilitation of children born with addiction during the early stages of an infant's life.
The issues to be addressed in the mentoring program include the following:
The collaboration and sharing of parental knowledge and skills to increase primary carers confidence and abilities.
Reinforce the need for age-appropriate play time with toys.
The skills to recognise the reason for a babies cry.
The ability to remain focussed on the child during contact sessions, to improve attachment and positive connection.
Monitor the primary carers motivation to be positively and permanently reunified.
Post-reunification support, referrals to support groups and courses such as 'Circle of Security' and 'Triple P'.
The mentoring program will include a range of training courses for carers of children aged 0-2 years, or those wanting to welcome that age group into their homes. We will facilitate workshops in the following areas:
How to care for addicted babies (using simulation babies)
How to care for traumatised children
How to care for children with special needs (dietary, medical or developmental challenges)
Establishing routines for eating, sleeping, playtime etc
How to support a child's needs for learning and stimulation
How to address behavioural issues and discipline appropriately
How to respond in medical emergencies
These sessions would be facilitated by an experienced Specialist Paediatric Nurse or other specialist relevant to the training offered.
We will be including workshops for stress and personal well-being, to ensure carers are looking after their own needs, in order to be the best carer they can be. Our mentorship program will not only increase the education of the carer, but reinforce how important they are in facilitating a positive outcome for the child.
Our first step will be to establish a 'pop-up' Lullaby house to be run as a pilot program. This will involve sharing spaces in medical centres or similar facilities to monitor the success of the program, before planning the construction of a purpose-built facility.
The purpose-built Lullaby House will provide a home-like nursery environment for contact visits between biological families and their infants in care. It will also provide a space for carers to receive training and attend workshops to support the development and well-being of the child whilst in alternative care.
Contact visits are currently conducted at Child Safety Service Centres, which is only necessary in circumstances of violence or abduction risk. We believe visits held in a CSSC hinders the successful reunification of biological parent and child. Alternatively, our nurseries at Lullaby House will be spacious, welcoming and well-suited for contact visits. Whilst some family visits would be supervised, it is envisaged that this would not always be necessary.
We want to support alternative carers by providing a quiet space to relax during contact visits, possibly talk with other carers or a Put Them First volunteer. This way they do not have to drive back home or wait in their car until contact hours are over, instead they can relax with a book and enjoy free tea or coffee.
The establishment of a board of advisory will include experienced paediatric nurses, social workers, child safety representatives and foster carers, whom will provide a network of services to bring about positive change for medically fragile infants.
It is our goal that a network of qualified and experienced professionals, backed up by research, will address issues in the current care system and bring about legislative change. 
A board of advisory will not only support carers, but advocate for the prioritisation of the well-being of the child. It will also remove the barrier for potential foster carers, who may be concerned there is not enough practical support readily available to them.
OUR VALUES
Nurture, 
Love, 
Opportunity, 
Security,
Permanent resolutions.
About the organisation
Organisation name : Put Them First
Not for Profit : Yes
How to apply for this role
---
Please quote in application: Volunteer Opportunities via Pro Bono Australia.
---