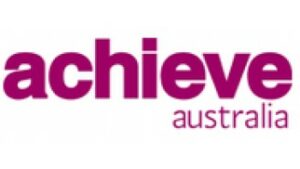 About the role
We are Achieve Australia!
Exciting opportunities for the candidates with a disability
Contract type: Casual roles available
Pay info: SCHADS award Level 1
Base Location: North Ryde
Travel requirements: Quality Champions will be required to travel across most of the locations of Achieve Australia services.
The Easy Read Role description is available below.
What do you do on the job?
Things you need to do in the job are :
Meet with people who get their services from Achieve Australia.
Write a report about the feedback you get from them. Your Quality Champion Partner will help you write the report
Meet those people again to see if things got better for them.
In this job, you work together with different people.
In this job, it is important that you do not share personal information about people you get feedback from.
Who will you work with?
You will work with A Quality Champion Partner. You will be a team.
You will work with your manager.
You will work with other people from Achieve Australia.
You will work with people that get their services from Achieve Australia and their support persons.
What can be hard about this job?
You will need to work with your Quality Champion Partner to:
Follow the work plan
Get the work done on time
You only have a short time to get people to trust you and give you feedback.
Who can apply for the job?
You should be a person with a disability.
18 years of age or over.
Have a mobile phone or be able to read your emails.
Be able to travel independently.
Not to be a client of Achieve Australia or their Partners now or in the past.
To apply for this job you must be able :
To help write reports
Like to meet people to get their feedback about Achieve Australia.
Enjoy working in a team.
Have the time to meet different people who use Achieve Australia services.
Be able to talk to different people in a way they can understand.
If you have questions about this role, please can contact us via:
Email:
Phone: 0457 836 568
Pre-employment checks: If successful for this job, we will ask you to get these checks done before you start the job:
Working with Children check
Criminal Background check
Reference check
NDIS worker check
About the organisation
Organisation Name : Achieve Australia
Achieve Australia is an organisation that wants people with disability to be part of the community.
Achieve Australia wants to help people with disability to:
Live good lives
Have a home
Choose a job they like
Learn new things
What is a Quality Champion?
A Quality Champion is someone who makes sure people get good services.
Quality Champions work with a Quality Champion Partner.
The Quality Champion Partner supports the Quality Champion.
Quality Champions work with people with disability who get their services from Achieve Australia.
Quality Champions help people to speak up.
This means to speak up about things in their services that are good or bad. This is called giving feedback.
How to apply
Please click "Apply". Attach your updated resume. You will need to answer a few questions before you click the "Submit" button.
Achieve Australia welcomes candidates from diverse backgrounds to apply. Achieve Australia is an equal opportunities employer.
We have a Covid-19 Safety Plan in place including policies and procedures to support our clients and our workforce. The Covid-19 Management Committee meets on a regular basis to ensure our responses continue to be proactive and comprehensive, ensuring the safety of stakeholders at all times.
#PBA1
---
Please quote in application: Quality Champion via Pro Bono Australia.
---