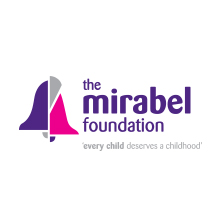 About the organisation
Organisation Name : The Mirabel Foundation
About the Mirabel Foundation
We are an Australian Children's Charity that was established in Victoria in 1998 and extended into New South Wales in 2003. Mirabel is the vision of Jane Rowe, who identified a vulnerable group of children and took action to make a positive difference in their lives. In her work as a drug and alcohol counsellor, Jane witnessed the devastating effects that drug use has on the children of drug users and the cycle of abuse that repeats itself through generations if action is not taken.
Mirabel believes that every child deserves a childhood and our mission is to break the destructive cycle of addiction. We achieve this through the delivery of proven programs for children who have been orphaned or abandoned due to their parents' illicit drug use. We also provide crisis support and parenting assistance for the kinship carers faced with the responsibility of raising the children. Mirabel's vision is that every child has a childhood filled with love, hope and belonging.
About the role
About the Role
This role is essential for the smooth running of our finances, which fund the important work we do to assist disadvantaged children and families. You'll be the primary support for our Finance Manager, using your accounting skills and eye for detail to keep everything processed accurately. You're a core part of our friendly administration team, who enjoys helping out to ensure the smooth running of our operations. You will be kept busy processing accounts, assisting with reports, managing spreadsheets and ensuring a positive experience for our donors. While you won't mind working away in the background to keep everything in check, you'll also be excited to support our team at fundraising events where you might help manage a silent auction or handle donations for a raffle. You'll enjoy being in a bright, happy office where your schedule will primarily be office hours.
Working at Mirabel is rewarding and diverse and your role will include things like:
Maintaining Accounts Receivable/Accounts Payable within our Accounting System (Xero)
Assisting our Finance Manager with monthly and quarterly reports and the yearly audit
Updating and managing Excel spreadsheets
Preparing and processing cheques/expenses required from program cheque requisitions for approval by our Finance Manager
Preparing and processing expenses by EFT payments via ANZ internet banking. Coding accordingly for entry into Xero after obtaining approval by our Finance Manager or CEO
Receipting income and processing receipts and payments in Xero. Preparing thank you correspondence and entering funding allocation to programs
Preparing and reconciling monthly and quarterly reports including BAS for approval by our Finance Manager
Assisting our Finance Manager with annual audit
Processing fortnightly wages for Mirabel staff when required
Preparing weekly banking
Reconciling Petty Cash, staff Visa Credit Card Statements and any other monthly expenses
Making travel and accommodation arrangements for staff as required
Maintaining and monitoring Mirabel's PayPal and Stripe accounts
Preparing and updating monthly donors excel spreadsheets, preparing end of financial year reconciliations, receipts and thank you letters
Reviewing Insurance, IT, Phones, Stationery and other office costs annually
Assisting our Finance Manager and Administration team with other tasks as needed
Assisting with Mirabel fundraising events and processing of income
Assisting with computer updates of software and backups if needed
Acting in accordance with Mirabel's Code of Conduct
Let's talk about you
You're looking for purpose in your work
You're looking to take a purposeful step in your career and find an organisation where you can put your skills towards supporting people, not profit.
You love numbers and have an eye for detail.
You have a real skill for finding the devil in the detail and you like to make sure everything is correct before you finalise it.  
You're the rock people can rely on.
You're dependable and easy to get along with. You enjoy being part of a team and are quick to help out when needed.  
You appreciate autonomy and get major satisfaction from crossing items off your to-do list.
You know how to manage your time and prioritise your work, without the need for constant supervision. You've got great initiative and will always be looking for 'what's next' rather than waiting to be told what to do.
Required for the Role
Bookkeeping experience
Strong communication skills
Excellent phone manner
Accurate spelling and presentation skills
Current Victorian Drivers Licence
Strong time management skills
Ability to work independently and as part of a team
Xero Software Package – Intermediate
Microsoft Outlook, Word and Excel – Advanced
Ability to priortise work and follow procedures
Ability to take direction from senior staff members
Ability to work in a team environment
How to apply
For specific enquiries relating to the position please contact Lena Hamilton, Finance Manager on 03 9527 9422 or accounts@mirabelfoundation.org.au
Please send a CV and brief cover letter detailing your skills and experience. Please apply asap as this position has no closing date and we will be interviewing candidates as soon as we receive suitable applications.
#PBA2
---
Please quote in application: Accounts Assistant via Pro Bono Australia.
---
Profession: #Administration_and_Office_Support, #Finance_and_Accounting
Sector: #Children