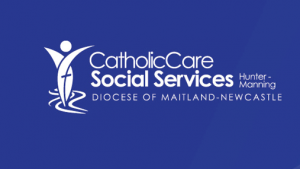 Organisation : CatholicCare Social Services Hunter Manning
Location : NSW Regional (Newcastle, Cardiff, Mayfield, Maitland, Taree, Forster, Cessnock, Lake Macquarie, Port Stephens, Dungog, Port Stephens, Muswellbrook, Raymond Terrace, Scone, Singleton, Gloucester)
Work type : Full-time, Part-time
Profession : Community Services, Education & Training, Social & Support Work
Sector : Children, Community Support Services, Youth & Young People
Salary type : Other
Application closing date : 19 Aug, 2022
About the organisation
Organisation Name : CatholicCare Social Services Hunter Manning
About Us
For over 60 years CatholicCare has been dedicated to working with the whole community to deliver support services and programs that meet the needs of children, young people, individuals, and families across the Hunter and Manning regions.
CatholicCare's services incorporates Foster Care, Community Care, Youth, Family and Relationships, Mental Health, and Refugee Support.
Our mission is to work together with local communities to build a stronger, fairer and kinder society that values children, young people, families and individuals. 
We aim for inclusive, just, and strong communities where all people feel safe, validated, and that their voice is heard. We nurture and encourage strong relationships where the individuality and strengths of each person are respected, valued and celebrated. 
If you share our values of respect, justice, connection and collaboration as well as having a passion for improving the lives or children or teenagers in need, we would love to hear from you.
About the role
Long-term Foster Care is for children and teenagers who are not expected to return to live with their families. Carers who provide long-term care commit to parenting children and teenagers on their journey toward adulthood and provide them with a safe, stable, loving home for life or until they reach adulthood.
CatholicCare are actively seeking Long-term Foster Carers for children and teenagers, between the ages of 0 to 17 years old.
There are different ways a child or young person can have a safe, loving and permanent home. These are called permanency pathways and can involve caring for a child or teenager for longer than six months up to many years. If a child or young person cannot return to their family for whatever reason, there are a range of permanent options to ensure that they feel safe and supported.
Permanent pathways include:
Long-term care
Where children and teenagers live in long-term care with dedicated Carers for more than two years.
Guardianship
A long-term Foster Carer may apply to become a Guardian through an application to the Children's Court. If approved, the Carer has legal responsibility of caring for the child or young person until they reach adulthood.
Open Adoption
A long-term Foster Carer may apply to adopt a child or teenager in their care through the Children's Court. If approved, the child becomes a legal member of the Carers family providing a safe and loving home for life.
Relative or Kinship Care
Where a child or teenager lives with a relative or someone they know through family and/or community connections.
Every child and teenager has a right and deserves to grow up in a safe, stable, happy, nurturing and permanent home.
Children and teenagers in need of out-of-home care come into care through no fault of their own. Most come from complex situations and have experienced trauma, loss or grief and may not have received the care, nurture, love and support they need to thrive. 
Being a Long-term Foster Carer comes with a range of responsibilities, and unique challenges. However, the rewards can far outweigh the challenges and there are some very specific rewards that come from providing a healing safe environment to a child or teenager.
The Benefits
Become an integral and highly valued member of our Care Team and foster care family.
Receive a tax-free allowance to support the day-to-day needs of the child or teenager in your care.
Receive comprehensive training and ongoing learning opportunities.
Be a positive role model and advocate for young ones in need.
Being able to demonstrate the foundations of safe, healthy and trusting relationships.
Becoming an integral part of a child's life story whilst providing a safe healing space for a child or young person.
Receive personalised support from a dedicated Care Team including a Carer Support and Development Caseworker, Child and Family Caseworker, Education, NDIS and Cultural Consultants and Therapeutic Specialists.
Access to 24/7 on-call support in the case of emergency assistance and support outside of general business hours.
Opportunities for Carers to socialise, network, share their experiences and access peer support. 
Being a Long-term Foster Carer can be hugely rewarding and life-changing, not only for the child or young person in care, but for the Carer themselves, their family and support network.
Application, assessment and approval process usually takes between 3 to 6 months and includes probity checks, assessment interviews and training.
Who can become a Long-term Foster Carer?
We welcome applications from people regardless of gender, culture, ethnic and religious backgrounds. Young or old, with or without children, single people, de facto and married couples; everyone is different and brings their unique experiences to this important role.
There are no upper age limits to become a Carer; you need to be older than 18 years old, be fit and healthy and able to care for a child or teenager in your care.
It doesn't matter if you rent or own your own home, or whether you live in an apartment or house. You need to be able to demonstrate that you can provide a safe, stable, and nurturing home and you have the right values and attributes that are important and beneficial for supporting children and young people.
If you have the desire to provide a safe, supportive, caring home-based environment for children or teenagers who truly need it and are able to open your heart and home, you can become a Foster Carer.
CatholicCare wants Foster Carers who can bring security, kindness, respect, resilience, patience and compassion into the lives of children and teenagers who need it the most. Can you be the one person to make a difference to the life of a child or young person in need?
Additional Information
CatholicCare Social Service Hunter Manning is a child safe organisation, committed to the protection of children and has zero-tolerance of any abuse of children. All volunteers are required to undergo a National Police Check, a Community Services Check and retain a valid Working with Children Check and comply with our Child Safeguarding Policy and Code of Conduct.
How to apply
If this sounds like you, or, you'd like more information; we'd love to hear from you. Apply Now!
To apply, please email Sharon Charles, Foster Carer Recruitment Consultant: scharles@catholiccare.org.au or call on 0487 102 831.
Our Carer Assessments and Placements team would also be delighted to hear from you via email, placements@catholiccare.org.au, via phone, 1300 590 898, or via our website www.catholiccare.org.au
#PBA3
---
Please quote in application: Long-term Foster Carer via Pro Bono Australia.
---
Profession: #Community_Services, #Education_and_Training, #Social_and_Support_Work
Sector: #Children, #Community_Support_Services, #Youth_and_Young_People