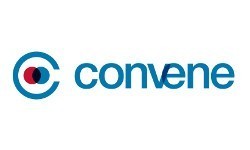 Contact
Name: Olivia Wellington
Position: Business Development Executive – Australia & New Zealand
Phone: +61 0431 395 477
Description
Azeus Convene is an award-winning meeting management software that streamlines all meeting processes, from preparation to documentation. By allowing users to annotate documents, join and hold meetings, and track actions on any device from any location, Convene is able to provide executives easy and secure access to their board papers, while giving administrators an efficient solution to prepare and manage board meetings.
Even with intuitive features, ISO-certified security, and cross-platform compatibility, Convene will cost at least 50% less than most of our competitors. This is why nonprofits, banks, and private & listed organisations alike in over 50 countries around the world use Convene to streamline and transform their meetings.
Convene is currently being used by nonprofits like Royal Flying Doctor Service of Australia, ChemCert Training Group and Paraquad NSW & BrightSky Australia.
About us
Azeus Convene is developed by Azeus Systems Holdings Ltd., a leading IT solutions provider in the Asia-Pacific that has been designing and implementing quality IT solutions to various sectors for over 25 years. Azeus is publicly listed in the Singapore Stock Exchange, and operates in Australia, Hong Kong, UK, United States, and Canada. Since its establishment, Azeus has set a solid track record of building secure, mission-critical systems, including those for law enforcement and public health authorities in multiple countries.
Recently, Azeus became an accredited supplier for the Digital Transformation Agency's Whole of Government Cloud Services, Queensland Information Technology Contracting (QITC), and NSW ICT Services Scheme.
For more information, visit www.azeusconvene.com/nonprofits.
Products and services
Prepare, organise and manage your meetings in one comprehensive purpose driven solution.
Convene is a board portal software that streamlines the entire meeting process, from preparation all the way to documentation and resolution.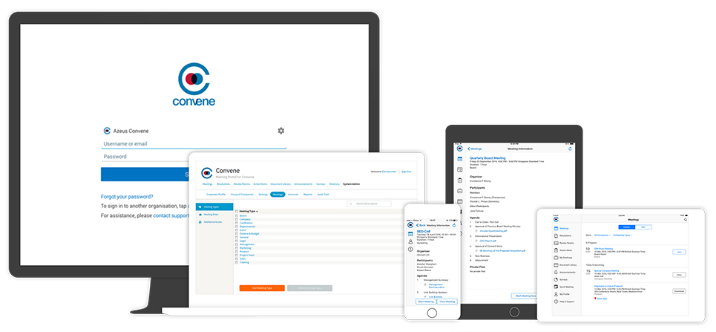 Features
Effortless Meeting Preparation
Meeting Management. Schedule and update meeting information and send notifications automatically.
Instant Distribution. Distribute digital board packs and updates with just a single click.
Offline Viewing. Access and annotate documents even without internet connection.
Document Annotations. Private and shared annotation tools—freehand, highlights, and notes.
Real-time Updates and Notifications
Push Notifications. Send and receive notifications for meeting invitations, reminders and document
Email Updates. Notify meeting participants of any changes via email.
Waste-Free Meetings. Eliminate the need for re-printing and re-distributing updated board packs.
Powerful Meeting Tools
Presenter Mode. Synchronised page viewing and shared annotations.
Laser Pointer. Direct participant's attention with the laser pointer.
Local and Remote Meetings. Join meetings via local connection or remotely via the internet.
Post-Meeting and Documentation
Document Management. Upload documents with ease using drag and drop, with versioning support.
Box, Dropbox, and SharePoint Integration. Access files from Box, Dropbox, or SharePoint and use them for meetings
Export Board Packs. Export annotated documents and meeting minutes with compiled notes & actions as PDF for record keeping or sharing.
Technical Specifications
Hosted service (cloud) or installed on-premise.
Cross-Platform. Access documents and meet using any device—iOS, Android, Windows, or Mac.
ISO Certified Security. Multi-factor authentication, AES-256 encryption, and remote data wipe.
For more information, please download our brochure or visit our website.