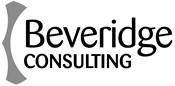 Description
Helping you to engage your staff through leadership workshops and conferences, reward consulting and candidate assessments.
About us
Andrew Beveridge is a Psychologist and Facilitator specialising in the practical science of leadership and employee engagement. Through Beveridge Consulting he partners with organisations to drive business results through workshops & conference sessions, remuneration consulting and candidate assessment.
Products and services
Workshops & Conferences
Leadership Workshops
Leadership is perhaps most simply defined as 'achieving results through people'. Great leaders are able to meet the needs of the organisation (i.e. achieving results) by harnessing the motivation and engagement of their people (i.e. through people). When leaders focus on one of these priorities at the expense of the other, they become largely ineffective, even having a negative impact on results. We have all seen the leader that focuses on results but forgets that these results are achieved through people. Equally, we have seen leaders who value being a friend to those they manage more than the results required from them as a leader. The role of leader is so critical because it is the point where the organisation's goals meet the people who deliver results.
Having an understanding of what motivates people in a work context is a great starting point for being able to build employee engagement. This will help your people to focus on delivering results for your organisation, while also having rewarding and motivating roles.
Andrew conducts standard or customised leadership workshops, ranging from one hour to full day sessions. These interactive and engaging sessions cover the questions your leaders are asking:
What makes a great leader?
What motivates people at work?
How do I build an effective team?
How do I create a great place to work?
How do I hire the best people?
Which leadership styles work best?
How do I build resilience in myself and others?
How do I build a diverse and inclusive workforce?
Team Workshops
Leaders typically achieve results through teams. An effective team can help boost productivity through collaboration and support. But leading a diverse team can be tricky. How do we make the most of the diversity in our teams, while also focusing on results?
Andrew helps team members to build their awareness of themselves and others. His team workshops are engaging while also focused on business results. You might like to think of it as fun with a purpose. Building connections within the team can help the leader to get the best from the team.
Andrew's team workshops range from one hour to full day sessions. Sessions often include the use of tools like the Myers-Briggs Type Indicator and other team-role questionnaires to help ground the session. They include a combination of theory and practical exercises that involve the team working together. These workshops cover:
How do people differ?
How can I tailor my approach to the needs of our customers?
What are the unique strengths that I bring to the team?
What are the benefits of having a diverse team?
How can we work more effectively together?
How do I build my resilience?
What are the implications for how we communicate and make decisions?
Conferences
The topics Andrew covers in his workshops can also be tailored for your next conference. Andrew has experience both chairing and speaking at conferences on a broad range of topics. In addition to client conferences, Andrew's conference experience includes:
National Leadership Psychology Conference (Melbourne 2012) – chairperson
National Leadership Psychology Conference (Melbourne 2013) – chairperson and speaker
Talent Management Innovation Forum (Melbourne 2013) – chairperson and speaker
Loyalty Summit (Mumbai 2015) – keynote speaker, panel moderator
National Leadership Psychology Conference (Melbourne 2015) – speaker
Whether it's 10 people or 300, Andrew's enthusiastic, engaging and entertaining style is sure to connect well with your conference attendees.
Remuneration Consulting
Andrew is a well regarded remuneration consultant, particularly with Not For Profit and small to medium sized organisations. He partners with Pro Bono Australia to produce their annual Not For Profit Salary Survey. His experience through Beveridge Consulting has included the following:
Reward Strategy
Developing an overall framework for reward, remuneration and benefits
Providing a shared understanding of what we reward and how we reward
Provides the broader context and philosophy from which new policies can be generated and existing policies tested
Salary Benchmarking
Matching of roles in small, medium and not for profit organisations against market pay data
Analysis of internal relativity – identifying where each person is paid relative to their peers
Analysis of external competitiveness – comparing current pay practices against market pay data
Grading Structures
Tailored grading structure design unique to your organisation
Identifies the focus and contribution of roles within each job grade in terms of knowledge and experience, planning and coordination, and guidance and impact
Allows comparison to market pay benchmarks, even for roles without a direct job match
Useful for career management, succession planning and structure clarification
Candidate Assessment
Andrew commenced his consulting career conducting psychometric assessments and behavioural interviews to help select the best people for roles. His experience through Beveridge Consulting has included the following:
Psychometric Assessments
Using psychometric ability tests and personality assessments to determine potential, strengths and risks in candidates for leadership and general roles
Identifying key risks for candidates, and behavioural interview questions that can be used to explore these risk areas further
Selection Training
Training managers in the effective use of behavioural interviewing and other selection techniques
Leadership Coaching
Tailored one-on-one coaching to focus on practical improvements in leadership effectiveness
Using psychometric results to help with on-boarding during the critical first 90 days
Typically over three sessions across a two month period with an option to extend
Examples of work
Testimonials
"Andrew has provided a high level of expertise and integrity working with our Executive team to help them understand their impact and influence in positively influencing the organisation's culture and engagement levels. Andrew has a strong, credible presence that engages his audience, even on challenging subjects such as feedback and resilience. I would strongly recommend Andrew for organisations that are looking to engage leadership teams through articulating the clear business drivers to invest effort in improving culture and engagement."
"Andrew combines intellectual nous and strong relationship skills to produce outstanding outcomes for his clients."
"Andrew led our team through an informative and fun "change and resilience" themed workshop. His friendly and engaging style was very effective and was well received by the team."
"Thanks so much Andrew for coming to speak to our team. It was exactly what we were after! You had a great way of connecting with the group and understanding where we were coming from. We had really positive feedback from your session. It has also prompted some very interesting discussions for the rest of our time together that has given us a good base to work with."
"What immediately stood out was Andrew's generosity, humour and integrity as a facilitator. The session was extremely well planned, yet he was absolutely flexible and responsive to our needs on the day… I would highly recommend Andrew as a facilitator and we look forward to working with him in the future."
"Andrew is a passionate, dedicated and commercial colleague. He has a knack for honing in on the specific problem or issue facing a client and recommending creative solutions for delivering on their needs."
"Andrew brings together a real understanding of people and organisations, combined with a strong passion for making businesses run well."
"Andrew is a strong facilitator and leader of people. He holds in-depth knowledge of customised surveys and emotional intelligence. Client satisfaction is a core priority for him, as is pragmatic yet quality solutions. I highly recommend Andrew, he was a pleasure to work with."