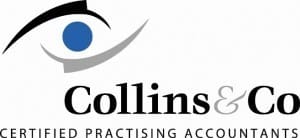 Address
127 Paisley Street
Footscray
Australian Capital Territory 3011
Website: www.collinsco.com.au
Contact
Name: Ryk Eksteen
Position: Audit Principal
Phone: 03 9680 1000
Fax: 03 96896605
Email: re@collinsco.com.au
Description
Your organisation can confidently rely on Collins & Co for advice on auditing services and for advice on governance responsibilities & issues which are unique to Not for Profit entities.
About us
Collins & Co Accountants are the largest accounting firm in the Western Suburbs, looking after small to medium sized businesses across Victoria, with a strong presence in the Western Suburbs
Collins & Co have 5 partners and more than 40 staff who provide the following services to their clients: Taxation Advice, Superannuation, Business Advisory, Audit, Succession Planning, Business Valuations, Estate Planning and Wealth Creation.
We have the same skills as the large accounting firms for less fees and more accessibility to partners.
Our clients choose us because we care about them and want to see them succeed. Ultimately the success of our clients businesses ensures the success of ours. To accomplish this we utilise the passion of our talented accountants and draw on our 60 years of experience in servicing a multitude of business needs.
Our Experience in the Not for Profit Industry
Collins & Co specialises in the areas of audit and business services and has extensive experience advising and auditing not-for-profit organisations including dealing with corporate governance. Our firm's approach is to place an emphasis on systems, risk exposure, accounting policies, governance issues and understanding the client's objectives.
We look after but are not limited to: Charities; Community Service Organisations; Companies limited by guarantee; Public benevolent institutions; Disability Services organisations; Health organisations; Educational organisations; Deductible gift recipients; Income tax exempt funds and Employment organisations and many more.
Products and services
Our Not for Profit services include:
Audit Services:
We have extensive experience in conducting audits for companies limited by guarantee, local religious and community associations, clubs and other not-for-profit entities.
We also provide the following services:
Internal controls reviews; and

Preparation of statutory financial reports.
Accounting Services:
We can provide a cost effective accounting function as a platform for your organisation to achieve its goals. We can help you grow your business, minimise your tax and improve profitability.
Our team of qualified accountants can assist you in the following areas:
Monthly management accounting – e.g. Monthly bank reconciliations;

Budgeting and cash flow projections;

Preparation of both general purpose and special purpose financial report;

Business Activity Statements (BAS);

Liaising with external auditors (where we are not the incumbent auditor);

Accounting software installation and training;

Implement/supervising accounting systems to guarantee accuracy, transparency and reliable internal controls over the accounting function; and

Funding proposals.
Business & Tax Consulting Services:
Collins & Co is experienced in providing business advice in a range of specialised areas including:
Assistance with start-ups including constitutions and business name registration;

Tax concessions, monitoring and compliance; and

Daily administration and winding up.
Examples of work
In the last six months, we helped a community child care organisation uncover and quantify the extent of fraud that was being committed by a trusted employee. The organisation had suffered financial hardship in the past few years and was heading towards insolvency.
Our assistance helped provide the necessary support for an employee fidelity claim from the organisation's insurance company to recover some of the financial losses incurred.