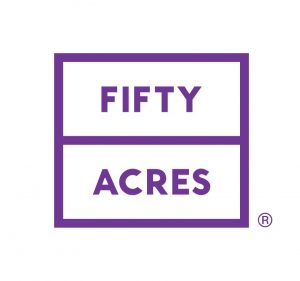 Contact
Name: Jo Scard
Position: Founder + Chief Executive Officer
Phone: 0457 725 953
Email: jo@fiftyacres.com
Description
We're Fifty Acres – an award-winning communications and engagement agency. Our team of passionate strategists and creatives believe in doing great work, for good.
About us
Fifty Acres was established in 2010 by Chief Executive Jo Scard. Fifty Acres works with NGOs and not-for-profits, industry associations, local councils, government departments and national organisations providing a wide range of communications and engagement services.
About Jo:
Jo Scard is Founder and CEO of Fifty Acres, with 20 years' experience in communications and a wealth of knowledge in public relations and project management she stands as one of Australia's most highly sought-after strategic advisors. Jo has a proven reputation in the field across corporate and political advisory and journalism.
A respected former journalist, Jo has worked with ITV, Associated Press, Seven Network, SBS, ABC and Fairfax, and previously acted as a senior adviser in the Rudd and Gillard governments as well as the British Labour Party. Jo is a trained lawyer and is also a member of the NSW Council of the Public Relations Institute of Australia and acts as a board member for Fitted for Work and Hockey ACT.
A leader in the for-purpose and social impact sector, Jo runs regular webinars for not-for-profit and community-based organisations, and is available to speak at public events.
Products and services
We offer:
Strategic communications
Government relations and advocacy
Media relations
Stakeholder relations
Content development and creative
Campaigns
Event management
Workshops and training
Examples of work
Case studies on website: https://fiftyacres.com.au/case-studies/
Coordinating The Lab Network's media outreach
The Lab Network is a not-for-profit and dedicated tech club, offering a social environment for young people on the autism spectrum to explore their passions and learn new skills.
WHAT WE DID
Media relations

Government relations and advocacy

Content development and creative
Through consistent media engagement and the circulation of unique story angles, Fifty Acres has successfully secured a number of features for The Lab across mainstream and niche media, promoting the organisation's services to a national market.
By engaging national and local media vendors, we helped The Lab embark on a series of interviews and feature pieces about providing young people on the autism spectrum with the opportunity for social connectedness in supportive environments.
In the first six months of working with The Lab, we secured an editorial value of $100,000 and reach of over 360,000 people, leading to a ROI of 5:1.
We've also helped to secure meetings with a number of key government stakeholders and policymakers to discuss federal funding, and assisted with The Lab's 2020-21 Budget submission.
Launching the innovative Childhood Dementia Initiative
Fifty Acres assisted with the national launch of the Childhood Dementia Initiative (CDI), the first organisation of its kind with a vision to end childhood dementia through awareness, funding and research.
WHAT WE DID
Media relations

Government relations & advocacy

Campaigns
Founded in Australia, CDI drives research and advocates to urgently disrupt the impact of the collective group of childhood dementia disorders in children, families and society at large. Fifty Acres sparked nationwide media attention for the launch, reaching a total of 1.8 million eyeballs. In just a few months, we gained $650,000 worth of media.
Throughout the project, we played a critical role in driving general awareness and increasing donations for the initiative through strategic communications, including the dissemination of hard-hitting media releases and emotive case studies. Our determined lobbying at federal, state and local levels assisted in securing a number of meetings with federal, local and state MPs to successfully gain financial support for CDI.
We also assisted in mapping out key stakeholders and provided recommendations for outreach and briefing notes for meetings.