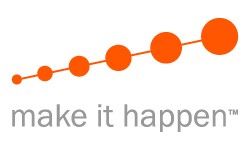 Address
Level 2, 34 Belgrave St
Manly
New South Wales 2095
Website: www.mih.com.au
Contact
Name: Gail Hopkins
Position: Managing Director
Phone: 02 8076 9090
Email: info@mih.com.au
Description
With an increasingly crowded marketplace and rising levels of donor fatigue, not for profits are facing more competition than ever before. In these challenging times, differentiation is key. Our not for profit marketing services equip non profit organisations with the professional resources they need to stand out in this busy sector, helping to raise all-important awareness and much-needed funding.
About us
We're an independent full service marketing and creative agency based in Sydney specialising in NFP Marketing.
By taking the time to understand the individual causes of all our NFP clients, we can develop a brand and marketing presence that is professional, sustainable and affordable. With a focus on maximising both budgets and internal capabilities, we aim to complement your existing skills while providing the necessary support to 'fill in the gaps'.
Since 2000 we have brought brands and customers together through inventive marketing and creative communications. We approach every project with honesty and integrity and aim to foster long-term relationships with our clients, working together to realise their goals now, and into the future.
Our Not For Profit Marketing Services Include:
Marketing strategy
Brand strategy and development
Brand identity design
Digital strategy and web design
Graphic design and print collateral
Visit our website to find out more – www.mih.com.au
Products and services
Our Not For Profit Marketing Services Include:
Marketing strategy
Your marketing strategy forms the foundation of all your marketing pursuits – get it right, and you'll be equipped with a set of directions that will take you straight to your business goals.
That's why our marketing strategy services involve critical evaluation of your brand and marketing activity – including measuring against your KPIs and tweaking your marketing strategy as appropriate – for a flexible, realistic marketing strategy that fits your brand, based on actual performance.
Brand strategy and development
Branding isn't just your logo or business card, it's everything you offer say and do. It's the story, image and personality of your business and communicates your business' soul.
Strong brands require careful thought and planning, extensive research, specific definition, test-driving, and maintenance. MIH can work holistically, going from research to a brand concept, or act to support our clients with specialised services, such as brand architecture and messaging strategies.
Our brand strategy services include: brand audit, customer segmentation, brand architecture, brand governance, co-branding and partnership strategy, positioning, corporate purpose and values, customer experience definition, messaging, metrics and measurement, naming, tone of voice and personality.
Brand identity design
At MIH we work with clients developing their brand hierarchy, creating brand guidelines, corporate identities, logos, toolkits and asset libraries for web and print applications.
Digital Strategy and web design
Digital strategy provides the vision for each project and ensures you are speaking to the right people, in the right way, at the right time and place. The best digital work combines strategy, creative and technology. We specialise in all three.
We're excited by how technology is opening the door to new and better ways to communicate, to understand, to measure and to improve the way we deliver messages. A strong online presence is essential for any business, regardless of industry or offering.
Our digital and web design services include: responsive websites, e-commerce integration, email marketing, CMS customisation (WordPress, Drupal, Joomla) social media as well as analytics set-up, training or ongoing maintenance services.
Graphic design and print collateral
We use graphic design to convey specific messages, or to evoke a particular perception or response, to create your brand's marketing tools and touch points. Our focus is to make sure our clients marketing materials tell a consistent story and communicate the right message through strategic input, design and implementation for tactical and individual marketing campaigns, and cross-company communications.
Our graphic design services include: Marketing Collateral, event materials, brochures, direct mail, newsletters, annual reports, internal templates, sales and promotional material, illustration, iconography and infographics.
Examples of work
Wunan Foundation
A saturated marketplace coupled with Wunan's remote location had left this indigenous NFP in critical need of funding from government and non-government sources, and greater awareness of its cause. A refresh of Wunan's online presence was required to attract donations and showcase the positive impact their work was having on the lives of Aboriginal people.
Make It Happen implemented a new design for Wunan's corporate website, featuring compelling content, as well as social media integration to communicate the 'human' side of the foundation's work across appropriate social channels. An online donations feature was incorporated within the Wunan site, open-source CMS was developed, and the delivery of a regular electronic newsletter was set up.
Make It Happen has also been involved in producing sub brands, strategy diagrams, iconography, fact sheets, brochures and the Wunan 2012 and 2013 Annual Reports.
Testimonial:
MIH were able to perfectly capture the tone, look and feel we were trying to communicate. MIH were flexible and easy to work with throughout the website redesign process, providing creative solutions to the many barriers that exist in the tough not for profit, non-Government Indigenous environment of Wunan. MIH have provided us with the tools and training to make most content updates internally, with the blog and news feeds managed by us. MIH will continue to partner with Wunan in the long term, providing advice, more complex content and design enhancements and user support.
Nick Thomas, Chief Executive Officer, Wunan Foundation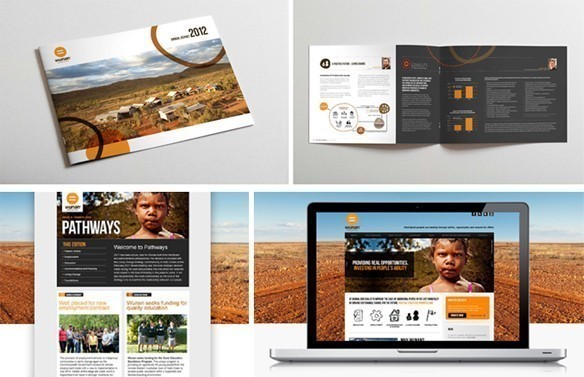 Very Special Kids
Very Special Kids is a Victorian NFP providing services and support to the families of children with life-threatening illnesses. Make It Happen was engaged to provide brand strategy services to revive the previous corporate and fundraising branding which had lost its way through a lack of structure, inconsistent messaging, typography, colour palette and imagery.
The brand refresh process involved a critical assessment of the existing communications and competitors followed by development of a strategy for brand architecture, design and implementation. The brand design included a refresh of the Very Special Kids corporate identity, including a new logo, brand guidelines, corporate communications, signage and templates.
Following the brand design, MIH advised Very Special Kids on their brand architecture providing structure for sub brands and fundraising activities as well as creating 'on brand' identities and event materials for each event.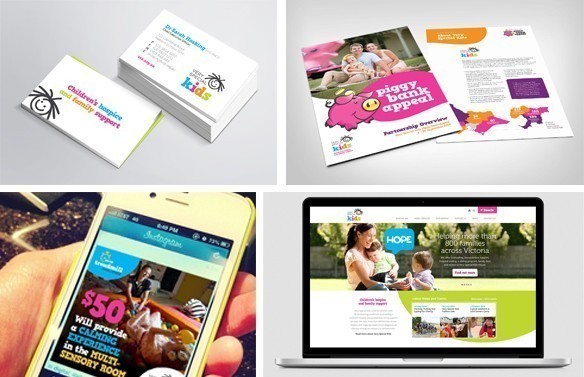 Autism Spectrum
Following a new vision, mission and values statement, Autism Spectrum required a refresh of their corporate identity, involving the design of a new logo. The new logo was applied across a wide range of print-based assets – including corporate stationery, signage, and apparel – and was designed to be 'digital ready' for subsequent application online. By providing the client with professionally-designed templates, they could ensure consistency in the way their brand was represented, as well as having greater control and independence at an internal level. Once the new logo had been designed, Make It Happen presented it to the Board on the behalf of Autism Spectrum, delivering a professional, persuasive presentation.
Testimonial:
Australia (Aspect) Refreshing a brand is never easy; when the brand is synonymous with the delivery of trusted, critical support services, there is added pressure. We were delighted when a local agency, Make It Happen, undertook our brand refresh as a pro-bono project, while still taking the time to fully understand our rationale for change – to both reflect a new vision, mission and values statement, and to equip us with a new logo device that would work across print, digital, signage and apparel. Working with MIH, the process was clear, the steps were logical, and the outcome was everything we hoped for.
Lauren Tanfield, Manager, Communications, Autism Spectrum