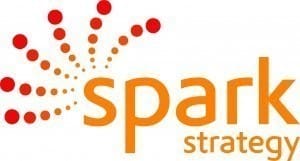 Description
We're an agency for strategic thinking, transformation and sustained action. We believe ideas spark brighter futures and we're about unearthing these ideas and bringing them to life. We work with Not for Profits and Social Enterprises to unleash their potential, to transform them and the societies in which they live.
About us
Description
OUR GOAL IS TO CREATE HIGH IMPACT SOCIAL CHANGE.
At Spark Strategy, we work with not-for-profits to make their organisations more financially sustainable (and therefore more impactful), with corporates to amplify the impact of their Corporate Social Responsibility (CSR) strategies, and with governments to develop solutions to complex social problems at scale. We believe that no one sector can create high impact social change alone. Cross-sector collaboration allows us to multiply our impact.
We believe that something extraordinary happens when an idea gets the opportunity to flourish, to find its feet. Through nourishment and encouragement, it can change everything. We believe that ideas spark brighter futures and we're about unearthing these ideas and bringing them to life. We work to unleash their potential and transform organisations and the societies in which they live.
OUR MESSAGE IS CLEAR: SCALE YOUR IMPACT, NOT YOUR ORGANISATION.
About Us
Spark Strategy has been advising organisations across sectors for over 20 years and does so from a very practical and action-oriented perspective. We help organisations generate business models, which enable resources to achieve sustainable outcomes so leaders can deliver on promises.
We work with leaders who are as excited by ideas as we are, who want to take action and transform. And we stick with you to achieve outcomes, favouring long-term relationships over draft and dash plans.
Our approach is highly interactive and all about bringing energy into the process through team-based workshops and activities that spark moments of discovery. We do the heavy lifting behind the scenes, stretching and probing the ideas before rigorously planning out the execution with you and building the organisational stamina required for your transformation.
We employ both traditional consulting tools (without the consultant-speak) and creative tools to help unearth ideas that are practical yet innovative.
About the Team
We are an eclectic team, bringing cross-disciplinary knowledge and experience to drive creative thinking. We have done the consulting rounds, working with clients of all sizes, and within advisory firms from the largest to sole practitioners. We have worked across borders and industries but don't claim to be the expert in any. Our style is to work with you to uncover the ideas.
About our Managing Director

For over two decades George has advised Not-For-Profit, Government and Commercial organisations in strategy, business models and system transformation. Entering the consultancy world on the back of having grown and sold a $100M private sector business, Spark's clients consistently cite his aptitude for strong practicality, keen commerciality and a commitment to creating uniquely tailored approaches which render maximum practical benefit. Prior roles saw George as the National Lead Partner for Transformation at Grant Thornton, Program Director for the Department of Premier and Cabinet as well as Chairman and Non-Executive Director on a number of technology and service businesses. A proponent of tough love, George will stop at nothing in his quest to unearth fresh ideas for sustainable business models. In his spare time (outside of airport lounges) George can be found making a mess in the kitchen and cooking up a storm with his kids.
Products and services
Innovative Business and Funding Models
The revenue or funding model is important but in order to achieve funding sustainability and viability, you've got to get the business model right and the funding model will follow. At Spark, we interrogate both and generate a model, which is right for your business. We then plan a roadmap, which defines how we're going to get there.
Ideation
Let the intuitive ideas flow before applying traditional strategy tools. The process begins with an exploration of possibilities through collaboration, conversations that spark curiosity, making room for intuition to flourish.
Strategic Thinking
We believe myopic thinking has killed strategic thinking. Short-term thinking is a straightjacket, restricting the mind from exploring endless possibilities. At Spark Strategy, we're bringing strategic thinking back to life. If ideas are given the chance to flourish, change happens. That's why our work is highly interactive and centered around conversation and team-based activities. We know you've got the ideas. We help you uncover them.
Social Impact Framework
With expertise in the delivery of social impact and community investment strategies, our team will develop a framework to support you in focusing your team's efforts, uncovering business opportunities and creating meaningful social change.
Policy & System Design
Government initiatives are often highly complex and involve multiple stakeholders. The key to the successful execution of these initiatives is the alignment of these stakeholders, detailed planning, and water tight project management. We have had deep experience performing this master integrator/project management function for a range of large-scale projects. From government policy and social innovation to collective impact initiatives, we have a strong track record of managing to time and budget, to realise the transition from ideas to action.
Co-Design
The co-design process is an effective way to consolidate expertise, assets, and resources towards delivering wide-scale impact. Using a number of collaborative techniques, we help groups create models for impact. Benefits can include commercialisation opportunities for partners, a strong and united voice of a shared vision, and the ability to share knowledge, information and networks. By involving multiple organisations, we open a path to sustained impact and reform. The particular essence Spark adds to co-creation is that of sustainability; we strive not only to solve the social issue at hand, but to do so in a way that is self-sustaining over time.
Examples of work
"Spark has crafted a business model that will create a sustainable future for us." Jan Owen, FYA
---
We worked with Young and Well to develop a method towards leveraging their research and technology systems. This allowed them to create a platform which they built into a commercial offer. The result was that an initiative with a value of a few hundred thousand dollars became the basis for their new overseas CRC pitch worth over $100M.
"Yes we want to change the world – Spark helped us consider how can we do that in a financially sustainable way" Jane Burns, CEO
---
We helped Carrington Health make the shift towards generating income by expanding their offer beyond low-income families and charging a premium on their services to the more well-heeled members of their community. Focusing on service delivery to clients with chronic care needs enabled them to utilise existing facilities more widely, gain revenue and become sustainable without any negative impact on existing beneficiaries.
"What came back from Spark was something usable and translatable into action. It was outstanding." Ronda Jacobs, CEO
---
We enabled Orygen to see the value in their organisation as a thought leader by focusing on innovations in research and clinical service. Productising their unique insights into early psychosis and selling IP to the rest of the world in the form of training brought them over $1M of earned revenue in the first year alone.
"Spark is different from the others, more creative…they bring a fresh perspective, they're optimistic and outcomes oriented." Patrick McGorry, Executive Director