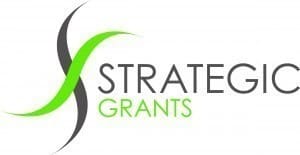 Description
The unique provider of grant strategies in Australia and New Zealand to build non-profit capacity to be ready to apply and able to win grants. Strategic Grants supports your organisation with our customised grants calendars and Grants Expertise Management Systems (GEMS), mentoring and training, application writing and critiquing.
About us
Strategic Grants: How we help nonprofits from Strategic Grants on Vimeo.
Grants are a great source of project funding for nonprofits – but managing a grants program can feel like a daunting task. Strategic Grants is behind you every step of the way. Whether you're just beginning to seek grants, or you're looking for ways to improve your current program, we're here with the right mix of tools, strategies, services and support to maximise your nonprofit's success.
Strategic Grants can assist your organisation with planning, support, training and education. We:
develop Grants Calendars detailing just the grants that are relevant to your organisation's funding needs, saving you hours of grants research
provide access to GEM Portal and GEM Local, complete online grants management systems
provide mentoring, training and workshops on best-practice grant-seeking
review and advise on existing grants programs
develop strategies to improve grants success
offer critiquing and writing training
write grant applications and government tenders
Strategic Grants firmly believes in increasing your organisation's capacity to implement, manage and sustain successful programs. Therefore, our services are focused on providing you with enduring resources and training to build internal knowledge and expertise. The service suite is designed to work with nonprofit organisations at whatever level is required, and in alignment with available organisational resources.
Strategic Grants works with nonprofits across Australia and New Zealand, so whether you're setting up a grants program or looking for ways to improve, we'd love to hear from you.
Products and services
Grants Expertise Management Systems
Plan ahead with a customised Grants Calendar, detailing just the opportunities and deadlines that are relevant to your organisation's mission, projects and location.
Save hundreds of hours of research with GEM Portal, Australia and New Zealand's only end-to-end grants management system with an integrated database, updated daily by specialist nonprofit grant researchers.
Receive notifications when grant deadlines change, and when new relevant grants become available in your GEM Portal.
Our team of expert researchers is updating the GEM Portal database daily, so you always have access to an up-to-date version of your customised Grants Calendar.
Record your applications, outcomes, relationship history with funders and dates that funder reports are due, all in one central system.
Produce detailed reports on your grants program with a single click.
Tour the demo at: http://demo.gemportal.com.au
GEM Local is our grants management system tailored for local community nonprofits with an annual turnover of under $500,000 per year.
GEM Local shows you just the grants that are relevant to your group or organisation. Grants are matched to you based on where you operate, what you do, and what your legal status is. As well as a detailed list of relevant grants, GEM Local allows you to:
Look up the websites, contact details, criteria and eligibility requirements of funders
Receive email alerts when closing dates change, or when new grants become available
Keep a record of what you have applied for, and what grants you have received
Tour the demo at: http://demo.gemlocal.com/
Support
Monthly Grants Program Management
Monthly management is recommended for organisations with a dynamic project wish list, and who may have the experience but simply not the time to manage their grants strategy. It is also suitable for organisations embarking on a grants strategy for an initial three to six month period, so that training and mentoring can be provided to organisational staff.
Monthly grants program management includes:
full personalised access to the GEM Portal
monthly meetings to plan for upcoming applications and ongoing grants program management review
post-meeting action lists
project review and project matching
general grants management advice based on Strategic Grants' experience and contact with funders
advice on reporting, acquittal and major donor stewardship processes, as required
provision of monthly reports, detailing activities carried out each month.
Strategic Grants' experienced team can assist with:
project planning and budgeting
major donor stewardship for grants success
grants training and mentoring
grant application critiquing
Seeking philanthropic funding from Trusts and Foundations and individual philanthropists is a very competitive process. A well-developed submission can make or break an organisation's ability to successfully attract the support needed to fund important projects.
Strategic Grants provides grant-writing services to those organisations we work with in an ongoing capacity. We can also assist non-profit organisations with preparation of government tenders.
Preparation of Cases for Support
Strategic Grants' copywriting expertise plays an instrumental role in securing significant grant funding for our clients. These same skills can help you to broaden the conversation with your prospective donors through creation of high-impact, meaningful Cases for Support.
A well written case for support is a powerful document that should inspire your donors to give.
It sets the scene of why you exist, the need you are meeting, how you are meeting it, your accomplishments and why you need support to do more. It should drive your prospective donors to want to be involved in achieving your vision.
The Strategic Grants team can work together with your organisation to research, write and manage design for your organisation's next Case for Support.
Training
Strategic Grants offers a range of in-person and webinar-based training to cater to all levels of experience.
An introductory grants webinar is available to view at any time on our website, providing an overview of basic grant-seeking processes for non-profit organisations.
We offer regular, practical half-day Grant-Seeker Workshops across Australia, delivering:
An overview of the grants landscape in Australia
Steps to ensuring your organisation is 'grant ready'
Advice on project packaging, developing grant-ready project plans, and setting up internal processes to succeed
Feedback from funders on why applications do or don't succeed
Tips on relationship building
How to write a great grant application
Next steps when an application is successful or unsuccessful, and effective reporting, acquittal and stewardship strategies
Led by experienced grant specialists with extensive track records, and informed by years of industry experience and interaction with both funders and grant recipients, the workshops provide best-practice strategies for grant-seeking as well as the opportunity to discuss challenges and examples drawn from attendees' experiences.
Participants will receive a Strategic Grants project information form and a Grant-Writing Checklist to assist them with implementing what they have learned. Participants are eligible to take Advanced Webinars.
Click here to book or register your interest in a Grant-Seeker Workshop.
Strategic Grants is often asked to present at conferences. We are more than happy to assist wherever time permits and have a broad range of grant-seeking strategies and topics that we can talk to, according to the needs and interests of the target audience.
If you need help at any level with your grant-seeking strategy, please contact us today for an obligation-free consultation.
Grants Program Review Workshop
Setting up a grants program or wanting to explore why your current strategies are not achieving a good grants success rate?
Our Grants Specialist will work with key organisational staff to analyse the internal environment, review project development processes (including development of project budgets), project matching inclusive of interactions with funders, record keeping and acquittal and stewardship processes.
Your workshop report will result in a recommended Grants Strategy based on workshop outcomes, documenting agreed, best-practice processes including a grants writing checklist, ensuring long-term sustainability of a successful grants program.
We work with grant-makers and nonprofit leaders to promote better understanding of the grants process from both perspectives. We work with peak bodies to facilitate relevant education and networking opportunities.
Ensure your nonprofit's board is grants informed with in-house education sessions.
Bridge the divide between program delivery staff and your organisation's grants team with in-house educational sessions on funder's expectations regarding evaluation, reporting and stewardship.
Receive feedback on funding guidelines and forms to ensure the information makes your intentions clear with no ambiguities and allows prospective applicants to make informed decisions about whether to apply
Examples of work
We have helped dozens of nonprofits across Australia improve the effectiveness of their grant-seeking programs. Here is what a few of them have had to say:
MilkCrate Theatre
On delivery of Customised Grants Calendar: "This is one of the most exciting emails I have ever had… we now have the info we need to start developing new relationships and potential partners."
And after some months of use… "at my last board meeting I was able to present a comprehensive report on funding opportunities for Milk Crate Theatre, which is entirely due to the access to the GEM Portal.   It has made such a difference in our operations."
BlueCare
"Thank you for all your work and patience. The outcome is excellent and will be very valuable."
Youngcare
"GEM Portal has revolutionised grant management at Youngcare. It has maximised efforts for the Fundraising and Management Team by drastically reducing the amount of time required to search for upcoming foundation deadlines, and to record each interaction and the project that has been submitted.
We have found that with the aid of GEM Portal we can pull off enhanced reports for the Board to see where each application is at, and demonstrate the work that is taking place to secure much-needed funds; and it has also allowed me to get a clear indication of the success of my team in this area.
The team at Strategic Grants are an extension of Youngcare. They work with our organisation to learn and fully understand about what we aim to achieve in the coming year and as a result are able to advise key staff on the relevant foundations that we can apply to. All of this is recorded in the GEM Portal. It takes much of the work out of investigating grants.
I believe the cost of GEM Portal has had huge cost-saving implications and supported raised income levels for Youngcare from trusts and foundations – very impressive!"
Heart Foundation
"Having conducted an in-depth review of Heart Foundation's grants program, Strategic Grants has worked with the Heart Foundation to establish centralised strategies to best position the organisation for grants success. This has been successful in changing and establishing new and effective processes as we continue to work towards building an effective grants program."
Anon
"It has been wonderful working with the Strategic Grants team and your GEM Portal has been vital to shaping our Trusts and Foundations strategy."
And some feedback from our workshop attendees:
"Everyone who is working in this space should invest in this half-day workshop, regardless of where they are on their fundraising journey."
"I found the information that you presented to be invaluable (amazing actually!) and the resources provided useful! It is one of the best workshops I have been to."
"The best money spent on personal development ever, I'd say. It bought together clearly what an excellent grants program should look like and how to go about achieving it."