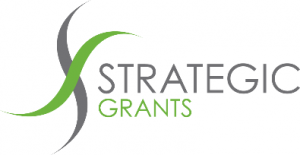 Description
Strategic Grants is the unique provider of grant strategies in Australia and New Zealand, working with for-purpose organisations to build and sustain effective and customised grant-seeking strategies.
About us
The Strategic Grants team is not just a group of consultants. It is a team of professionals, all of whom have a heart for the charitable sector and the multitude of causes that its charity partners exist to support. As a dedicated team of fundraisers, Strategic Grants believes strategic thinking and relationship building are essential to success. 
Strategic Grants works with for-purpose organisations to put in place the right processes, tools and support to ensure their grant-seeking is effective and sustainable.  Strategic Grants provides customised grants calendars through its Grants Expertise Management Systems (GEMS), as well as training, planning, project matching, policy and process development, writing, evaluation, and advisory services.  
Strategic Grants' experience spans over 20 years and their successful track record ranges from $500 philanthropic grants to $50M government tenders. 
Products and services
Strategic Grants believes it's not about how many grants are out there; it's about finding the right ones for your organisation. 
Strategic Grants' unique Grants Expertise Management System, GEMS, is an always current, customised Grants Calendar finding JUST the grants relevant to your organisation.
GEMS contains ALL grant sources for your organisation, no matter which sector or State(s) you work in, including:
Public and Private Ancillary Funds

Trusts and Foundations

Health and medical research funders including peer-reviewed

Corporate Foundations

Local, State and Federal government grants and tenders

International funders that give to Australian-based organisations
Updated daily by a team of experienced researchers, GEMS delivers:
An always current, customised Grants Calendar finding JUST the grants relevant to your organisation

Full access to all the funding sources through your personalised GEMS account

Tracking of application outcomes including when funder reports are due

Email alerts on upcoming application and reporting deadlines

Monthly one-hour Grants Chat Webinars with the Strategic Grants Team and other GEMS users
Get in touch for a free live demo today!
For smaller organisations with an annual revenue of less than $1 million, check out GEM Local.
In addition to GEM and GEM Local, Strategic Grants offer a number of advisory and strategic support services, as well as training, including:
Examples of work
We're proud to work with hundreds of for-purpose organisations, improving the effectiveness of their grant-seeking strategy. 
Here's what some of them have to say, and read full case studies here.
Greenpeace Australia Pacific
In 2021 Greenpeace Australia Pacific's philanthropy team engaged Strategic Grants to apply their professional lens to a number of new prospective campaign funding proposals. On each occasion, Strategic Grants have responded quickly and enthusiastically, helping us to meet our deadlines in a timely way. This included the development of a longform Case for Support, as well as drafting an application for two foundations, one of which was successful and the other, currently pending. As a lean organisation with just 1.5 staff devoted to our philanthropy program, we are grateful to Strategic Grants for their ability to apply best-practice knowledge to our ambitious campaign proposals.
Guide Dogs Queensland
The added value and support Strategic Grants' monthly management process has provided has significantly boosted our internal capacity and capability and, in particular, given us the time and confidence to apply for a number of grants which otherwise would have been too big a stretch. The Strategic Grants team have also provided invaluable support in assisting with our application writing. This has enabled us to submit a number of high-quality applications for a wide range of complex projects in record time. We are looking forward to, and confident of, a highly successful 2021-2022 thanks to the ongoing support and expertise of Strategic Grants.
Flinders University
"The team at Strategic Grants have been fantastic, with incredibly helpful advice, willingness to visit us at our institution, and a fantastic Grants workshop. They are so contactable and communicative and offer advice above and beyond. They have worked closely with our organisation to learn and fully understand about what we aim to achieve in the coming year(s) and as a result we are anticipating huge cost-saving implications and supported raised income levels for Flinders University, from trusts and foundations. Couldn't recommend more highly and look forward to a continuing relationship."