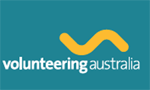 Contact
Name: -
Phone: 03 9820 4100
Description
Volunteering Australia is the national peak body working to advance volunteering in the Australian community.
About us
Volunteering Australia's role is to represent the diverse views and needs of the volunteer sector, while promoting the activity of volunteering as one of enduring social, cultural and economic value.
Volunteering Australia fulfils its peak body role by:
Providing a national service for recruitment and deployment of volunteers including assisting with the management of spontaneous volunteers in national emergency response situations;

providing sound policy advice on matters relating to volunteering;

providing a national focus for the promotion of volunteering and its principles;

establishing co-operative relationships with key national and international volunteering organisations;

encouraging the pursuit of excellence in volunteer management; and

consulting with stakeholders to ensure proper representation of the volunteering sector.
Products and services
Examples of work
In carrying out our work as the national peak body for volunteering, we undertake a range of activities and projects that are in accordance with our strategic objectives. Many of our activities and projects span more than one of our key result areas.
Direct Service Delivery
Volunteering Australia provides a range of services to recruit and link volunteers with opportunities. A significant proportion of both general and skilled volunteering jobs assist those in most need in our community through community welfare, health and ageing, justice and emergency services sectors. Volunteer opportunities listed with Volunteering Australia also assist in areas as diverse as sport, conservation, tourism and the Arts.
In times of national emergency response this service is also utilised to manage the registration and deployment of spontaneous volunteers.
Policy Advice
Volunteering Australia works to influence public policy at the national level and highlight the impacts that public policy has on volunteering. We received funding from the Australian Government under the National Secretariat Program to provide Government with sound policy advice on volunteering issues.
Our advocacy work includes making submissions to government inquiries on legislative and policy matters and sitting on key forums such as the National Roundtable for Nonprofit Organisations, the Australian Emergency Management Volunteer Forum (AEMVF), and the Corporate Volunteering Forum. For information on these please contact us.
Our policy advice is developed by consulting with our stakeholders, drawing on our existing body of knowledge, and research.
Research
We aim to advance and encourage research into volunteering in Australia and develop an ethos of inquiry that will aid the development of methodologies and understandings of volunteering practices, to assist in building the long-term sustainability of volunteering.
While generally not able to fund research directly, we build relationships with social scientists and other researchers throughout Australia in order to encourage and facilitate research into volunteering. We hold events such as the National Volunteering Research Symposium to foster these relationships.
We have developed, and maintain, a database of researchers to assist in locating researchers on volunteering and promoting research activity that is underway.
We promote volunteering research through our online journal the Australian Journal on Volunteering and we assist researchers undertaking a program of research, and practitioners to access completed research, through access to the Volunteering Australia Library.
Promotion of Volunteering
We offer a national focal point for the promotion of volunteering and its principles in order to encourage volunteering, recognise the contribution that volunteers make to the community and celebrate the contribution of individuals.
We take a lead role each year in promoting the aims of National Volunteer Week and International Volunteer Day.
Our national volunteer recruitment website GoVolunteer is a free resource to assist both not for profit organisations and volunteers to find the best possible match with one another. This is Australia's first, and most popular, national volunteer recruitment website and was developed through our partnership with SEEK Communications and The Boston Consulting Group.
We have developed, and maintain, national databases on volunteering events and awards for volunteers or volunteer involving organisations.
We have established The Volunteer Trust to raise funds to support Australian volunteer projects. We are currently working to build the endowment of the trust so that funds can be distributed in the future. We helped to establish Comic Relief Australia and distribute funds raised by Comic Relief Australia to volunteer organisations within Australia.
We communicate information about volunteering and our activities to all interested stakeholders, whether not for profit, government, business, academia or the media, through this website, our e-newsletter Involve and our media centre.
Best Practice
We seek to encourage organisations to adopt best practice in the involvement of volunteers to ensure that volunteers are able to contribute effectively to the goals of organisations and have a positive volunteering experience.
We have developed and promote a number of foundation documents that set down the principles of best practice, including the National Standards for Involving Volunteers in Not for Profit Organisations to organisations.
Through our work in the area of corporate volunteering we work with companies and not for profit organisations to find the best ways to harness the interests and energies of employees in companies who want to volunteer.
We provide a national support service to organisations running the Volunteer Management Program which is an Australian Government program aimed at supporting the management of volunteers.
We develop publications and skills and training resources to support organisations to more effectively involve and manage volunteers.
Skills and Training
We develop and promote resources for volunteers to assist with skills development and tools and resources for managers and trainers to assist in training and developing volunteers.
We do this through the National Volunteer Skills Centre (NVSC) project which is funded by the Australian Government Department of Families, Communities and Indigenous Affairs.
We have developed, and maintain, a database to assist organisations to locate trainers on volunteering and a training calendar to assist managers and volunteers find out what training is available.