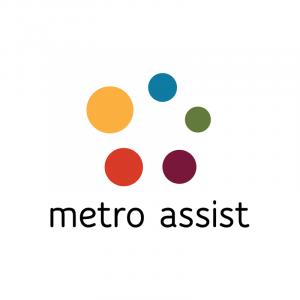 Organisation : Metro Assist Limited
Location : Sydney
Time required : The Board meets after-hours (generally 6:00pm to 8:30pm) 8 – 10 times per annum. Currently these meetings are online but may revert to face to face in the future.
Duration of project : 3 years
Skill area : Board & Committee Members, Finance & Accounting
Sector : Children, Community Development, Community Support Services, Employment Services, Families
Posted on : 31 Jul, 2020
About the role
Metro Assist Limited is a not-for-profit organisation with 34 years providing community services in the Inner West and Canterbury Bankstown areas delivering settlement services for newly-arrived migrants and refugees, family services, tenant advocacy, financial counselling, employment support and community engagement activities.
We invite applications from individuals with relevant financial and governance experience to fill a Board vacancy. For this vacancy, it is essential candidates have financial qualifications (e.g. CPA/ CA) and experience in financial accounting and reporting within a commercial or not-for-profit environment.  Also desirable is an understanding of strategy setting, risk management, and a working knowledge of contract management. 
Time commitments for Directors normally occur after-hours. The Board currently meets between 8 and 10 times per annum, with sub-committee meetings in the intervening period and the occasional invitation to key stakeholder events.
Our core values are about:
caring for people
being respectful
focussing on our clients' needs
acting with honesty and integrity, and
innovating so that our services are relevant and effective
Information:
Applicants are asked to complete the consent form and address the criteria in the candidate profile and submit a current resume.
Please direct any inquiries to the Chair, Scott Machin, at scottjmachin@gmail.com or call 0422 003 582. Applications with completed forms and resumes can be emailed to the Chair, or posted to PO Box 503, Campsie NSW 2194.
Applications must be received by close of business, Friday 21st August 2020. 
About the role
Metro Assist Limited is a not-for-profit organisation which delivers a range of community services which are detailed on our website www.metroassist.org.au  In 2016 the organisation's legal status transitioned from an Incorporated Association to a Company Limited by Guarantee. Annual reports for the past three years can be viewed at http://www.metroassist.org.au/about-us/about-us-2.htm and our statutory reporting to the ACNC and our constitution may viewed at https://www.acnc.gov.au/charity/366557ef4a046e85392a8fb97bbc88bc#financials-documents
Our constitution currently allows for 9 Directors.
Directors are voluntary. Directors are not offered a fee or any other remuneration from Metro Assist for their service performed as a Director. Directors may seek reimbursement for expenses legitimately incurred in travelling to attend Board, Committee or general meetings, with the prior approval of the Chair.
The Board meets after-hours (generally 6:00pm to 8:30pm) 8 – 10 times per annum. Currently these meetings are online but may revert to face to face in the future. Face to face meetings are held at our main office in Level 2/59-63 Evaline Street, Campsie. Directors are encouraged to take up sub-committee roles with meetings which can be face-to-face or online. Frequency of sub-committee meetings vary from monthly to quarterly meetings as determined by the Board. Sub-committees oversee finance, risk, social enterprise and strategic plan implementation.  
Current and new Directors are strongly encouraged to participate in an induction workshop to familiarise themselves with the organisation, its functions, key policies and Directors' responsibilities and to meet the leadership team. From time to time, specific workshops are run on such things as risk appetite or other Board and organisational development activities such as our annual strategic planning and review days.
Directors may be invited to key stakeholder events or where a local MP or Minister may visit our programs or events.
All Directors and staff are subject to Working With Children Check and National Police Check, and must adhere to the organisation's Code of Conduct.
Workload
The contribution of Directors impacts on the Board's overall performance. As a guide:
There is an expectation that Directors have an 80% participation rate to ensure a quorum so that key decisions and the organisation's business is not delayed.
Business papers are distributed electronically via an online platform with sufficient time for Directors to read and prepare any questions for the meeting.
Sub-committee meetings focus on key elements in more detail. Sub-committees report and make recommendations to the Board, they cannot make decisions on behalf of the Board unless otherwise delegated.
Directors may also receive email updates from the CEO around critical incidents and matters requiring urgent attention that occur out-of-session.
Your roles and responsibilities as a director
The roles, responsibilities and expectations of directors of Metro Assist are set out in detail in our constitution, which you may download from the ACNC site.
You will need to carry out your duties as a director in accordance with Metro Assist's constitution, common law directors' duties and the ACNC Governance Standard 5, which governs the duties and powers of directors of registered charities. 
About the organisation
Organisation name : Metro Assist Limited
Not for Profit : Yes
How to apply
For details concerning this role , please contact
Scott Machin (Chair)
Phone : 0422003582
Email : scottjmachin@gmail.com
---
Please quote in application: Non Executive Director via Pro Bono Australia.
---