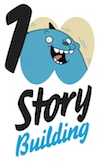 About the role
Become our next Marketing Manager!
Did you know about the apex predator called a nharshark? What happened the last time you set out on a Perilous Quest? Who is making all the noise on Level 17? If you have ready answers to these questions and want to help us find out more, then join us in Melbourne's most-storied Building and share your love of creativity and ideas with children and young people. Here, you can help children and young people from diverse backgrounds develop a passion for stories and find joy in their creations.
The organisation is on the cusp of some exciting growth in programming and impact, and we are excited to announce the search for a Marketing Manager to support us in expanding our reach and telling our story.
Working at the intersection of social enterprise, community impact, creativity and fun, this role is an exciting opportunity where you will positively impact on the lives of young storytellers.
We're looking for a passionate marketing and communications professional with a desire to change education outcomes; a keen storyteller who has experience, networks and strategic skills to build our brand across our various stakeholder groups and audiences.
Position title

Marketing Manager

Employment status

1 year, with possibility for extension

Location

92 Nicholson St, Footscray, with flexibility to work remotely

Hours

4 days (30 hours) per week (0.8 EFT)
note: additional out-of-hours work is required on occasions

Position reports to

CEO

Direct reports

Nil

Lateral Relationships

Works closely with Program Manager, Business Manager, Program Coordinator and Development Manager

Stakeholder relationships

Manages relationships with contract service providers (publicity, social media, design, sales & distribution)

Salary range

$75,000 – $80,000 pro rata

Leave

4 weeks annual leave pro rata. Please note, 100 Story Building closes over the Christmas period so leave must be taken at this time.

Flexible working arrangements are available, and candidates from underrepresented groups are encouraged to apply.
Role Purpose
The Marketing Manager is responsible for delivering 100 Story Building's marketing and audience development programs, as well as ensuring strong and clear stakeholder relationships to ensure the advancement of 100 Story Building key strategic objectives.
The Marketing Manager creates and implements strategies to best support the realisation of 100 Story Building's vision for creativity in learning for children and young people. They work to diversify sources of income for the organisation and act to celebrate the work and achievements of the children, young people, teachers and other educators 100 Story Building works with.
The role ensures effective marketing and audience development strategies are delivered, building the brand and reputation of the organisation. Through the implementation of effective campaigns, and by fostering strong relationships with key stakeholders, the Marketing Manager acts to grow support of 100 Story Building.
The Marketing Manager has ownership over the marketing budget, and manages external contractors to create and deliver content and execute campaigns. The role will also from time to time manage pro bono relationships.
The position works in close collaboration with the Development Manager, sharing responsibility for driving diverse revenue streams and fostering strong relationships with key stakeholders. It also works with the Program Manager and Program Coordinator to effectively communicate the work of 100 Story Building, and drive community engagement to support program participation and partnerships.
Key responsibilities
Marketing and Communications
Implement the marketing strategy, including development of marketing campaigns for program registration, book sales, publicity, fundraising campaigns, and advertising according to agreed budgets.
Contribute to the development of innovative marketing concepts and projects using a range of traditional and non-traditional marketing channels
Manage external contractors to deliver all organisational and program collateral, and develop and maintain website and social media presence
Manage and where necessary develop the 100 Story Building brand
Community and audience development
Manage segmentation and data collection of community and audiences.
Coordinate events and activities related to community and audience development.
Content management
Maintain and update website to ensure effective communications to audiences.
Create marketing collateral in consultation with CEO, Program Manager and Development Manager
Develop and deliver creative content for social media to engage and inform community and audiences.
Coordinate distribution of marketing and publicity campaigns with internal and external stakeholders and suppliers (including printers, media and direct mail suppliers).
Reporting and administration
Manage activity, demographic and reach data and analyse to inform future marketing directions and audience development.
Sit on the Marketing Subcommittee of the 100 Story Building Board, and provide reporting and relevant documentation in a timely manner
Undertake administrative support tasks as required that enable 100 Story Building team members to effectively and efficiently communicate and maintain sound relationships with our community. This includes maintaining schedules, media collections and event coordination.
Key Attributes
You are a storyteller. You understand how stories can change lives, and can inspire people to take action.
You are attuned to your audience. You have experience in working across a range of stakeholders and audience, and are responsive and dynamic.
You are strategic. You have an ability to pick priorities strategically and coherently deliver on them. You bring problem-solving skills that work in a not-for-profit, social enterprise environment.
You come with a strong network and are exceptional at building relationships. You have the capacity to engage with external stakeholders, supporters and suppliers, to develop long-lasting and effective relationships for maximum outcomes.
You think big. You look for the potential in projects, and develop strategies to achieve ambitious targets.
And most importantly, you have heart. You expect the best and work together with you colleagues to get through the worst. You can translate passion for children flourishing and safety into action, accept responsibility for outcomes with grace, and be an example for others to admire.
A note
If you don't meet all the points above, but believe you can do this role, we encourage you to apply. Formal experience is not the only factor in finding the right person for a role, and self-confidence is a slippery beast. Creative risk-taking and a growth mindset are things we encourage in young people…so you might want to give this a go too.
Important information
The fostering of a safe and inclusive workplace based on tolerance and community participation is the responsibility of all staff at 100 Story Building. Appointment to 100 Story Building is subject to reference checks, a Working with Children Check and a Criminal Record Check.
About the organisation
Organisation Name : 100 Story Building
100 Story Building is a social enterprise and registered not-for-profit organisation. We work with children and young people to develop their creativity and literacy, through workshop programs, projects, online learning and community engagement.
Operating since 2012, our mission is to provide the most marginalised children and young people in our community to build the literacy skills, confidence and sense of belonging that are fundamental for future success. Since we started, we have impacted the lives of over 35,000 students, and built a strong evidence base showing clear outcomes in literacy development, confidence and engagement in learning.
In our very tall (or very deep?) building in Footscray, young storytellers create and write their own stories inspired by the strange creatures and peculiar happenings on the 99 levels below the trapdoor. However, like the ever-expanding creative minds of young storytellers, we are not limited by the walls of the building. We travel to classrooms, libraries, community centres, festivals across Victoria and beyond, both online and in-person, and have emerged from 2020 with vital lessons learned, in a strong fiscal position, poised to scale.
We are a team of 13 (soon to be 14 with this role filled!) with a network of existing volunteer, pro bono and contracted supporters. We are all passionate, creative and energetic.
How to apply
Applications open 3rd September 2021 at 12:00pm, and close on Sunday 26th September 2021 at 11:00pm.
Applications must include the following:
A cover letter telling us your story and why you'd like to be a part of ours, and addressing a minimum of three of the key attributes;
A current executive resume or CV, and your LinkedIn profile.
Please send all applications to info@100storybuilding.org.au, addressed to Susan Kukucka CEO, 100 Story Building. If you have questions or would like a confidential discussion, please contact Susan on this same email address.
Interviews with shortlisted candidates will take place, with the role to commence in October 2021.
We look forward to hearing from you soon.
#PBA2
---
Please quote in application: Marketing Manager via Pro Bono Australia.
---