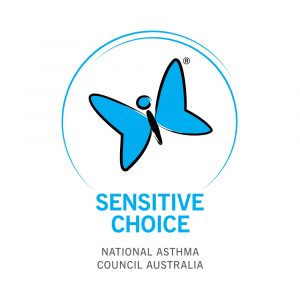 About the role
The National Asthma Council's Sensitive Choice® program are looking for new Panel Members.
Who we are?
Sensitive Choice® is a community service program created by the National Asthma Council Australia for all of us who want to breathe purer, cleaner, fresher air and reduce allergic reactions, our motto is "live better with asthma and allergies".
The program is designed to help consumers identify asthma and allergy-aware products, community-conscious companies use the Sensitive Choice® symbol on their packaging. You'll find that reassuring blue butterfly on hundreds of products – from bedding to building products, from cleaning agents to carpets, air purifiers and vacuum cleaners to the paint you put on your walls.
What we do? 
The Product Advisory Panel considers whether the product is suitable to participate in the program and carry the Sensitive Choice® logo. This involves the Panel being satisfied by evidence produced by the manufacturer or supplier of the product that the product is not harmful and demonstrates a potential benefit for people with asthma or allergies.
The Product Advisory Panel assesses products based on the research supplied and against other current and credible research available worldwide. It is important to note that the Panel is not comparing products against competitor products and approval does not mean the approved product is better than all other similar products.
What we need?
Up to three new Panel members, to replace 2 outgoing long standing Panel members along with a new addition.  The National Asthma Council are looking to find a new specialist with either a legal, respiratory, immunology or similar background and an interest in respiratory health, asthma and or allergies.  We are also open to considering a new Panel member with no medical or legal background but has either asthma or allergies themselves or within their close family. 
Additional information:
The Advisory position on the panel is a volunteer role based on a 2 year contract with extensions available
The panel meet on the last Wednesday of every second month to review products and services presented, these meeting usually go for between 1 and 2 hours
An additional few hours are required prior to each meeting so review the products and services before being discussed at each meeting
Meetings are held via zoom, with one in person meeting every second year. 
Please contact:
Adele Taylor for a confidential discussion at adele.taylor@nationalasthma.org.au
About the organisation
Organisation name : National Asthma Council
We are the national authority for asthma knowledge, setting the standard for asthma care.
The National Asthma Council Australia exists to build the capabilities for people to breathe well and facilitate best-practice care for people with asthma and allergies. 
As the trusted authority leading the attack against asthma, we set and disseminate the standards of care through our responsive and evidence-based asthma guidelines, practice tools and resources and renowned education program.
We actively work to assess and address the impacts of asthma through advocacy and collaboration with policy makers, stakeholders and Australian and international asthma and lung health organisations. 
Through our Sensitive Choice program, we provide the public with essential information about asthma and allergy management and empower consumers to identify asthma and allergy-aware products and services. 
How to apply
Please apply through Pro Bono or email adele.taylor@nationalasthma.org.au for more information. 
---
Please quote in application: Sensitive Choice – Product Advisory Panel Board Member via Pro Bono Australia.
---