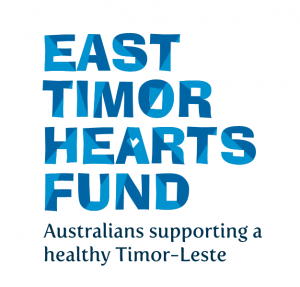 Organisation : East Timor Hearts Fund
Location : Melbourne
Time required : Three year term
Duration of project : Three year term
Sector : Health – General, Overseas Aid & Development
Posted on : 22 Jan, 2019
About the Role
About East Timor Hearts Fund
East Timor Hearts Fund is Australia's only medical NGO dedicated to providing life-saving heart surgery for young people from Timor-Leste (East Timor), as well as heart-health research, prevention, education and advocacy.
The organisation is a company limited by guarantee and has tax endorsements from the Australian Tax Office, including DGR.
Its patrons are the Governor-General of Australia, Sir Peter Cosgrove, and the "Father of Timor-Leste", HE Kay Rala Xanana Gusmao. Its ambassador is Western Bulldogs' Lin Jong, Australia's only Timorese-Australian AFL player.
East Timor Hearts Fund is a volunteer-driven organisation (it has a part-time CEO and a part-time operations manager) and utilises volunteers for all medical and many administrative functions.
Its volunteer medical team visit Timor-Leste at least three times a year, to conduct screening clinics to identify patients suitable for surgery in Australia or Timor-Leste. Since its informal establishment in 2010 the organisation provided life-saving heart surgery in Australia and Timor-Leste for more than 100 patients. Post-surgery, patients are able to return to school, work and university, and contribute to their families, community and country. An independent social return on investment study found that every dollar invested in East Timor Hearts Fund's program returns nine dollars in health and social benefits.
Strategic direction
East Timor Hearts Fund is guided by its 2017-20 strategic plan, which outlines a continued transition to predominately in-country rather than Australian surgery and increased work in preventative health and education.
This approach aims to support the development of capacity in Timor-Leste and tackle the root causes of poor heart health. Details about the strategic plan are on the website at https://www.easttimorheartsfund.org.au/what-we-do/
Recent achievements include:
Funding and coordinating landmark a rheumatic heart disease prevalence study, which was published in the Medical Journal of Australia in 2016. East Timor Hearts Fund has since been appointed, alongside the World Health Organisation, to support the Government of Timor-Leste in developing its first rheumatic heart disease action plan.
Conducting its first ever in-country surgical mission in 2016, in partnership with Hospital Nacional Guido Valadares, with 10 children given life-saving surgery in give days – more patients than are usually treated in a year.
Initiating a life-saving preventative penicillin program, providing monthly shots to at-risk young people to stop their heart disease from progressing.
Professionalisation of the organisation, with the appointment of a highly skilled CEO in February 2017.
Transitioning to a fully skills-based board, and initiating other governance reforms, including three active board committees.
Signing a Memorandum of Understanding with Timor-Leste's major public hospital, Hospital Nacional Guido Valadares.
Director responsibilities
East Timor Hearts Fund board roles are voluntary and require a considerable time commitment. This includes attendance at meetings, meeting preparation, service on board committees, active involvement in board projects and events and involvement in organisational events, including fundraising activities.
The board oversees and sets the policy direction for the organisation. A key task is the implementation of the 2017-20 Strategic Plan.
Board directors are expected to fulfil the following general duties:
Attend all bi-monthly board meetings in person and actively contribute to discussion and projects.
Serve on a board committee, attend all meetings and actively contribute to discussion and projects.
Make an active effort to stay informed about the board and organisation; be fully prepared for meetings.
Contribute to discussions and board decision-making, both within and outside any personal area of specialty or qualification.
Actively get to know other board members and build a collegiate working relationships that contributes to robust decision-making and good outcomes for the organisation.
Actively participate in board evaluation and planning exercises.
Participate in fundraising activities and events and use networks to secure financial and pro-bono support for the organisation. All directors are required to contribute to the board's fundraising goal and to open up their networks to the organisation.
Attend self-funded orientation activities, including a visit to Timor-Leste within six months of joining the board.
Board vacancies
East Timor Hearts Fund is seeking expressions of interest from people who have undertaken formal governance training with a recognised body and/or have previous board experience as well as qualifications, experience and networks in the specified professional areas outlined below.
East Timor Hearts Fund seeks to maintain a diverse board, and expressions of interest from women candidates and people of Timorese or Timorese-Australian background are encouraged.
As a result of a skills audit undertaken by the board, expressions of interest are sought from candidates who have:
Qualifications and experience in commercial and business management with strategic planning capability and high-level organisational skills.
Qualifications, specialist knowledge and networks in medical fields relevant to the organisation's strategic direction, to contribute to high-level oversight and strategic planning. Relevant medical specialties sought are: cardiology, public health and preventative medicine.
Marketing communications qualifications and expertise in NGO sector, to contribute to high-level decision making and reputation risk-management in areas such as fundraising campaigns and marketing strategy.
Legal qualifications, including corporate law and/or compliance. Experience or qualifications in other relevant legal specialties will also be considered.
Successful candidates would be elected at the next annual meeting in April 2019, for a three year term.
Application timeframe and process
Candidates are invited to submit a CV and a letter of no more than two pages responding to the role requirements to info@easttimorheartsfund.org.au : Attention Stuart Thomson, CEO, by 5.00pm Monday 25 February 2019. A position description is available upon request.
About the Organisation
Organisation Name : East Timor Hearts Fund
Not for Profit : Yes
Apply for this Position
---
Please quote in application: General Board Member via Pro Bono Australia.
---