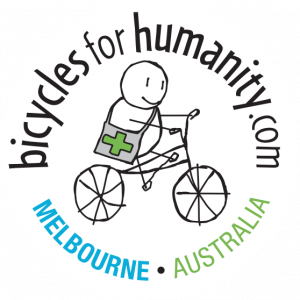 Organisation : Bicycles for Humanity, Melbourne
Location : Melbourne
Time required : Three distinct phases - 1. November release. 2. January inspiration. 3. February/March encouragement, support and features.
Duration of project : Three distinct phases - 1. November release. 2. January inspiration. 3. February/March encouragement, support and features.
Sector : Community Development, Humanitarian, Overseas Aid & Development
Posted on : 20 Oct, 2017
About the Role
We are looking for a PR, Media, and Social Media person/people: A dedicated group of people to link to media organisations, develop press-worthy material, and connect to the world through social media.
B4H's major charity event is back and we're aiming even higher this year to make it an outstanding success.
2018 coincides with the 10th Anniversary of Bicycles For Humanity in Australia. This is a major milestone for a grassroots organisation that started only with a handful of volunteers and has now blossomed with an increasing growth in support across the country.
So we need your help to make the Melbourne To Namibia Challenge a success.
First, a little bit about the event.
2018 marks the fourth consecutive year that this event will be held.
The Melbourne To Namibia Challenge is a virtual event, and riders can ride Anywhere, Anytime in the allotted period (1 Mar – 1 Apr 2018).
We encourage all participants to prepare well for their ride, in health, equipment, and route, above all, to ensure that people participate safely and responsibly, as much to empower them in taking up the challenge, as B4H's work does for disadvantaged people. So participants are encouraged to establish their personal challenge, either by distance or time. B4H will provide suitable support material to assist them in the preparation.
Concept:
The Melbourne To Namibia Challenge takes us back to our roots; B4H Melbourne's first shipping container was sent to Namibia and the event marks that moment in history.
The notion that there is a passage from Melbourne to Namibia is a romantic one, but the linkage for B4H is one of social good, to empower disadvantaged people and communities where a little help, the simple access to a bicycle, brings about real change and opportunity.
Committing to ride at least 110km counts towards the notion of getting from Melbourne to Namibia on a bicycle.
Why 110km? Our original ambition in 2015 was to get 100 people to ride 110 kms each, a total distance of 11,000 kms, which is about the distance from Melbourne to Namibia. Incidentally, it costs B4H $11,000 to buy, pack and send each shipping container loaded with 500 bicycles. Which means that for every 100 riders in the Challenge, 500 more disadvantaged people and their families are brought life-changing opportunities.
Imagine what we can achieve together!
Entry to Participation:
Registration is free. Each registration receives a personal fundraising webpage that they can share with their own networks to seek support and sponsorship towards their personal goal.
Rewards and prizes are on offer to all who achieve a minimum funds raised of $110 per individual registration.
Riders set themselves to ride at least 110km, anywhere, anytime, anyhow as long as it's between 1 Mar – 1 Apr 2018. Do it in one hit, or break it up over the month, it's up to the individual.
Individual riders can establish their own teams or groups, and promote their common goal.
About the Organisation
Organisation Name : Bicycles for Humanity, Melbourne
Not for Profit : Yes
Apply for this Position
---
Please quote in application: Media co-ordinator for B4H Charity Fundraiser Event in 2018 via Pro Bono Australia.
---