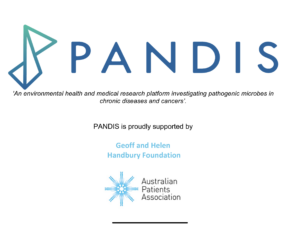 Organisation : Pandis
Location : Australia, Online (Australia wide)
Time required : 4-12 hours per week based on operational need.
Duration of project : ongoing
Skill area : Digital Volunteering, Fundraising, Graphic & Web Design, Healthcare & Medical, Information & Communication Technology, Journalism & PR, Marketing, Media & Communications, Volunteer Management
Sector : Aged Care & Seniors, Community Engagement, Disabilities, Health – General, Mental Health, Research / Medical Research, Science & Technology, Social Enterprise
Application closing date : 14 Jun, 2021
About the role
Check out Pandis and meet the scientists and board here https://pandis.org.
This is a Volunteer Role.
Do you love health and science communication? Are you interested in helping advance science in neurodegeneritive disease, infectious disease, cancer? We may be looking for you!
Do you have experience in social media, marketing &/or science communication? Are you recently graduated, retired, or looking for an after work volunteer role?
We are looking for a strategic, creative and motivated Social Media Manager to join our dynamic team to help us harness the power of digital media.
4 to 12 hours/week , flexible workdays remote. Advantage if available to attend Thursday 10am online meeting fortnightly. Remote work. 
Your will develop and execute an effective social media strategy. You will be required to create and post engaging and informative content across our social media platforms (Facebook, Instagram, Twitter) that highlights pandis's health research, education, and patient/scientist collaboration and initiatives; relevant health news; and promote  philanthropic and community support. This will also include blog-style content to be posted on our website and shared across our social media pages, as well as engagement with other similar organisations to grow our social media presence. 
Our desired achievements from your social media strategy involve increased engagement with our digital audience, and increased corporate and public donations. 
Requirements
– Passion for healthcare, science, community engagement.
– Tertiary qualification in media, communications, advertising or public relations would be an advantage.
– Science communication background (highly desirable but not essential).
– Demonstrated experience effectively telling stories on social media platforms.
– Experience in employing online marketing strategy would be an advantage.
– Experience with content generation software (Canva, Adobe Creative Cloud etc).
– Creativity, team-working skills, excellent communication skills (verbal and written), excellent organisational skills.
-Guide a team of social media volunteers 2-6 as required.
– Working With Children's Check/state police check or National police check.
The successful candidate will be required to have access to the internet as well as a working computer and knowledge of zoom for online meetings. They will need to have the necessary software to undertake the tasks of the role and record keeping. We require someone with good communication skills for this role.
We value diversity and equal opportunity. We encourage Aboriginal and Torres Strait Islanders, migrants, people with an illness or disability, carers, LGBQTI+, ESL, and people from other minority groups to apply for this position. You must be eligible to work in Australia.
We have the opportunity to make change for the better health of all Australians, we hope you will choose to help us change Australian healthcare for the benefit of all! We look forward to meeting you.
20 June 2021 applications close.
About the organisation
Organisation name : Pandis
Pandis is a patient empowered research platform, we collaborate communicate and advance the health of Australians with environmental diseases (cancers, neurodegenerative disease and vector borne diseases). 
Our Mission
To keep people safe from pathogenic environmental harm in natural and built environments and ecologies.
Our Vision
By 2030, chronic diseases of known and unknown microbial causation are no longer a burden to society and through evidence-based knowledge, clinical care, and support, patients progress back to health, productivity and vitality; and people are safe from infectious and pathogenic harm in natural and built environments.
Our Purpose
To lead a patient-centered, infectious and pathogenic environmental diseases health and medical research model to significantly reduce the burden of disease in Australia. We will advance the health and safety of the Australian public by providing research findings and data insights to inform pathogenic environmental risk strategies – policies, protocols, diagnostics, treatment guidelines, clinical pathways and safe practices for people who are exposed to pathogenic ecologies in natural and built environments.
How to apply
Please email your intent to apply to volunteer@pandis.org. We will send you an application form for you to fill in and send back along with a copy of your resume and a scan of your current National police check or your equivalent state police check. We are a volunteer organisation so please understand we may take a few days to contact you. 
---
Please quote in application: Social Media Manager via Pro Bono Australia.
---