Unemployment Hot Spots for Young Australians
---
The risk of unemployment for young Australians is more than double the country's general rate of unemployment, with some regions battling with rates above 20 per cent, according to a new Not for Profit analysis.…
---
Unemployment Hot Spots for Young Australians

16 March 2016 at 8:56 am
The risk of unemployment for young Australians is more than double the country's general rate of unemployment, with some regions battling with rates above 20 per cent, according to a new Not for Profit analysis.
Australian Bureau of Statistics information analysed by the anti-poverty organisation, the Brotherhood of St Laurence, showed that regional, rural and outer suburban areas have the highest risk.
While the analysis shows there has been some improvement, it said clusters of high youth unemployment persist "stubbornly and unevenly"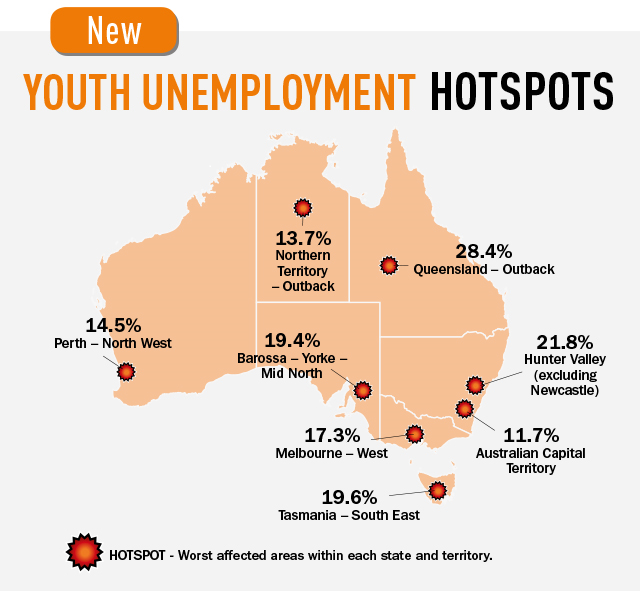 The report, Australia's Youth Unemployment Hotspots Snapshot, described four regional areas where rates were above 20 per cent, with the worst – in outback Queensland including the mining hub of Mt Isa – reaching 28 per cent.
"The 12.2 per cent unemployment rate for 15-24 year olds was more than two-and-a-half times the rate among adults aged 25 and older (4.6 per cent)," Brotherhood Executive Director Tony Nicholson said.
"It's deeply concerning that some 258,000 young people in the labour market are unable to find work. In 'hot spots' the job search is much harder for them."
The 10 regions in the top 20 in 2016 were in the top 20 in the previous year.
The report said the information underscored the importance of understanding regional labour markets and tailoring approaches to economic development to local conditions.
"We find some regions bearing a much heavier burden than others. Our globalised economy makes it hard for young people to find entry level jobs, and this puts them at risk of being locked out of stable employment long term," Nicholson said.
"This generational issues needs sustained attention on all fronts: schools, vocational training and universities as well as welfare assistance and employment programs."
---
---

Get your biweekly dose of news, opinion and analysis to keep you up to date with what's happening and why it matters for you, sent every Tuesday and Thursday morning.