Australia a Leading Example of Shared Value Business Concept
---
The US-based co-founder of the shared value business concept, Mark Kramer says he is hugely impressed with the progress Australian companies have made since he first explored the model here five years ago.
---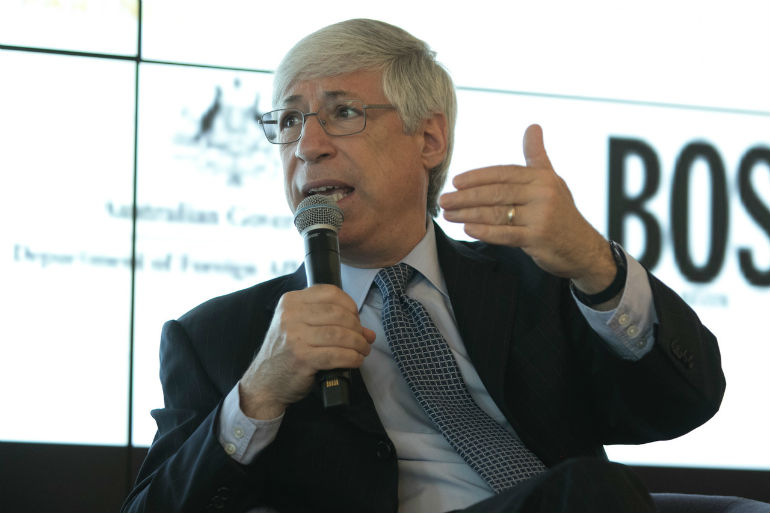 Co-Founder of Shared Value concept: Mark Kramer in Melbourne. Image courtesy: Shared Value Project
---
Australia a Leading Example of Shared Value Business Concept

27 April 2017 at 4:24 pm
The US-based co-founder of the shared value business concept, Mark Kramer says he is hugely impressed with the progress Australian companies have made since he first explored the model here five years ago.
Kramer returned to Melbourne to speak at the Shared Value Forum as part of the Shared Value Project and was full of praise for companies who had progressed the concept in that time.
The 2017 Shared Value Forum explored the theme Business Reimagined: Innovating Through Shared Value, and focused on the innovation required for leading companies to create successful shared value initiatives that benefit society.
"Australia has progressed a great deal," Kramer told Pro Bono News.
"I really have been impressed each of the years that I have been coming back here, on how the momentum has been building for shared value and the understanding and awareness.
"At the very first Shared Value Forum [in Australia] all of the participants were really talking about philanthropy projects and they didn't really get that shared value was about competitive strategy and business projects.
"This year everything that people talked about was a business initiative that was truly a shared value initiative."
He said there had been quite a shift in attitude to the benefits of the concept.
"We had a session with analysts and some investors from superannuation funds and we have done this for a couple of years in a row and the scepticism that was there in the analyst community two or three years ago I found much less and in fact saw that they really have  embraced the idea," he said.
"I think there has been tremendous positive development here in understanding the idea and companies really beginning to think about how to put it into practice."
#sharedvalue legend Mark Kramer joins us at #svf17 #masterclass pic.twitter.com/Qv8315gD0B

— Shared Value Project (@sharedvalueaust) April 26, 2017

Kramer said the basic concept of shared value had not changed over the years.
"The basic idea that companies can create a competitive advantage by having a positive social path, that that can be a source of innovation and an aspect of strategy, I think still remains from the original idea," he said.
"I think our knowledge and understanding of it has grown a lot over the years. We are developing teaching cases for Harvard Business School and we taught last year the first course on shared value.
"Michael Porter [co-founder of shared value concept] and I have been doing executive education sessions. This has been the third year we have done it and as we really studied companies in depth with examples of shared value I think we have gotten a much deeper appreciation for how it works, what it takes, what the benefits are."
When asked about stand out examples of shared value in Australia he pointed to the NAB Assist program describing it as "a phenomenal example of shared value".
"Instead of simply levying fees and penalties on people who have fallen behind on their payments they actually work with them to restructure their debt and they get 97 per cent of their people out of debt within 90 days," he said.
" And it is actually driving $70 million a year to the bottom line of NAB that would have been a bad debt and it is a wonderful innovation and its the only bank that is doing this and it's a fantastic example of shared value."
In comparing Australia with other countries engaging with the shared value concept he said Australia was "absolutely up there".
"I think some of the Scandinavian countries and European countries have really embraced this concept but I would certainly put Australia in the top 10 and I suspect it would be in the top five," he said.
Back in 2012 Kramer told the first Melbourne forum that the challenge for companies was to think about what social value meant to them and what they could do to magnify the social value they created.
He said there were three ways for business to engage with society  –  via traditional corporate philanthropy, continued corporate responsibility and by creating shared value where businesses find opportunities to solve social problems.
"Corporates have a unique opportunity to scale up programs that governments and NGOs can't do," he said.
Kramer told the forum that shared value thinking represented "the next evolution of capitalism itself".
"Shared value is the most significant change in thinking and will drive profit for the next decade," he said.
"Shared value adds 'a third lens' by thinking about social needs and business opportunities."
In 2011, the Harvard Business Review published the article, The Big Idea: Creation of Shared Value by Kramer and Porter.
"Businesses must reconnect company success with social progress. Shared value is not social responsibility, philanthropy, or even sustainability, but a new way to achieve economic success," Kramer and Porter said in the Harvard publication.
Executive director of the Shared Value Project Helen Steel has previously described  shared value as "placing social problems at the core of business objectives".
"The simplicity of the concept, and ability to reference back to Michael Porter and Mark Kramer's  Creating Shared Value, are making it applicable and a powerful way forward in which Australian business can work with society and be a part of the new social agenda," Steel wrote in a blog for Pro Bono News in 2015.
"The take up and successful adoption of shared value in Australia can be reflected in the progress the Shared Value Project has seen since its inception as a forum in 2011, bringing leaders together to discuss 'what is shared value?', to the rapid uptake by companies and our formal establishment in 2014 as the peak practice body for shared value in Australia, and regional partner of the Shared Value Initiative."
---
---

Get your biweekly dose of news, opinion and analysis to keep you up to date with what's happening and why it matters for you, sent every Tuesday and Thursday morning.