Disability Sector Calls on States to Value Advocacy as Federal Govt Announces $5M Funding
---
The disability sector has welcomed the announcement of more than $5 million of federal funding for advocacy work, and called on the states and territories to look to the federal government's example.
---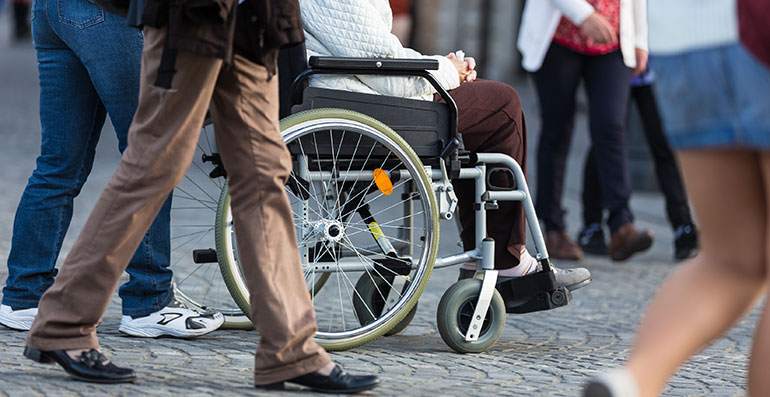 ---
Disability Sector Calls on States to Value Advocacy as Federal Govt Announces $5M Funding

18 December 2017 at 4:48 pm
The disability sector has welcomed the announcement of more than $5 million of federal funding for advocacy work, and called on the states and territories to look to the federal government's example.
Minister for Social Services Christian Porter and Assistant Minister for Social Services and Disability Services Jane Prentice announced on Thursday the government would provide disability representative organisations with funding of $5.3 million to continue their advocacy work.
It marks an increase of $875,000 and will ensure advocacy services for disability will continue to be funded until 30 June 2020.
"This allows these organisations to continue their important work representing and protecting the rights and dignity of people with disability," Porter said.
"These organisations were chosen through an open, merit-based selection process which also considered service provider diversity, to ensure Australians with disability will have their views represented."
The organisations to be offered a share of the $5.3 million funding were:
Children and Young People with Disability Australia (CYDA) – representing children and young people (0-25 yrs) with disability;

First Peoples Disability Network Australia (FPDN) – representing Aboriginal and Torres Strait Islander people with disability;

National Ethnic Disability Alliance (NEDA) – representing people with disability from culturally and linguistically diverse backgrounds (CALD), as well as non-English speaking backgrounds (NESB);

People with Disability Australia (PWDA) – a national organisation focused on disability rights and advocacy;

Women with Disabilities Australia (WWDA) – representing women and girls with disability;

A consortium led by the Australian Federation of Disability Organisations (AFDO);

National Disability Services (NDS) – representing more than 1,100 non-government service providers which provide support to people with disability; and

Mental Health Australia (MHA) – representing the Australian mental health sector.
PWDA co-chief executive officer Matthew Bowden told Pro Bono News the funding was really important and they were "delighted with the decision".
"This is going to allow us to continue providing that representative role and that voice for people with a disability, along with the organisations we are in an alliance with in the Disabled People's Organisations Australia," Bowden said.
"We are all organisations that are of and for people with a disability so having that voice and these resources to support that voice, and our members and representing our various constituents is really vital for us.
"It is really important in terms of providing government with that expert advice about the impact of policy and reforms and how they affect people with disability in all areas of government business."
Bowden said it was good to see the funding has been broadened to include other representative organisations.
"People with disability are choosing to organise in various ways and join forces in various ways and sometimes that is along a diagnostic line, and sometimes that is in a cross disability way, like our organisation," he said.
"It is great to see recognition of the diversity of organisations in the sector, that's really important."
But he said while they commended the federal government on the funding increase, it highlighted that what was going on at the state and territory level was "not as positive".
"Particularly in New South Wales where the government is still holding on to this line that their support of the National Disability Insurance Scheme and the funding contributions that they're making through that bilateral agreement is sufficient. We have never agreed with them on that and we will continue to call them on it," Bowden said.
"People with disability make up 20 per cent of the population in New South Wales…The government calls on our organisations to assist people with disability, either as individuals or to assist through systemic advocacy and a representative role, to provide that expert advice and solve the problems and the barriers that exist for people in all areas of their life that the New South Wales government is responsible for providing; education, housing, and health and employment etc, right across the board.
"The delivery of specialist disability supports which the New South Wales government is stepping out of, is really quite a small part of the equation. Most people with disability are going to be participants of the NDIS, but they will still continue to be living in New South Wales and experiencing those barriers to full social and economic participation in this state and in these communities."
Under the terms of NSW's NDIS deal with the federal government, the state will hand over all its disability budget to the Commonwealth from 1 July 2018.
Bowden said he hoped the example the Commonwealth was setting through this latest announcement as well as its commitment to continue funding advocacy through the national disability advocacy program and investing in representative organisations, would encourage the states to follow suit.
"They [the federal government] are clearly showing there is a need for advocacy even though the NDIS is being rolled out," he said.
"I think it is making New South Wales look really poor in comparison.
"I hope that maybe in the Christmas break they have a change of heart and have a look at what is going on and think about this in a sensible way.
"We are still having the New South Wales government approaching us and saying we want you to be involved in the advisory groups and these are groups where there is a work plan and a commitment beyond June 2018 and we are like how are we going to do that, what are we going to be doing that with, if you're not funding us any longer?"
Bowden said advocacy was vital for the success of the NDIS.
"I think that the longer the NDIS is in place, the more that the NDIA and the government and the community as a whole sees the important role that advocacy in its various forms, including systemic as well as individual advocacy, has in terms of assisting the scheme to be the best that it possibly can," he said.
"I think that as the scheme is maturing, some sites, even in the initial trial sites, they were actually seeing that benefit on the ground of people having access to advocates. Through all of the pre-planning, plan, plan review, and the operation or implementation of their plan, an advocate plays a really vital role, and then the expertise that representative organisations have around helping the agency to monitor the quality and provide that feedback and work together on the solutions for making the scheme the best it possible can be.
"There is a whole intersection between the NDIS and the mainstream supports because people's lives aren't in a disability silo of course, and the NDIS is about enabling people to live the life they want to live.
"So in going to school and going to TAFE and going to university, going out and working and taking part in cultural and social events, you're having engagement with other agencies, health providers, housing providers, etc. advocacy has such a critical role, both systemic advocacy as well as individual advocacy, in all of those mainstream intersections, it is just so essential for this whole thing to work. It has always been the case, and the NDIS being our new system for providing supports, doesn't make that go away both in terms of quality assurance as well as assisting with everything and working together."
---
---

Get your biweekly dose of news, opinion and analysis to keep you up to date with what's happening and why it matters for you, sent every Tuesday and Thursday morning.