Tiny Solutions for Big Problems
---
Tiny homes could hold the key to a broad range of community needs including affordable housing.
---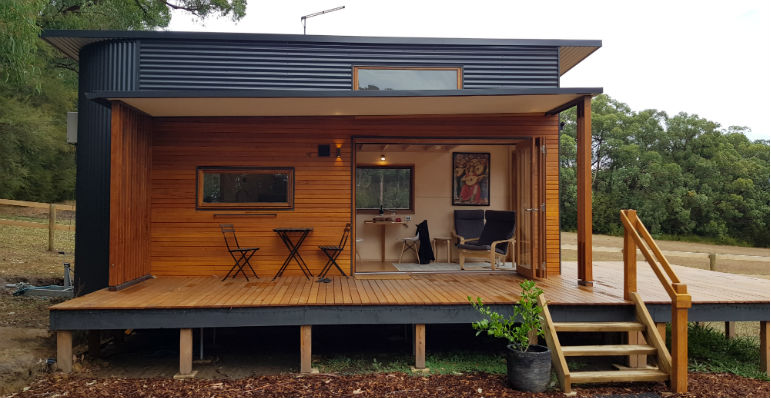 Photo: Tiny House 2 Go
---
Tiny Solutions for Big Problems

17 April 2018 at 8:41 am
Tiny homes could hold the key to a broad range of community needs including affordable housing.
According to the co-founders of Tiny Non-profit, "a tiny non-profit making tiny homes happen in Australia", tiny houses offer an alternative model of sustainable, affordable and self-sufficient housing that could offer solutions across a broad range of social issues.
As part of Melbourne Knowledge Week in May, Tiny Non-profit has organised a series of talks and events, under the heading Tiny Solutions, to demonstrate how tiny homes do more with less, while catering to a broad range of community needs.
Co-founders Jan Stewart and Elle Paton told Pro Bono News tiny houses "tick all the boxes".
"One of the reasons I fell in love with tiny homes is because it feels like it just ticks all the boxes – environmental, social, financial, tiny footprint," Steward says.
"They are multi-purpose, multidimensional and they are a solution for so many different aspects that society is facing at the moment."
The emergent tiny house movement first originated in the USA in the late 1990s; driven by housing affordability issues and sustainability goals.
As the name suggests, tiny houses are generally very small, and are more affordable, and have a smaller footprint than conventional houses.
Paton, who is also the founder of the Australian Tiny House Directory and one of the co-creators of the Australian Tiny Houses Facebook community group, says she was always interested in sustainable housing and became increasingly interested in "need versus want".
"A few years back I came across tiny houses and I thought what an elegant solution," she says.
"I started the Australian Tiny House Directory. I started engaging people on Facebook and I found that there was this massive movement of people wanting to realign with their core values rather than just doing what is expected of them, as far as social conditioning. I found that fascinating.
"And then, I had the pleasure of meeting the lovely Jan, we started looking at the potential social impact of tiny houses and that's when things started to kick off."
Stewart says she first became interested in tiny homes when she was teaching yoga to a homeless group in Sydney.
"The thing that really got to me was that people would have to leave after the class and go back out onto the streets. It just got me thinking a lot about homelessness and housing and I connected with a group in New South Wales called Tiny Homes Foundation," she says.
The Tiny Homes Foundation pilot program is believed to be Australia's first tiny house project for homeless women and men, including young people and the elderly.
It aims to serve as a prototype for "a new and innovative way to address Australia's growing affordable housing crisis" though the development of Tiny Home villages in partnership with state and local government.
It is pitched as a "housing first" not "housing only" solution, comprising four tiny homes, each measuring around 14sqm, a common space offering amenities and meeting facilities for the provision of welfare and education services.
"They launched a couple of months ago. So I am now working with Castlemaine Housing Service and we're looking to do the same thing," Stewart says.
"We will have four to six tiny homes, so a little cluster site, so people can have their own independence but at the same time they can be in a communal, supportive environment, in an urban environment, near services, near public transport."
Stewart says one of the great things with both projects is that you just need "a tiny little bit of land".
She says tiny homes have potential to be a catalyst for infill development, either as tiny house villages, or by relaxing planning schemes to allow owners and tenants to situate tiny houses on suburban lots.
"One of the things that Gosford is also looking at and we're looking at too is leasing land," she says.
"So that you can set up your prototype to try and show the model. It doesn't have to be a permanent fixture. And then little by little you can bring people around to this new and innovative way of housing."
According to Stewart, housing the homeless can also save the government money.
"There was a study done last year by the University of Melbourne that shows it is actually cheaper to house people than it is to have people on the streets, with all the services, the emergency services that you end up with it ends up costing more, so there's no good reason to have people on the street, not even financially," she says.
There are a number of finance models for tiny home homelessness projects.
"The way that the model works is that the person who lives in the tiny house pays the rent for the tiny house," Stewarts says.
"And then there are some models where if a person is on a pension then whatever their rent is will be adjusted to the amount that person has.
"In America they have some models where it's rent to buy and if the person stays in the house long term, for like seven years, at the end of that time they actually own the tiny house, which I think is a fantastic way to go."
However the idea is not without its critics.
In the US, where tiny house villages have been built to house the homeless, they have come under fire for lacking the proper infrastructure and are becoming stigmatised as akin to trailer parks for homeless people.
Paton says it is a challenge they find comes up a little, and stems from an uneducated perspective in a lot of cases.
"There are cases in the US where a bunch of tiny houses have been put together, very, very basic ones, without the infrastructure to support those homeless people being put into those places. And that is, from my perspective, treating the symptoms and not necessarily the cause," she says.
"So looking at the quality of life of the people that you're putting into that emergency housing is something that needs to be factored in.
"There is a model in the US where they've created a community where they have classes available, they have social networks set up to re-engage people who may have isolated themselves, and get them contributing to the community again, so much so they've even built a general store which is managed by the homeless in the area and the artwork from the homeless people is sold in that general store."
Paton says as well as houses it is important to build infrastructure to support the individuals and create an environment where you have balance.
"Say for example, not having just homeless people in a place, but having role models in that space that help expand the knowledge of the people who are living in that space and having a positive influence," she says.
"So yes it can be an issue if someone was to just approach it without having the people in mind. It can create problems.
"If you were to create a city of tiny houses you are going to have a challenge. But a small group, built with the individual needs of a group of people in mind, don't necessarily have that."
She says as the market matures people will have a clearer understanding of the distinction between a tiny house and a caravan.
"In America they do have a trailer park stigma attached to them but I think that as the market matures the distinction between a caravan and a tiny house will become more and more prominent," Paton says.
"And hopefully with that people will understand that people who want to live in tiny houses don't necessarily want to live in a transient way, but they are more inclined to want to invest in their home and their community in a lot of cases."
According to Paton tiny houses have many other benefits.
"One of the main benefits of tiny houses is the sustainability component," she says.
"In a tiny house you are forced to purchase less and make the most of what you're purchasing. So from that perspective, the environmental footprint of the individual living within the tiny house is far less than somebody living in a house that is using far more space than they need.
"There is the energy consumption that is also impacted."
A major factor that determines a house's greenhouse gas emissions is its size and location. In the case of a tiny home, the footprint is significantly reduced.
Paton said there was also a benefit to lifestyle.
"People that are living in tiny houses are spending less on materialistic possessions and spending more on experiences in general," she says.
"There are a lot of people in tiny houses that used to live for work but since moving into a house with a smaller footprint they've been able to engage and be a member of society that is still contributing as far as the workforce goes, but have recreated that work life balance, which is fantastic."
According to Paton tiny homes are proving particularly appealing to older woman and young couples who are finding it difficult to break into the property market.
"As far as people being able to get their foot in the door, the cost of building a tiny house, living in a tiny house, including energy cost, the reduction in your consumption is helping people save a lot of money for that first house deposit," she says.
"Even though there may be challenges to living in a tiny house, what they are finding in the US is that people who are reducing their consumption to that level are finding new ways into the property market from what they're saving."
Tiny houses can vary greatly in cost with "DIY models" at one end of the scale being built for $12,000 to more luxurious, professionally built houses going for $120,000 "depending on the level of lifestyle that you want to have within a tiny house".
"There is this misconception that a tiny house is somehow a limiting lifestyle. But what we're seeing is that a lot of people who are moving towards the tiny house movement are doing it to enhance their lifestyle and therefore bringing an element of luxury to that space as well," Paton says.
But the model is not without its challenges.
While tiny homes are traditionally built on a trailer to remove the need for building permits – they need to meet road regulations, rather than building regulations – there are currently a number of restrictions around where tiny homes can be situated, with local council rules varying across Australia.
Paton says this is due to the current classifications of tiny houses.
"For example in Victoria, the closest classification is a caravan," she says.
"There are restrictions on how long somebody can live a caravan within Australia. A lot of people are getting very creative and living in a tiny house for that period of time, moving out for a night, staying in a motel and then coming back.
"There are restrictions as far as where you can place them as well. Say for example in certain areas of Victoria, depending on the size of your land, you are allowed to have one on your land.
"There are people moving towards wanting to set up communities, not necessarily for emergency housing or anything like that, but just set up a tiny house community. But there are quite a few restrictions."
In Victoria, all trailers must be registered, graded to the relevant weights and towed by appropriate vehicles.
According to the trailer specifications, the maximum width is 2.5 meters, the maximum height is 4.3 meters, the maximum weight is 4.5t and the maximum length is 12.5 meters.
If someone opts to build outside of those specs, then additional measures must be taken for the tiny home to be safely transported.
Paton says she believe the restrictions are due to the market being young and uneducated.
"Restrictions, due to the lack of education, are definitely impacting people's ability to place them in their home environment at this stage," she says.
"Thankfully we are working with local councils that are opening up to the idea."
In terms of tiny houses being a good investment, Paton says it is a question of documentation.
"We're working with the US to see how they do it and what they're finding is that when there is video documentation of the build and people can see what they're purchasing, the resale value of that tiny house is much higher," Paton says.
"It is more likely to get financial backing and insurance than one that is built without any kind of documentation.
"As there are no building regulations for tiny houses, rather they need to meet road regulations. That's a gap in the market that hopefully the pilot [project that Tiny Non-profit is currently working on] will start to address or at least start a conversation to help it address that in the future."
Stewart says while they are still having discussions with local councils, the general public seem to be getting on board with the idea.
"Often if you go to a tiny house open day you'll actually have thousands of people coming by, and we're starting to see there's a lot of tiny house builders," she says.
"There are a lot of people starting to live in tiny houses and especially if you look at America, because they've been doing this a little bit longer than us, they are starting to affect a lot of changes at the council level.
"So that's part of the role of Tiny Non-profit. Last year we saw that there was a lot happening in the tiny house space, that it was all quite disparate and we thought our role is to try and bring it all together and then also to get the word out there so we can start affecting that kind of change that we're seeing in America."
---
---

Get your biweekly dose of news, opinion and analysis to keep you up to date with what's happening and why it matters for you, sent every Tuesday and Thursday morning.