A Budget of Tax Cuts and Welfare Crackdown
---
A revenue windfall ahead of the looming general election has seen the government burnish its economic credentials by forecasting a $2.2 billion surplus in fiscal 2020.
---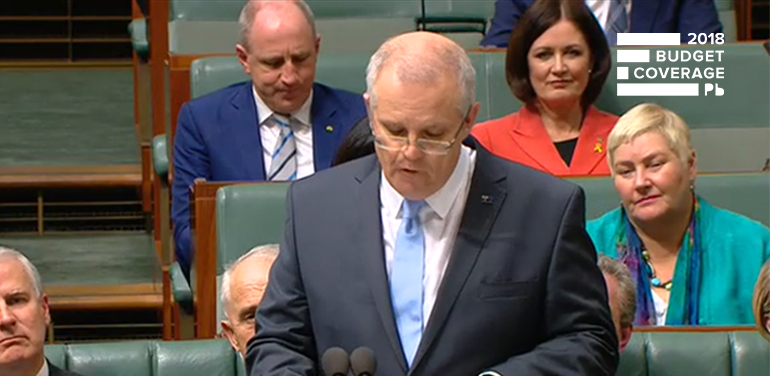 ---
A Budget of Tax Cuts and Welfare Crackdown

9 May 2018 at 10:15 am
A revenue windfall ahead of the looming general election has seen the government burnish its economic credentials by forecasting a $2.2 billion surplus in fiscal 2020.
It will be the first surplus since the global financial crisis and with $30 billion in higher revenues, Treasurer Scott Morrison's third budget will see middle-income workers getting immediate tax relief worth an extra $530 a year.
However, the government will be cracking down on welfare. People on welfare will be the big losers in the budget.
The government will be cranking up its highly contentious robodebt strategy which will be extended for another three years.
Welfare recipients with unpaid court fines issued by state or territory governments will get reduced payments. Fines will be automatically deducted from 1 July 2019.
So if someone is on the maximum Newstart amount of $545.80 a fortnight, the fortnightly welfare payment will be reduced until the debt is paid.
The government will also be able to suspend or cancel the welfare payments of people with outstanding arrest warrants for indictable criminal offences.
Migrants' access to some welfare benefits will be extended from three years to four years from July 2018. This is expected to save $202 million over five years from 2017-18.
Newly arrived refugees in Australia will now wait six months, or 26 weeks, to receive help finding a job if they're receiving welfare payments through the government's "jobactive" program which connects dole recipients with employment officers, helping applicants improve their resume, offer interview tips and check on progress with job applications.
They will be required to focus on improving their English language skills during that time.
Earlier today, I bunkered down with the media to go through #Budget2018. And tonight, we announced that the Turnbull Government is providing permanent tax relief to low and middle income earners of up to $530 on what they pay in tax next year and every year after that. pic.twitter.com/voT9wOvMLg

— Scott Morrison (@ScottMorrisonMP) May 8, 2018
Centrelink has been given a one-off funding boost to address complaints about excessive waiting times. This will see $316 million spent over four years overhauling Centrelink's out-of-date IT system to create more efficient automated claim, assessment and payment processes.
This is in keeping with the government's plans to focus on recovering Centrelink debts over $10,000.
The cashless debit card trial for welfare recipients in Ceduna, South Australia, and East Kimberley, Western Australia, will be extended and the government plans to conduct another independent evaluation.
Morrison claims the number of Australians on welfare has fallen to its lowest level in 25 years, coming in at 15.1 per cent.
That said, it is not expecting any immediate improvement in Australia's unemployment rate, now at 5.6 per cent.
#Budget2018 pic.twitter.com/3jpzJk2B0i

— Scott Morrison (@ScottMorrisonMP) May 8, 2018
Despite calls from welfare groups and health experts, Newstart payments will not increase.
At the same time, there is the issue of slow wages growth which is barely keeping up with inflation.
The retail data released by the Australian Bureau of Statistics on budget day was a shocker. Retail in Australia in March was absolutely flat. It grew at 0.0 per cent. People are not spending because they are not earning enough.
Low and middle income earners are unlikely to open up their wallets with an extra $10 a week. And retailers won't be getting much support from people on Newstart.
The National Disability Insurance Scheme remains on track to be fully rolled out by 2020.
An extra $92.1 million has been allocated to help those who aren't eligible for the NDIS but are currently in programs transitioning towards the scheme.
Some $64.3 million has been allocated to add more NDIS workers.
The budget has allocated $1.6 billion over four years for 14,000 people to stay in their homes rather than nursing homes. The package ensures that almost 74,000 people will be able to access home care packages by mid-2022.
The government has promised $83 million to address the drastic shortage of mental health services in residential aged care facilities.
The government has also extended its loans scheme to allow older people to borrow against some of the equity in their home.

Our 2018 budget coverage is brought to you by Community Sector Banking.



---
---

Get your biweekly dose of news, opinion and analysis to keep you up to date with what's happening and why it matters for you, sent every Tuesday and Thursday morning.