Government Called On to Urgently Establish Disability Royal Commission
---
Disability advocates are calling for a royal commission into the violence and abuse of people with disability to be set up immediately after the Morrison government threw its support behind the inquiry.
---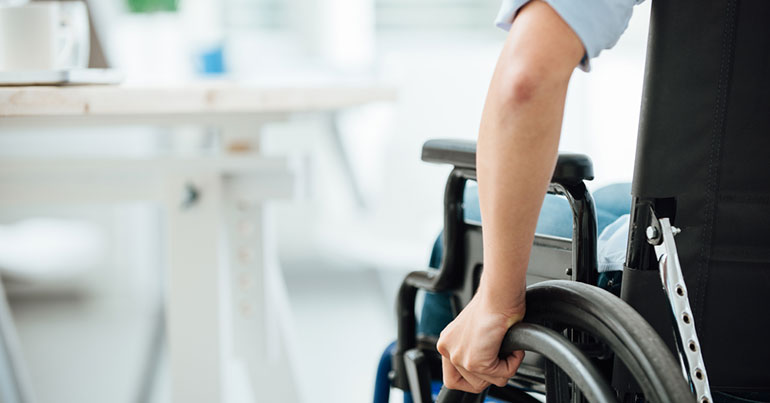 ---
Government Called On to Urgently Establish Disability Royal Commission

18 February 2019 at 5:26 pm
Disability advocates are calling for a royal commission into the violence and abuse of people with disability to be set up immediately after the Morrison government threw its support behind the inquiry.
A Greens motion for a disability royal commission finally passed the lower house on Monday with government support, despite the Coalition using stalling tactics last week to block a vote on the issue.
But Prime Minister Scott Morrison did not announce the royal commission, instead telling Parliament he would consult with states and territories first.
"Violence, abuse and neglect of people with disability outside service settings such as at home or in the community is mostly covered under state and territory law," Morrison said.
"So working with the states and territories in this area, both looking at matters in the past as well as looking forward, will be absolutely essential."
Bipartisan support for the inquiry was welcomed by disability advocates, who said a royal commission must be called by government as soon as possible.
Sue Salthouse, the chair of Women with Disabilities ACT, said: "Make no mistake, we need the government to also commit to an immediate start on the commission, not to delay until after an election, or to put it off further as [we] have waited far too long, the time has come."
We are all watching closely today as the campaign for a #RoyalCommissionNow comes to a head.

People with disability need justice – we urge @ScottMorrisonMP to support and then establish a Royal Commission today. #AusPol

— PWD Australia (PWDA) (@PWDAustralia) February 17, 2019
Disabled People's Organisations Australia (DPO Australia) said in a statement they were concerned there was not a definite announcement or timeframe to establish a royal commission.
Carolyn Frohmader, executive director of Women With Disabilities Australia, a DPO Australia member, said it was also important a royal commission covered the breadth of issues that advocates have raised with the federal government over many years.
"Women with disability experience higher rates of violence, including sexual violence than non-disabled women," Frohmader said.
"We need to make sure that the royal commission takes an intersectional approach to the examination of violence, including gender, age, sexual orientation, intersex status and race."
Other areas DPO Australia have called for the royal commission to cover include Aboriginal and Torres Strait Islander disability issues, and problems people with disability from culturally and linguistically diverse backgrounds have accessing services.  
Attorney-General Christian Porter told ABC Insiders on Sunday that since the royal commission would likely look into state-run facilities, it would need approval from state and territory governments.
But Dr Meg Clement-Couzner, a senior policy officer at People With Disability Australia, told Pro Bono News there was no excuse to delay calling for a royal commission.      
"What we saw with the aged care royal commission is that when the government wants to act on something like this they can do it very quickly," Clement-Couzner said.
"We have got around three months before an election takes place… so there's plenty of time to establish a royal commission."
The prevalence & pervasiveness of violence, abuse & neglect against people with disability is a shocking social issue. A Royal Commission will shine a much needed spotlight on this and have the power to bring about substantial, long-lasting change. We need government action now.

— Alastair McEwin (@almcewinddc) February 14, 2019
Clement-Couzner added it was important people understood this was not a royal commission into disability services.
"It's not about a royal commission into services or the National Disability Insurance Scheme," she said.
"It's actually a royal commission into violence against people with disability in all areas of their lives and in all settings – that includes schools, prisons, out-of-home care and their family homes."
Senator Jordon Steele-John has led the Greens' campaign for a disability royal commission in recent months.
He said on Twitter that he told the prime minister, immediately following the motion passing, that "a timeline is what is needed now".
PM just shook my hand and said "well done"
I said "a timeline is what is needed now"
Response "I've said what I've said".
Not a good start @ScottMorrisonMP #RoyalCommissionNow #auspol

— Senator Jordon Steele-John (@Jordonsteele) February 18, 2019
Labor have also supported a disability royal commission since May 2017, and attacked the government for their previous failures to commit to action on the issue.
Opposition leader Bill Shorten said on Monday Labor would work with the government to help set up an inquiry.
"This is a good step forward but we need to provide a timeline," Shorten said.
"And, yes, the states and territories need to provide their cooperation but it wouldn't be the first time that a state and territory has said no to a Commonwealth government and the Commonwealth government has still steamed ahead."
A Senate inquiry recommended holding a royal commission in 2015, after finding widespread rates of violence and abuse against people with disability.
This call was supported by more than 160 civil society groups and over 100 academics in 2017.
---
---

Get your biweekly dose of news, opinion and analysis to keep you up to date with what's happening and why it matters for you, sent every Tuesday and Thursday morning.