'It was incredibly traumatising': Children with disability belittled and abused in Aussie schools
---
The disability royal commission heard stories of children being bullied by both students and teachers
---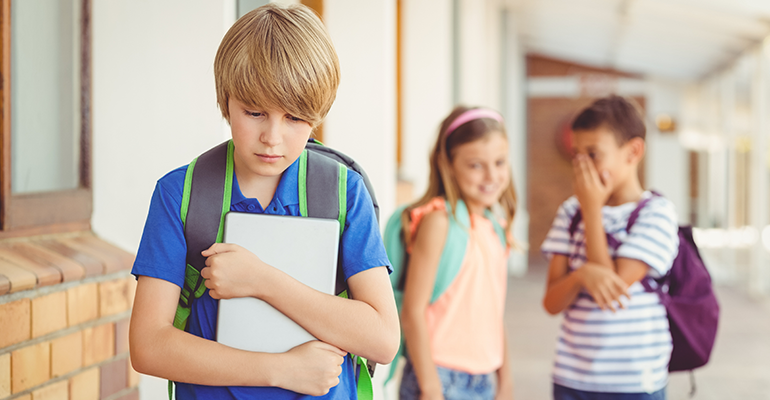 ---
'It was incredibly traumatising': Children with disability belittled and abused in Aussie schools

6 November 2019 at 3:05 pm
The disability royal commission heard stories of children being bullied by both students and teachers
Some students with disability have been denied bathroom breaks and forced to sit in their own urine, while others have been forcefully dragged by their teachers, the disability royal commission has heard.
During the first public hearing in Townsville on Tuesday, a woman – known as Witness AAC – told the inquiry about the widespread bullying and exclusion of her five children with disability.
Witness AAC said her daughter, who has autism, was belittled by her teacher for needing to go to the toilet immediately because of sensory problems.
She said there was a "lot of trouble" negotiating for immediate bathroom breaks with the school.
Witness AAC added that early in her career as a special education teacher, she often saw non-verbal children being forced to wait when they indicated they wanted to go to the bathroom, leaving them to sit in their own urine.
"It was incredibly traumatising, incredibly confronting," she said.
Witness AAC said she had witnessed cases of rough physical treatment by teachers, including a child being dragged by their arms down the stairs.
She said her eldest son, who has autism and is now 28 years old, faced persistent bullying and even had a whiteboard marker thrown at him after a misunderstanding.
"The bullying was so extreme that he actually took a knife to school, because he was that scared," she said.
---
Read more: Children with disability face bullying and exclusion in Aussie schools
---
Also on Tuesday, Queensland Teachers' Union president Kevin Bates admitted to the inquiry that disability was not considered in "any great detail" during university education courses.
Bates said he supported the phasing out of segregated education – a key demand from disability groups – but only if there were enough resources in place to support the needs of children with disability in mainstream schools.
"We would not support the notion of students being enrolled in schools where there was currently no capacity for the system to provide the resources necessary to support their education," Bates said.
"[Because] the current expectations on teachers have already reached the limit of human capacity, adding additional expectations would stretch us well beyond that." 
Greens Senator Jordon Steele-John said he hoped to meet with the Queensland Teachers' Union to elicit their full support for an end to segregated education.
He said there was zero academic evidence that segregated "special schools" were appropriate learning environments for children with disability.
"The human rights of disabled kids are violated by these institutions. Families are forced, everyday, to place their children in these settings because of discriminatory practices and a lack of resourcing," Steele-John said.
"Disabled kids deserve their human rights, and supporting these rights is union business."
On Wednesday it was announced that the commission will hold a public hearing in Melbourne from 2 to 6 December, focused on homes and living for people with disability in Victoria.
If you or someone you know needs support, please contact Lifeline Australia on 13 11 14, Kids Helpline on 1800 55 1800, or the National Disability Abuse and Neglect Hotline on 1800 880 052.
---
---

Get your biweekly dose of news, opinion and analysis to keep you up to date with what's happening and why it matters for you, sent every Tuesday and Thursday morning.