Taking back control of the First Nations narrative
---
"We need to go back to what works and stop trying to appeal to governments who aren't listening to us." 
---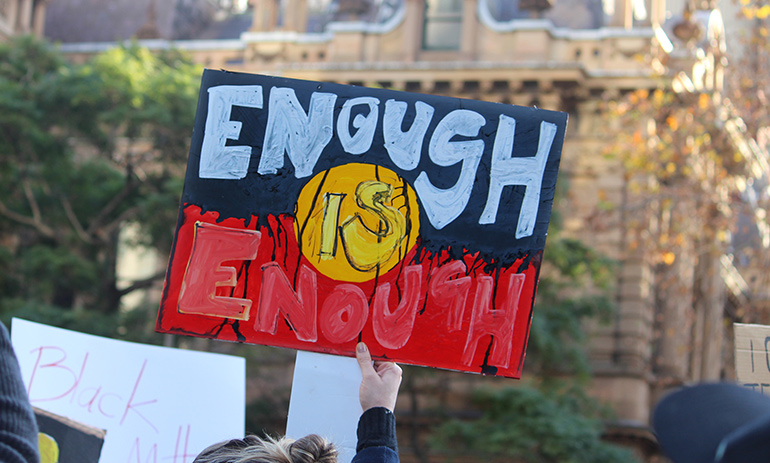 Passing the message stick
---
Taking back control of the First Nations narrative

24 August 2021 at 8:43 am
"We need to go back to what works and stop trying to appeal to governments who aren't listening to us." 
For more than a decade, the mainstream narrative around the capability and strength of First Nations people has become increasingly negative. Now, the team behind a two-year research project, wants this to change.  
The project – Passing the Message Stick – found that in recent years advocates [have] stepped away from strength-based messages, [like those used in] past, successful movements (such as the modern land rights movement), and [moved] into a frame of deficit and charity to appeal to more conservative governments.
This was largely prompted by the 2007 Northern Territory Intervention, which following the release of the Little Children are Sacred report, saw the federal government launch a five-year takeover of 73 Indigenous communities to tackle the high rates of child sexual abuse in the communities. 
Larissa Baldwin, GetUp's First Nations justice campaign director and report co-author, said the event moved First Nations people "into a space of being the problem", and needing charity. 
"We were seen as the people that weren't capable of doing things by themselves and the people that couldn't look after their kids," Baldwin told Pro Bono News. 
"We were in a space of defense… trying to appeal to conservative governments and fit within their frame."
Led by a steering committee of pre-eminent First Nations advocates, and supported by GetUp, Original Power and Australian Progress, Passing the Message Stick hopes to reframe the conversation with a new guide on taking a strength-based approach.
The project saw 19 First Nations communicators, journalists, advocates and policymakers take part in a five month fellowship to research and analyse the language used on diverse issues, including health, land rights, gender, identity, systemic racism, January 26, and law reform. 
Thousands of messages were analysed to understand how First Nations issues were framed by advocates and opponents, examples were collected of advocates describing self-determination and justice in their own words, and focus groups were hosted to understand how supporters and opponents responded to different messages and narratives. 
The result of this is a practical guide that lays out an alternative and strength-based approach to the way issues such as racial justice, climate change, or incarceration rates are communicated.  
Baldwin said that one of the most important findings in the research was that Indigenous people were the most trusted messengers on their issues, and that it was time to take back that power. 
"If you take a look at something like the modern day land rights movement, where we really had a lot of people supporting us… We really led with values-based messaging that talked about our capability and our strength," she said. 
"The biggest finding in this report is that we need to go back to what works and stop trying to appeal to governments who aren't listening to us." 
The report said campaigns and messaging should be framed using values shared by the audience; identifying the cause of the problem; sharing clear solutions; avoiding hedging language that is vague and cautious; and avoiding repeating the opponents messages. 
For Amelia Telford, the national director of Seed Mob and a participant in the project's fellowship, being involved in the project highlighted the impact of language in persuading people. 
"What stood out most was the way we, at Seed Mob, use hedging language," Telford said. 
"Now I rethink what I say. I understand the importance of owning the moral high ground and speaking with confidence when we say we're the experts, we know what's best for our communities, and we're strong in our communities – because it's true.
"Indigenous people need to be at the forefront of the climate movement." 
Change is possible 
Baldwin said that the work done by the refugee sector around the Medevac refugees was evidence that good, persuasive and progressive messaging worked. 
"That whole campaign was about taking ministerial discretion from someone like Peter Dutton, and moving it to doctors who actually know what they're talking about, and it worked," she said. 
"It is a powerful tactic in order to get people to move in and have the type of political action you want to see."
She said that now the report had been released, their focus was on sharing the findings with community and advocacy organisations across the country. 
"You have to go out and show people how it actually works, because the research is no good if no one understands it," she said. 
"But we've had a lot of interest so far, so that's really exciting." 
Find out more about the project here. 
---
---