Social enterprise urges Aussies to Bake for a Baker
---
The Bread & Butter Project has found a unique way to help fund the bakery's next cohort of trainee bakers 
---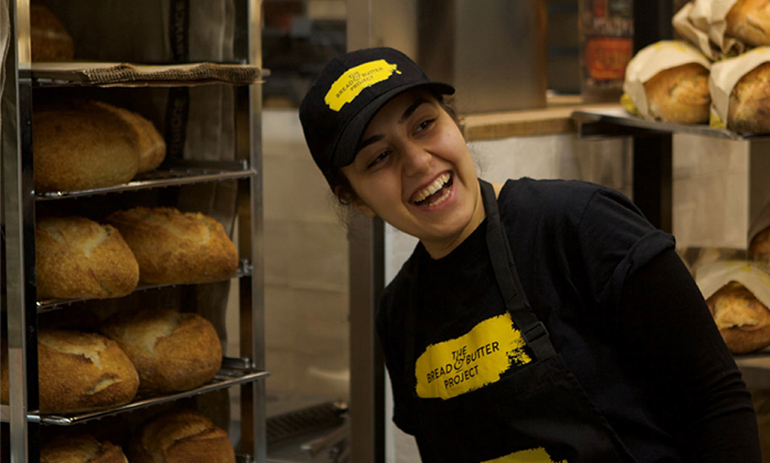 ---
Social enterprise urges Aussies to Bake for a Baker

2 February 2022 at 3:48 pm
The Bread & Butter Project has found a unique way to help fund the bakery's next cohort of trainee bakers 
Australia's first social enterprise bakery is encouraging people to bond over the simple act of baking bread, as part of a new crowdfunding campaign.
The Bread & Butter Project has experienced a 40 per cent drop in wholesale café and restaurant sales since June last year, which hurts the viability of its trainee programs.
These programs allow people seeking refuge and asylum in Australia to undergo a six to eight-month traineeship, featuring on-the-job bakery training, TAFE accreditation, English language tutoring, and job readiness support. 
To help support this training, the social enterprise has just announced a three-week Bake for a Baker crowdfunding campaign, starting on 28 February.
The campaign will involve people and businesses across the country donning their aprons, much like the enterprise's trainee bakers, and forming teams of five.
Once these teams reach a minimum collective fundraising target of $250 ($50 per team member), they can receive The Bread & Butter Project's exclusive bread recipes that are inspired by the cultures of refugee trainees. 
The initiative also aims to create a close connection between people working from home, or families and friends separated by the pandemic, with these culinary endeavours to be shared on Instagram using the hashtag #bakeforabaker and tagging @thebreadandbutterproject.
The Bread & Butter Project CEO Peter Boyd said the campaign allows people to step into the shoes of the enterprise's refugee trainees and experience the process of learning how to bake bread.
He said he hoped that everyone participating in Bake for a Baker would get a small glimpse into the wonderful cultures of the refugee trainees, where bread is such an important element in building community.
"For this reason, we will be encouraging participants to share their bread creations with their family, friends and colleagues," Boyd said.
"At the same time, the campaign will provide a great way for corporates and businesses to re-establish community and connection amongst their teams while working from home, especially as they navigate the realities of pandemic-affected workplaces.
"Most importantly, the campaign will help The Bread & Butter Project raise the funds we need for future cohorts of refugee trainees – and particularly those escaping the crisis in Afghanistan – so they can establish fulfilling careers as Australia's next generation of bakers."
The top three fundraising teams at the end of the campaign will be invited to a special online Graduation Gala, hosted by respected Sydney Morning Herald food critic Terry Durack.
Here, the successful teams can showcase their creations and "graduate" just like the enterprise's refugee trainees.
The top fundraising team – and up to five of their friends or colleagues – will also experience an exclusive pastry making masterclass with celebrity chef Peter Gilmore from Sydney's Quay and Bennelong restaurants, and his pastry chef Rhiann Mead. 
Find out more about the campaign here.
---
---

Get your biweekly dose of news, opinion and analysis to keep you up to date with what's happening and why it matters for you, sent every Tuesday and Thursday morning.