A real estate agency changing lives and solving the housing crisis
---
HomeGround Real Estate works like any other agency, apart from one thing – it's actively trying to solve the growing housing crisis, writes Maggie Coggan in this month's Spotlight on social enterprise.  
---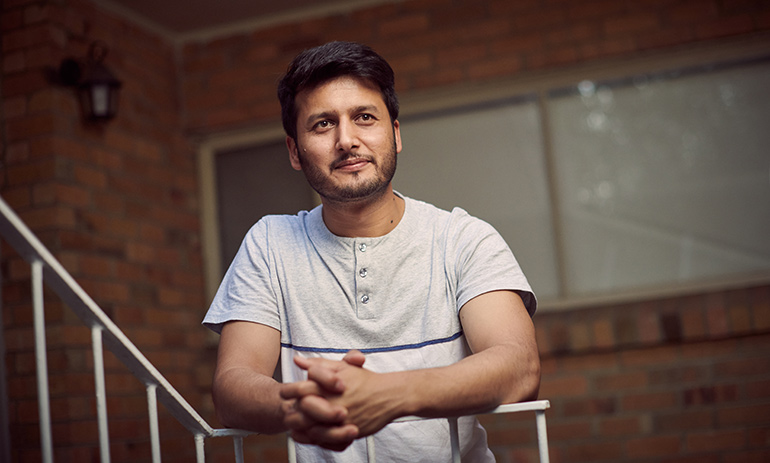 Sayed - image credit: Eugene Hyland
---
A real estate agency changing lives and solving the housing crisis

2 March 2022 at 8:18 am
HomeGround Real Estate works like any other agency, apart from one thing – it's actively trying to solve the growing housing crisis, writes Maggie Coggan in this month's Spotlight on social enterprise.  
For nearly 10 days last year, Sayed and his wife were trapped inside Kabul airport, unsure if they would ever be able to leave. 
"We didn't have any food, any water, nothing," Sayed tells Pro Bono News. 
Like thousands of others, they were desperately trying to flee Afghanistan following the Taliban offensive that lasted from May through to August in 2021. 
While leaving his home country and extended family behind was a tough decision, Sayed said that if he and his wife hadn't taken the opportunity to get out, they might not have survived. 
"I left my Mum, Dad and brothers behind and I did not feel good about that. I still pray everyday that they are alive," he said. 
When they eventually arrived in Australia at the end of August 2021, they were assigned a charity case manager and put into an onshore refugee facility in Melbourne. 
It was during this time that they were connected with HomeGround Real Estate, and their lives changed forever. 
Australia's first social enterprise real estate agency 
Set up by Victorian housing support and homelessness charity, Launch Housing in 2014, HomeGround Real Estate works like any other agency, providing rental management services for a competitive fee.
What sets HomeGround Real Estate apart, however, is that it offers property investors and landlords the option to rent out their properties at either full market rent, or below market rent — which is usually around 10 per cent less. 
Plus, all profits created from property management fees are reinvested back into Launch Housing homelessness and social housing programs. 
In the last financial year alone, the organisation saw a 61 per cent increase in the number of properties they are now managing (they currently have over 300 properties on their books), generating more than $550,000 towards Launch Housing's homelessness services.
Principal of HomeGround Real Estate, Simone Curley, told Pro Bono News that with a rapidly declining number of affordable rental properties on the market and a 10-year wait list for social housing in Victoria alone, the platform is giving landlords and investors a chance to give back to their communities. 
"This is a way to tap into the private investor market to get more properties managed at below market rent," Curley said. 
"And even if a landlord doesn't want to rent out their property at below market rent, all the profits go back into Launch Housing so they can do the work that they do to achieve their mission to end homelessness."
Renting with heart 
One of these landlords is Philip Endersbee. Wanting to support an Afghan evacuee following the Taliban takeover, his HomeGround Real Estate property manager worked closely with the refugee charity, AMES Australia, to find a couple that could rent Endersbee's apartment.   
That couple ended up being Sayed and his wife. 
"There were 1,000 families in the refugee facility in Melbourne with one kitchen for all of us to use…it was so crowded and we really couldn't wait to get out," Sayed said. 
"We were told about the house, I went to visit it and agreed straight away to live there, it was newly painted and really good. The landlord, Philip, even agreed to help us move in sooner than we were meant to because we were so desperate to get out of the refugee facility." 
Endersbee insisted on letting the couple live in the apartment rent free until both of them found work, and even helped Sayed land a job. 
"He said that there was a vacant position in his organisation, so I sent through my resume and was able to start work right away," Sayed explained. 
"I called my family telling them that even though I couldn't bring my uncle here with me to Australia, I had found an uncle who was giving me his house without rent and helping me find a job."
With HomeGround Real Estate now operating across Victoria, the ACT and New South Wales, Curley said that witnessing people's lives change because they've been able to access affordable rentals has been incredible. 
"Our landlords and investors can also give a donation or they can reduce their rent, and a lot of them are choosing to reduce their rent if they're in a financial position to do so," Curley said. 
"We've seen some owners who when they first give us their property, they need to charge for market rent. But as time goes by and they build some equity in their home, then they can reduce the rent, and it's just beautiful." 
Curley said she is hopeful that the idea of social enterprise real estate agencies will become a movement that in time, is not limited to just a handful of investors. 
"There's a lot of properties out there, and there are a lot of investors who want to do good with their property. 
"I would love to see organisations like HomeGround Real Estate really take off, and I think it's definitely possible." 
A new start and a new life 
In just six months, Sayed has been able to set up a home, land a job and is looking forward to a promotion. Now, they are preparing for the arrival of their newborn baby. 
"Obviously I am very sad to have left Afghanistan but there was no chance of a good life for us and our baby…he or she…that's going to be a surprise for us when the time comes," he said. 
"All the things that happened in a month for us like finding a home, getting a job, buying a car, I didn't expect to happen for two years…and it was all thanks to Philip and HomeGround Real Estate," he said. 
---
---

Get your biweekly dose of news, opinion and analysis to keep you up to date with what's happening and why it matters for you, sent every Tuesday and Thursday morning.