Monday, 28th November 2011 at 3:27 pm

Changemakers – Lyn Swinburne
By Staff Reporter,
Lyn Swinburne, founder of the Breast Cancer Network Australia, is featured in Changemakers, a regular column which examines inspiring people and their careers in the Not for Profit sector.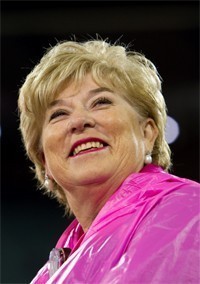 What drew you to the Not for Profit sector?
In 1993 I was diagnosed with breast cancer and was horrified at the medical system which focused on the tumour and paid very little attention to the woman. I wanted to put the woman onto centre stage and to positively influence the medical and scientific worlds. In 1998, I formally founded Breast Cancer Network Australia (BCNA) and have been its CEO since that time.
I consider my greatest achievement to be……
Establishing and growing BCNA. It now has 62,000 individual members and 300+ plus Member Groups across the country. It's a strong, influential and innovative grass roots organisation, which delivers real outcomes for women with breast cancer and their families
Favorite saying …
My guiding quote through all these years has been one from Margaret Meade: Never doubt that a small group of informed, committed citizens can change the world; it's the only thing that ever has.
What are you reading at the moment?
Worse Things Happen at Sea by William McInnes and Sarah Watt – a beautiful, moving book of their life together
My greatest challenge is …
I am soon to retire from my role with BCNA. I have a lot of energy and so my biggest challenge is deciding where best to invest my time and efforts in this next stage of my life.
School taught me …
To plan, communicate, innovate, invigorate and evaluate. Before BCNA, I was a school teacher!
Who inspires you?
The women in our network. Many face enormous physical and emotional challenges every single day and yet they reach out to help others and work to get a better deal for the women who will follow us.