Education Failure in Developing Countries - Report
---
Twenty percent of young people in developing countries fail to complete primary school and lack skills for work, according to a report by global anti-poverty organisation, UNESCO.
---

---
Education Failure in Developing Countries - Report

16 October 2012 at 9:11 am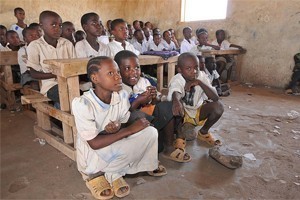 ©UNESCO/D. Willetts, School children in Kakuma refugee camp, Kenya
Twenty percent of young people in developing countries fail to complete primary school and lack skills for work, according to a report by global anti-poverty organisation, UNESCO.
The United Nations Organization for Education, Science and Culture (UNESCO) report found that there are still 250-million children of primary school age who cannot read or write, whether they're in school or not, and 71 million teenagers who are out of secondary school and missing out on vital skills for future employment.
And UNESCO says $US8 billion is needed to ensure all young people attend lower secondary education in developing countries.
UNESCO says Governments as well as donors and the private sector must help fill the funding gap.
It says the tenth Education for All Global Monitoring Report, Putting Education to Work, reveals the urgent need to invest in skills for youth.
In developing countries, 200 million people aged 15 to 24 have not even completed primary school and need alternative pathways to acquire basic skills for employment and prosperity.
The world's youth population is larger than ever before; one in eight young people are unemployed and over a quarter are trapped in jobs that keep them on or below the poverty line. As the effects of the economic crisis continue to squeeze societies worldwide, the severe lack of youth skills is more damaging than ever.
Despite significant progress in some regions, UNESCO says few are on track to meet the six Education for All (EFA) goals set in 2000, and some are a long way behind. The report looks in depth at youth skills, one of the least analysed of the EFA Goals. It shows that acquiring a lower secondary education is a minimum today for young people to gain the foundation skills they need to find decent jobs.

©UNESCO/Eman Mohammed, Ibrahim Khalaf, 12, a Palestinian student looking through arabic books at his school's library during the reading class at Tunis public school in Beitlahia northern Gaza strip.
Poor young populations, urban and rural, are the most in need of skills training. In urban areas, the youth population is larger than it has ever been and growing. In a fifth of countries analysed, poor, urban young people have less education than in rural areas. Over a quarter earn little more than US$1.25 a day.
"We are witnessing a young generation frustrated by the chronic mismatch between skills and work. The best answer to the economic downturn and youth unemployment is to ensure that young people acquire the basic skills and relevant training they need to enter the world of work with confidence," Irina Bokova, Director-General of UNESCO said.
"Many, and young women in particular, need to be offered alternative pathways for an education, so that they can gain the skills needed to earn a living, live in dignity and contribute to their communities and societies."
"Investing in young people's skills is a smart move for countries seeking to boost their economic growth. The Report estimates that every $1 spent on a person's education, yields US$10-US$15 in economic growth over that person's working life-time.
"There are worrying signs that aid to education may be slowing down just when children and young people need it the most," Pauline Rose, director of EFA Global Monitoring Report said.
"Governments and donors must find the money and energy to help young people most in need to acquire the skills they and their countries' economies desperately need. The private sector is the first to benefit from a skilled workforce and must also step up its financial support."
"Reallocating aid could help fill the funding gap. US$3.1 billion of aid to post-secondary education never reaches the educational systems of developing countries as it is used to fund foreign students in donor countries. These funds could be better spent addressing the skills deficit for disadvantaged youth in poor countries. The cost of one Nepalese student's scholarship in a developed country could give 229 students access to secondary education at home."
To download the report and other relevant materials, including all regional press releases, video releases and interviews: http://www.efareport.unesco.org
---
---

Get your biweekly dose of news, opinion and analysis to keep you up to date with what's happening and why it matters for you, sent every Tuesday and Thursday morning.