Tuesday, 26th February 2013 at 9:39 am

Documentary Australia Foundation Honored
By Staff Reporter,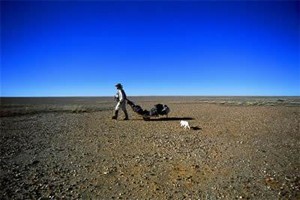 Scene from Alone across Australia produced and directed by Ian Darling and Jon Muir. Picture: DAF
The Documentary Australia Foundation (DAF), a small organisation working in the field of social documentary funding, has been honoured with a major award.
DAF has been awarded the 2013 Stanley Hawes Award by the Australian International Documentary Conference (AIDC) for outstanding contribution to the documentary industry in Australia.
AIDC Co-Chair Helen Leake says DAF has redefined the position of documentary and documentary filmmakers in society.
DAF is run by two multi award-winning documentary filmmakers Mitzi Goldman and Susan MacKinnon.
"The organisation guides and advises filmmakers and funders to collaborate to create films that are socially and culturally engaging and that aim to create social impact through changing perspectives and behaviours in society," Susan MacKinnon said.
"DAF aims to inspire and nurture partnerships between philanthropic individuals, foundations, charities and documentary filmmakers around issues that matter to us as human beings," MacKinnon said.
This small Not for Profit is the nation's only independent organisation with a mission to create social impact through documentary. Established four years ago, DAF is now expanding its role and encouraging filmmakers to think beyond simply completing their film.
"The DAF team works with key film projects to help build audiences who will be inspired to take action and change behaviours."
"Since opening its doors in October 2008 DAF has been instrumental in providing new funding opportunities for more than 500 film projects. To date 148 documentaries have received funding from over 550 funders who understand the power of documentary to leverage their passion for issues ranging from youth unemployment to the transformational power of dance."
Ian Darling, AFI Award-winning filmmaker and founder of DAF, accepted the award at the AIDC's Conference on Monday.
"If we can create an environment where we all share the responsibility for attracting more private funds to the sector, and embrace it, we will have a documentary industry that is the envy of the world. Documentary filmmakers are the real story tellers, the shifters and shapers, and reformers – providing not only the photo albums, but also the archives, the camp fire stories, and the kitchen table conversations of this country," Darling said.