Australia's Biggest Fundraisers
---
Australia's Top 5 charities, based on fundraising income, have been revealed at the Fundraising Institute Australia's annual conference in Melbourne - and they include an unexpected quiet achiever.
---
Australia's Biggest Fundraisers

4 March 2014 at 10:13 am
Australia's Top 5 charities, based on fundraising income, have been revealed at the Fundraising Institute Australia's annual conference in Melbourne – and they include an unexpected quiet achiever.
Based on research by Pareto Fundraising, the nation's top fundraisers are:
World Vision
Salvation Army Eastern
Salvation Army Southern
Compassion Australia
Australian Red Cross
Addressing the FIA conference's opening plenary session. Pareto's Co-founder Sean Triner said World Vision's fundraising results for the past financial year – at $270 million – were "way above" those of any other major Australian charities.
This is markedly illustrated in the table of the nation's 29 most successful fundraising organisations (excluding universities):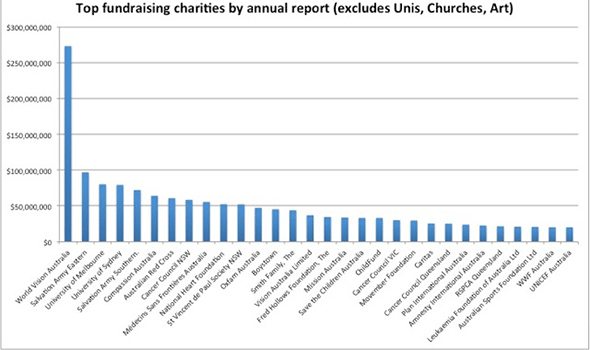 The Salvation Army's Australia Eastern Territory, covering New South Wales, the Australian Capital Territory and Queensland, is second on the list with just under $100 million fundraised, followed by the Army's Southern Territory, covering Victoria, South Australia, Tasmania, Western Australia and the Northern Territory.
Fourth on the list is the lesser-known Compassion Australia, which Triner said has "sneaked up the Top 10 in the last few years".
The fifth most successful fundraiser is the Australian Red Cross, which Triner believes is on a trajectory to move even higher up the fundraising scale.
"I predict the Red Cross will be overtaking the Salvos in the next few years," Triner said. "They are absolutely zooming up the Top 10."
Triner later told Pro Bono Australia News that the Red Cross had clearly stepped up its activity in recent years and the results were clear to see. "I've been observing increasing growth in the Red Cross annual reports year on year; just from their level of activity, you can tell that these guys are going for it," he said.
"They are recruiting lots of donors and you can really see the increased presence of engaged Red Cross collectors."
Triner described the Newcastle-based Christian charity, Compassion Australia, as the "dark horse' of the Top 5. Part of an international child development and advocacy ministry, Compassion works in partnership with churches around the world to support children living in extreme poverty in 26 developing countries.
Triner said Compassion has been brilliant at reaching its primary target audience, which is Christian women.
"They prove that brand awareness is not what you need; fundraising from your correct target audience is what you need to do," he said. "They actively fundraise at major church events and send excellent direct mail…things that get the most money are direct mail and face-to-face recruiting."
Pareto publishes an annual assessment of Australia's most successful fundraisers, based on analysis of annual reports and its own investigations.
"There's no clearing house of annual reports in this country for ranking charities, so you just have to do some detective work." he said.
He said the figures don't include churches and universities and some hospitals, because it is difficult to interpret their annual reports to clearly define what is and isn't fundraised income.
Triner said that for the purposes of the research, fundraising was defined as anything other than government grants, sales of services and income from very large grants. Small grants are counted as fundraising income.
He said another trend he has observed in the fundraising sector is the increasing number of disability organisations that are worried about de-funding as a result of the National Disability Insurance Scheme (NDIS).
"What NDIS means is these organisations have to market their products to their beneficiaries, because they don't get the government funding any more; the money goes to the beneficiaries who get to choose which services they use," Triner said.
"I've got all these charities talking to me about this de-funding and worrying about how they are going to market to their beneficiaries."
As part of its presentation to the FIA delegates, Pareto presented an animated video summarising insights gained from analysis of data from 70 Australian charities that have shared their information for research purposes.
Triner said this analysis was separate to the major fundraisers' income research, and represents approximately one third to one half of all individual donations received across Australia.
The analysis showed that:
87% of funds raised comes from face-to-face marketing;
regular givers are much better 'stayers' than cash donors;
cash donors who gave to seven or more causes were retained for longer for all causes;
20 per cent of visitors to fundraising donation pages currently come via Facebook;
on average, regular donors make up 45 per cent of the donor pool;
the older you are, the more you give;
the most generous people in Australia live in NSW (based on average amount given per capita), followed by the ACT, Victoria, WA, SA, QLD Tasmania and the NT.
there has been a "massive growth" in the use of online lead-generation for fundraising.
Generating online leads involves using a variety of methods, such as competitions, opinion polls and petitions to obtain phone numbers and generate new donor leads on the Internet. The key to success in this area is high quality follow-up of potential new donors on the phone, Triner said.
Pareto's full presentation to the the FIA conference can be viewed here.
---
---

Get your biweekly dose of news, opinion and analysis to keep you up to date with what's happening and why it matters for you, sent every Tuesday and Thursday morning.