Lessons From the Hermit Kingdom of Bhutan: GNH, Mindfulness and Technology
---
On a recent trip to Bhutan, Mike Davis, founder of Purposeful, discovered the positive social impact of incorporating "gross national happiness" principles into policy and business.
---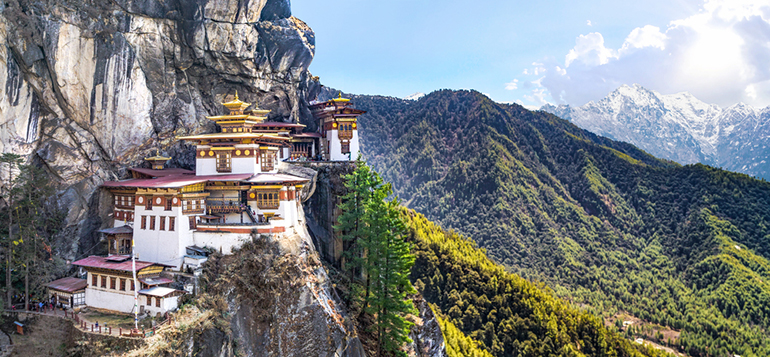 ---
Lessons From the Hermit Kingdom of Bhutan: GNH, Mindfulness and Technology

14 December 2016 at 9:00 am
On a recent trip to Bhutan, Mike Davis, founder of Purposeful, discovered the positive social impact of incorporating "gross national happiness" principles into policy and business.
Two weeks ago I set off on a 12-day group tour of Bhutan with 20 other young Australian changemakers. Amongst our group were environmental and conservation experts, public servants, creative directors, startup entrepreneurs and health workers.
We were invited and hosted by the GNH Centre of Bhutan and guided through the work of the GNH Centre and Bhutan's rich recent history by talismanic GNH Centre director Dr Saamdu Chetri.
Our goal was simple – to better understand ourselves, to become more effective storytellers and to appreciate Bhutan's unique culture, values and approach to wellbeing. This would play out across a country, described as a hermit kingdom, sandwiched between two emerging global superpowers in China and India.
From the moment you fly into Bhutan, you notice how different it is to any country you've visited before. The main terminal at Paro airport, looks like any other ancient Dzong (Buddhist temple) that you may visit here. You will also notice the vast Himalayan ranges, bathed in sunshine and crisp air. Below I have outlined some of the key learnings from my time in Bhutan:
Wellbeing is greater than wealth
Bhutan is well known for its GNH, or gross national happiness, approach to policy, regulation, development and lifestyle. This philosophy was announced by the fourth king of Bhutan in the 1970s and later became official public policy from 2008 to today.
GNH is essentially a new approach to understanding wellbeing that prioritises cultural preservation, conservation of the environment, community vitality, wisdom and spirituality. It is used as both a way to measure the happiness of the population and also as a policy and projects planning tool to ensure future sustainable development that promotes wellbeing.
Using this method, Bhutan is able to ensure that any developments impacting upon the country and its people are people-centred and put wellbeing first. This is perhaps the reason that Bhutan doesn't allow any smoking in public, public product advertising or large-scale mining or extraction projects.
Bhutan is also the only "carbon-negative" country in the world and is legislatively bound to maintain forestry grounds at greater than 60 per cent of the country. Currently forestry is around 70 per cent.
Mindful business equals good business
During our time here, we learned about businesses around the world that are having great success integrating the GNH principles. More can be learned via the Global Wellbeing and GNH Lab, created in partnership with Otto Scharmer's Presencing Institute. B.Grimm Group of Thailand (conglomerate) and Eileen Fisher (a fashion retailer) of the USA have recently implemented the GNH principles.
B.Grimm Group has recently agreed to host Thailand's first official GNH Centre. The B.Grimm Group of companies prides itself on "doing business with compassion". At B.Grimm Group, this has involved providing mindfulness and GNH training to its whole management team. Further work will involve B.Grimm Group working to wholly integrate GNH values and principles into its way of working.
At Eileen Fisher this has involved sourcing ethical materials and implementing regular meditations and mindfulness rituals into work meetings. The company is also in the early stages of applying GNH metrics to regularly assess how the company is progressing on a GNH basis. Eileen is also a strong advocate for the role that companies can have in pivoting toward a greater global consciousness in how business is conducted.
It is great to see businesses that prioritise compassion and wellbeing under the GNH model grow and flourish globally. This looks to be a phenomenon spreading in Australia with the growth of B Corps, social enterprises, conscious businesses and recognition that happy and well people make great businesses.
Technology is a fine balance
Bhutan first received TV in 1999 and internet a few years later. The king allowed these mediums into the country as a response to growing pressure and demand from the public. There was some consternation at the time with many believing that TV and internet would damage the unique Bhutanese culture of family, religion, spirituality and community vitality.
There is now a worrying trend in Bhutan of increasing mental health issues and divorce rates. Many believe that TV, the internet and social media are partly to blame for this. On the other hand, most Bhutanese now possess smartphones, allowing them to form strong social networks and to participate in global discussions.
A highlight of the trip was participating in a meditation and Q and A with the most senior monk in a remote province of Bhutan. As he stood up from his half lotus position, he calmly opened his sheik leather case and checked his iPhone 6, presumably for messages from numerous other phone-wielding monks at the Dzong.
Overall, I'd say that technology has helped the Bhutanese to live more fulfilled, connected and empowered lives. Where we can learn, is in how most Bhutanese recognise that TV and internet should not be at the centre of our lives. They are rather a tool, that we can use from time to time to seek information and connect with each other.
Travelling to Bhutan was a unique, once in a lifetime experience. It opened my eyes and frame of reference to an alternative reality. A reality that is strongly committed to environment, compassion, wellbeing, sustainability and maintaining a strong cultural identity and connection. Whilst Bhutan has its own challenges, I've learned a great deal from my time there and the beautiful people I met on my journey.
For more information on Bhutan and the Slow Change Experience, check out The Slow Change Experience.  
About the author: Mike Davis is the founder of Purposeful, a social impact advisory dedicated to empowering businesses to grow their social impact and performance by adopting a purpose-driven approach to community, partnerships, strategy and people and culture. Davis is a former health, social and public policy adviser. Recently, he has worked as a senior advisor in government and has a Masters of Law (Human Rights). He is interested in business and social impact strategy and innovative approaches to social value and wellbeing measurement and evaluation. He is a board member at the Awesome Foundation Melbourne and a recent facilitator at Peer Academy. Start a conversation with Mike at mike@purposeful.net.au.
---
---

Get your biweekly dose of news, opinion and analysis to keep you up to date with what's happening and why it matters for you, sent every Tuesday and Thursday morning.