How to start a new job (from your home office)
---
Starting a new job is hard. It's even harder when you can't meet any of your colleagues face-to-face. In part one our remote work series, we take a look at how to overcome this as the newest member of your team.    
---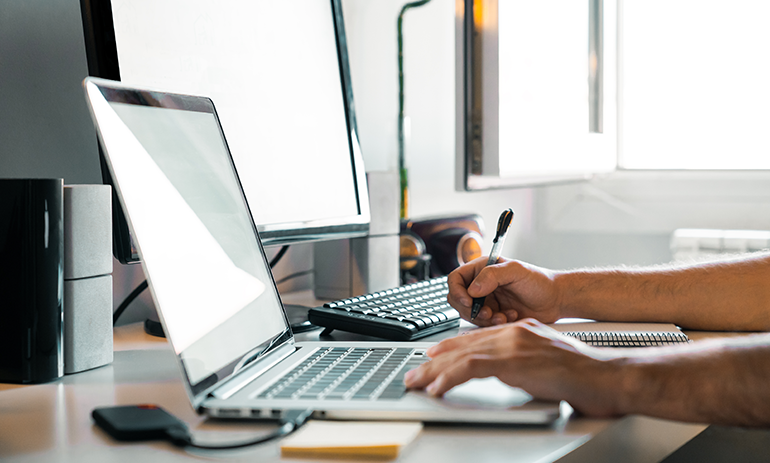 ---
How to start a new job (from your home office)

9 August 2020 at 11:44 pm
Starting a new job is hard. It's even harder when you can't meet any of your colleagues face-to-face. In part one our remote work series, we take a look at how to overcome this as the newest member of your team.    
With the coronavirus crisis and working from home arrangements now inching past the six month mark, starting a new job from home will be inevitable for some. 
Learning how to do your job, the ins and outs of the organisation, and forming relationships with your colleagues without being in the same place is definitely possible, but because this is new ground for most of us, it can also be incredibly tricky and isolating. 
That's why we sat down (virtually) with Angus Smith, Save the Children Australia's recently and remotely hired media manager, to ask him for some tips on how you can start your new job from afar without a hitch.    
What have some of your biggest challenges starting in a new role remotely been? 
It takes longer to get to know people and you need to be confident enough to reach out, introduce yourself, and ask questions. You also have to learn to use different systems and technologies without having someone to show you how things work. 
The other big challenge is creating a structure. Making sure you get up from the desk regularly, go for a walk and don't become too sedentary. People and culture departments have an abundance of material on health, wellness and getting the work-life balance right.
Working with a team which is fast-paced, intelligent, savvy and dynamic has been an amazing experience and also a steep learning curve. Although meeting my team has been online (but for a single glass of wine we managed to catch up over before lockdown started again), I've been really inspired by the people I get to work with every day.
How has the experience been different to other times you've started a new job? 
When I've started other roles, I've been taken on whirlwind tours of the office. On one occasion I met over 100 people in my first week. Starting in a purely online environment has meant I've met less people but I have been able to develop deeper connections. It's definitely been quality interactions over quantity.
I've also had to learn to become more disciplined with myself and how I approach my work day. Working from home and online has been an adjustment, but I've also learnt that flexibility is a real asset.
You also don't get to rub shoulders with people and find out things informally – it takes longer and it takes more effort. Unless your manager tells you who you need to know and sets this up early, you can miss whole parts of the organisation. But you can also take initiative too like finding people and adding them on LinkedIn.
How has your organisation supported you during this time? 
Save the Children works across Australia and around the world. So it was well prepared for remote working because of the distance that already exists between many of our global staff.
The humanitarian sector attracts personalities that are helpful, supportive and always looking out for others. Being surrounded by people like this has made the transition into the new role really easy. I even got to meet the CEO for a one-on-one welcome which made my day. 
Save the Children has communicated really openly to staff, and set up forums for staff to ask questions of the CEO and any executives, there has been a lot of communication, well-being tips and tools for staff on how to stay sane in this environment. We have access to counselling services. Individual teams are doing lots of informal catch-ups – "quarantinis" on a Friday night, trivia challenges, virtual coffees and more. There has also been a lot of flexibility given to staff around how and when they work. 
What advice do you have for someone also starting a new role remotely? 
My best advice would be to be flexible, accommodating and readjust your expectations. If you focus on how you can be helpful rather than how you can be helped it will make all the other challenges manageable.
Know that some things are going to take more time. Talk to lots of people in informal virtual chats. Debrief with your manager regularly on what you are hearing/ seeing to test your assumptions
Also, definitely get a comfortable chair!
Stay tuned for part two of our remote work series, looking at how your organisation can make a new employee feel right at home, even when you aren't able to meet them face-to-face.  
---
---

Get your biweekly dose of news, opinion and analysis to keep you up to date with what's happening and why it matters for you, sent every Tuesday and Thursday morning.