Four steps to becoming a diversity and inclusion advocate in your workplace
---
We're becoming better aware that diversity and inclusion can be an issue in the places we work. But as individuals, what can we do to identify problems, and find solutions?
---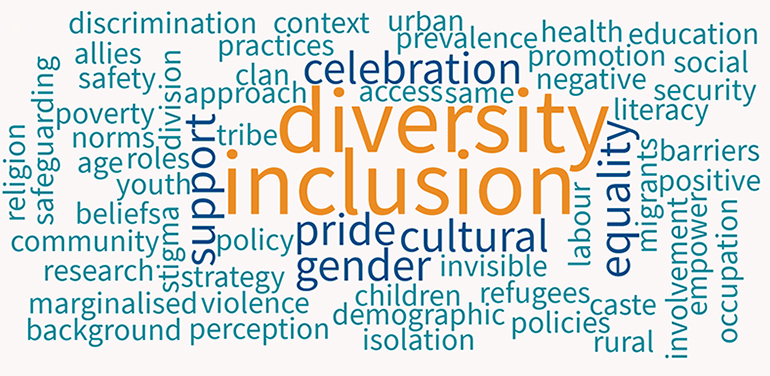 ---
Four steps to becoming a diversity and inclusion advocate in your workplace

5 August 2019 at 8:17 am
We're becoming better aware that diversity and inclusion can be an issue in the places we work. But as individuals, what can we do to identify problems, and find solutions?
This practical advice is useful for any staff, paid or unpaid, who want to pursue better diversity and inclusion in their workplace. That could be by promoting gender equality and empowering women, including people of all abilities, safeguarding children and including other vulnerable groups in their workplace. 
Step one: Understand your context
When thinking about how to advocate for diversity and inclusion in your workplace, the first step is to understand the context. 
This means thinking about the community around your workplace; the people and groups you are seeking to reach, as well as those impacted by your work. Ask: Who is likely to be marginalised and why (are the reasons societal, political, other)? What laws, strategies and internal policies exist to protect (or inhibit) their rights? 
Then consider the specific programs or services your organisation is running. Who is currently being reached and who is missing out? To what extent have they considered diversity and inclusion already? Bring your colleagues and clients into this conversation for a broader perspective.
Step two: Consult widely and build partnerships
Once you have a better understanding of who may be excluded, you can take steps to redress the balance. You can identify, consult and work in partnership with individuals and groups that represent those you are trying to reach, such as women's groups, Disabled People's Organisations, youth advocacy groups, religious groups, and others. 
Diversity and inclusion is a science, and there is plenty of evidence-based practices that will help you to implement change in your workplace. Organisations such as Diversity Council of Australia offer resources online that can provide practical guidance.
Research how other individuals and groups can support your inclusion efforts, like by providing training or opportunities for others to participate in program activities, or assisting with monitoring and evaluation. 
Step three: Identify and address barriers to participation
What are the major barriers that different groups of people may face when participating in your workplace or benefiting from the outcomes of the work of your organisation? 
Start by writing a list. Review the list and consider: which barriers are the biggest/most significant? Which barriers do you have the ability to influence from your role? You can then work with colleagues and other organisations to develop strategies to address the "priority" issues identified.
Step four: Monitor whether your strategies are successful
It is important to monitor the success of your diversity and inclusion strategies and collect disaggregated data (for example, data on gender or age) about who is participating in your workplace and/or the programs and services being offered by your organisation. 
Monitoring and evaluation activities should consult a diverse range of people about their experiences to ensure you are considering feedback from many different points of view. 
This information can then be used to help identify additional barriers or issues that may need to be addressed and to develop strategies.
This guidance is drawn from the Australian Volunteers Program's Guide to Diversity and Inclusion in Volunteer Assignments. The Australian Volunteers Program provides advice to help volunteers promote diversity and inclusion when volunteering on their assignment.
For more information about the Australian Volunteers Program visit australianvolunteers.com.
---
---

Get your biweekly dose of news, opinion and analysis to keep you up to date with what's happening and why it matters for you, sent every Tuesday and Thursday morning.